Hi guys! We have K.D. Worth stopping by today with her upcoming release The Lost Souls, we have a brilliant guest post and a great exclusive excerpt, there's also massive promotion from Dreamspinner where you can grab The Grim Life for free and The Wounded Heart for only 99c/99p so check out the post and enjoy! ❤️ ~Pixie~
The Lost Souls
by
K.D. Worth
Teenage grim reapers Max and Kody are already dealing with being dead… and now they're expected to save the world.

With the help of their guardian angel, Slade, and each other, Max and Kody have finally discovered the destiny God planned for them—help the lost souls languishing in purgatory back to heaven. But they're still growing into their roles. Kody, the Healer, struggles to understand the power born of his empathy, and Max's abilities as Protector suffer because of longing for his best friend… along with Slade's dire prediction that Max will lose Kody. So many are depending on them, and they'll have to summon all the love and faith inside them to face a mass school shooting and bring love and hope to those who need it most.

K.D. Worth!
Thank you for hosting me today!
I'm excited to share the third and final book in my GRIM LIFE series will be available November 12th! 
If you're not familiar with the YA paranormal, spiritual series, book one The Grim Life tells the tale of Kody, a suicidal college student, struggling with his sexuality and his faith in God. Max is the grim reaper sent to take Kody to heaven when Kody tries to kill himself.
Instead Max feels a deep, unexpected connection with Kody.
Max saves his life.
Well, for a short time anyways.
Without giving too many spoilers, book two, THE WOUNDED HEART continues Kody and Max's saga. The tagline "dating is tough—especially when you're dead" should tell you enough of what to expect. Kody and Max learn to trust each other, deal with family issues, jealousy etc. They also realize that dying didn't change either of them, and all of the issues they had while alive haven't necessarily gone away.
And they have to do it all with the threat of evil wraiths threatening them and their human charges Kody and Max are supposed to deliver to heaven.
Book three, THE LOST SOULS continues their journey to a promised happily ever after. After suffering unbearable losses, Max and Kody have learned that they are a part of a special prophesy that tells or two souls, twin flames, who will bridge the gap between purgatory and heaven. The daunting task of delivering souls, shades, stuck in purgatory to heaven seems more than Max and Kody can handle, but with a little help from their boss and mentor, the wise-cracking archangel of death, Slade, they will learn the true meaning of trust, faith, forgiveness, and love.
Updates about upcoming books on her website.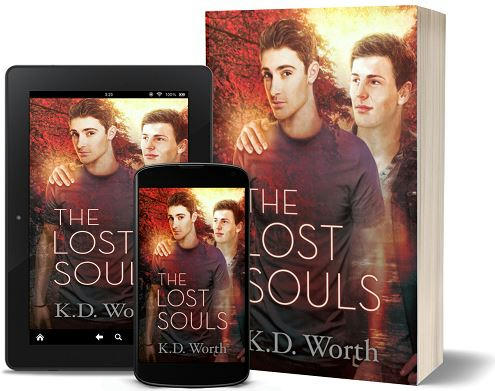 Excerpt!
Enjoy this special excerpt just for MM Good Book Reviews! ***SPOILERS***
"Hi."
"Hi, yourself." Max had on jeans, a gray T-shirt, and tennis shoes—and he was sitting on the chair, not lying in bed.
More good signs he was on the mend.
He set his book on the nightstand beside the twin Eiffel Tower statues we'd bought in Paris the day we'd first said "I love you." Next to them, in a black frame, was the picture a nice lady had snapped for us atop the famous monument. I loved that picture. Our hair was windblown, cheeks flushed, and we both had on sunglasses—conjured wisely so the camera wouldn't reveal our supernatural form via our eyes—but we were smiling wide, carefree and happy.
Though we were still the latter, carefree wasn't something we reapers got to enjoy all that often.
I walked up to Max as he stood, and then we embraced.
Instantly his loving heat filled me, and any residual exhaustion from Cindy's crossover dissipated. I closed my eyes and let his love wash over me. I concentrated on giving it back to him, pushing my energy into him even as I accepted his.
Spending more time with Max and not doing any crossovers, I felt good, almost whole. Definitely more able to deal with all the weights placed on my shoulders.
Max's body shuddered once, and then he sighed and nestled into my arms.
We could both feel it, the love and energy uniting us.
I pulled back with a contented sigh. "I missed you."
"It's only been a couple hours," he countered.
"Still missed you." I kissed the tip of his lightly freckled nose.
Max was a lot shorter than me, stockier too. Not chubby, just solid. His brown hair was stylish and spiky, his big brown eyes so expressive. The first time we met, I'd seen age and wisdom in those eyes, though I hadn't understood why, because Max was younger than me. But my boyfriend had wisdom, even if he didn't always know it.
"Where was your meeting with Slade?"
"It was at his little yoga studio up in the mountains," Max said, still holding my hand as we sat on the bed. "I think it's in Tibet or somewhere like that. I've never asked."
Chuckling, I shook my head. "That would have been the first thing I asked."
"Sometimes ignorance is bliss."
"Word," I said, raising a fist like Heather always did.
Max returned the bump, then smiled at me. "I'm ready to get back to work. I told Slade that, and he gave us an assignment."
"Are you sure you're ready?" I caressed his back. He'd made the decision rather impetuously, and I didn't want him risking himself for me unless he was completely ready.
Max frowned. "Yes. I'm sick of sitting around here. I wanna get back out there. I wanna help you."
I believed his conviction but wondered if he was being honest with himself. Because every time someone mentioned Meegan's name, I felt his grief, as tangible and sharp as the pain he experienced when we talked about the eight months he'd believed me dead. I could feel Max's sadness sometimes in physical waves, and I didn't like it one bit.
"Besides," Max went on, "you need me. Apparently shades have found you every time you've been out."
A knot formed in my gut. "What?"
Halting me two seconds from a full-blown freak-out, Max told me to stay seated, then explained that in a span of nine minutes, shades had discovered my presence in the mortal realm on every crossover.
"That's why Slade told Heather to make it quick," Max said.
I crossed my arms, shock replaced with anger.
Why was everyone always keeping secrets from me? Did they think I was some fragile thing unable to defend myself?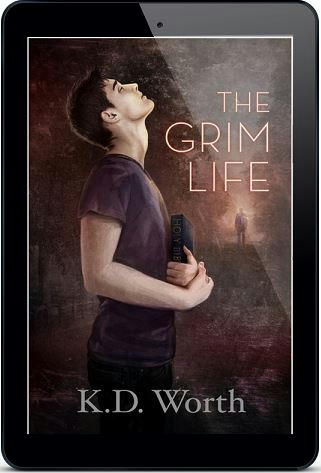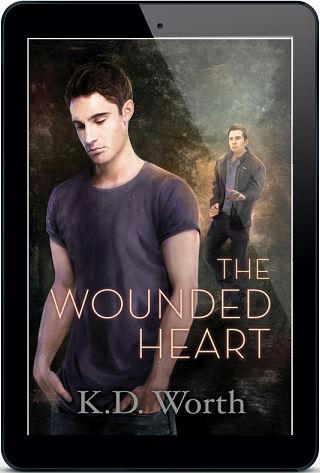 The Grim Life series!
The Grim Life (book 01)
Free*
.•.•.**❣️ Dreamspinner | Amazon US | Amazon UK ❣️**.•.•.
The Wounded Heart (book 02)
99c/99p*
.•.•.**❣️ Dreamspinner | Amazon US | Amazon UK ❣️**.•.•.
*Limited time offer

About K.D.!
K.D. Worth has always considered herself to have the heart of a teenager with an old soul. When not talking to the characters living in her head, she loves to hang out at her favorite townie bar, then go dancing and partying with her husband and friends. There is always music playing in her home, and if it's too loud, you're too old! On the flip side, K.D. enjoys spending time in her vegetable garden, canning the food she grows, and making homemade jams and jellies. She also is known to crochet washcloths and blankets for her closest friends and smiles when they tease her for her "grandmotherly" ways. These two different sides to her personality create a layered tapestry of life experience that brings depth and believability to the characters she writes. She loves to hear from her fans almost as much as she loves her cocker spaniels. You can find her on Facebook or get updates about upcoming books on her website.