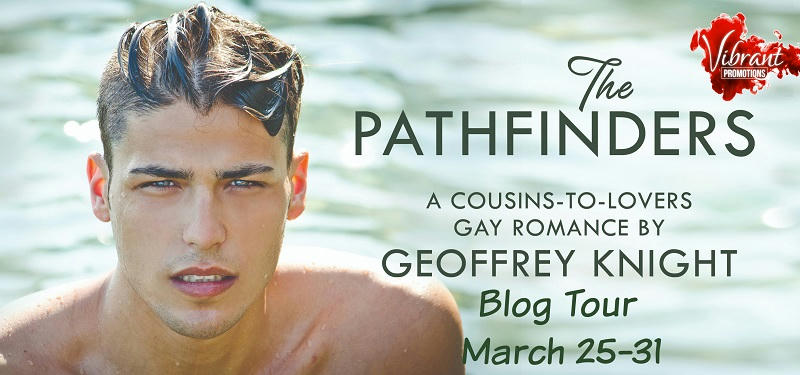 Hi peeps! We have Geoffrey Knight visiting today with the tour for his new release The Pathfinders, we have a brilliant guest post, a great excerpt and a fantastic giveaway, so guys check out the post and enter the giveaway! ❤️ ~Pixie~
The Pathfinders
by
Geoffrey Knight
JACK
Hell, I knew the divorce from Sophie would break my heart, but I had no idea how lost and lonely I would feel once she was gone. Everything ended amicably, almost too peacefully, but now I'm facing a whole new chapter of my life. The only problem is, I don't know what that chapters holds, or if anyone will ever be there to catch me if I fall again.
My only savior right now is my cousin and best friend Hux. We've known each other just about our whole lives, and his invitation up to the woods to help him rebuild the old cabin by Pathfinders Lake could be the one thing I need to figure out what plans the universe has in store for me… and the path I need to find.
HUX
Hell, I knew Jack's divorce from Sophie would break his heart, but I had no idea it would bring to the surface all the yearning and pain and hopelessness I've felt over the years. The fact is, Jack's the one and only person I ever want to spend the rest of my life with. But how do you tell your best friend—your cousin—how you truly feel?
I know I need to help him through the dark days following his divorce, but will I be able to keep myself from betraying all his trust by letting my true feelings show? Will inviting him up to the woods to help me rebuild the old cabin by Pathfinders Lake be the end of our relationship? Or will we finally find our very own path in this world together?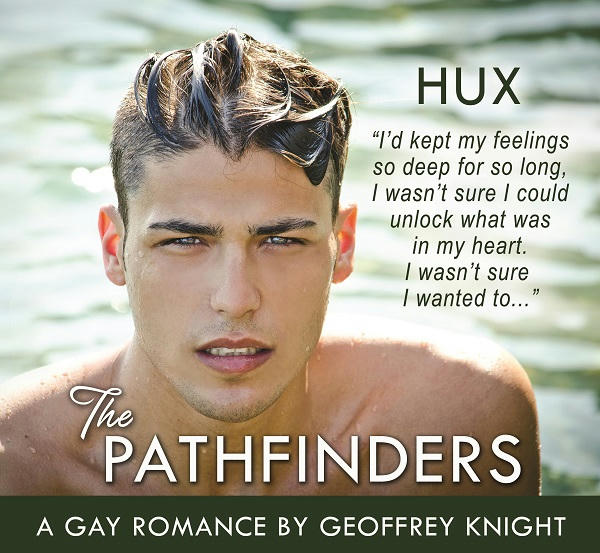 Geoffrey Knight!
STAY CALM AND READ A BOOK
Books, oh how we love you! You make us smile, you make us swoon, you break our hearts and put them back together again. You are the escape we need when life gets too monotonous or too unpredictable or too frustrating or too frightening… and right about now life is all those things. It seems there is no better time than now to be an introverted book-lover who adores nothing more than sitting on the couch curled up with a good book and your favorite mug filled to the brim with coffee.
But will books alone get us through arguably the toughest time in our lifetime?
At the time of writing this post, my new book The Pathfinders had been out for about 10 days. Upon its release I was beside myself with excitement as all authors are when they give something wings and set it free for all the world to see. You hope the world will marvel at it, although sometimes the world shoots it down, but hey, that's just part of the business. The point is you create something and you release it and you hope the world will enjoy it. That's the emotion that was consuming me 10 days ago.
In those 10 days however, it feels like the entire planet has changed.
It feels like the last 10 days have lasted months.
Every passing day, every passing hour, the landscape on which we have built our understanding of this world shifts and does so dramatically.
A couple of weeks ago you could go to the grocery store and buy as many candy bars as you wanted. Not anymore. You could stock up on shampoo and dog food and potato chips to your heart's content. Not anymore. And let's not even talk about toilet paper.
But the problems of this new world don't end with limitations at the grocery store. Hell, that barely scrapes the surface of the problems we're about to face. The bad news it's time to really hunker down and lock the doors. The good news is, many of us already live that quiet, introverted life. In fact, we're damn good at it.
Perhaps our superpower of reading can play a huge part in stopping the spread of this virus. Perhaps now is the time to lean on our strengths to help our family and friends through this.  
They'll get stir-crazy. They'll feel annoyed and helpless and bored as hell, whereas most of us now exactly what to do once the cupboards are stocked and the doors are locked. Yep… we read a book and stay calm.
Books soothe us.
Books give us joy.
Books keep us sane.
I'm hoping that throughout all this, all the authors of our genre keep pounding at the keyboard and turn out more and more books. I hope readers can try new authors and build the breadth of their libraries and add new favorite authors to their TBR lists. I hope the content and creativity keeps flowing so that together we can build a lifeboat until we eventually find a safe harbor and can begin again.
I had come here to talk about my new book The Pathfinders. It's a sweet and steamy MM romance about Jack and Hux, two best friends who happen to be cousins. Over the course of a few days in a secluded cabin by a lake they discover a love that has been burning deep inside for longer than either of them realized, and now is the time for them to learn that the path ahead is a path they need to take together.
I think that sentiment stands true for all of us right now… that the path ahead in this new world of ours is a path we need to take together. We need to be brave. We need to be compassionate. We need to be understanding. And perhaps when we need our space, all we need to do is stay calm and read a book.
If you'd like a little taste of The Pathfinders (since that was what I came here to talk about in the first place), here's a steamy little excerpt for you. Please enjoy!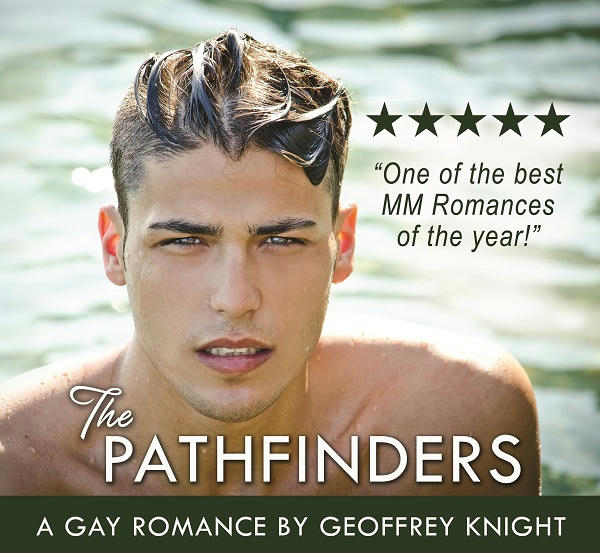 Excerpt!
HUX
OH. My. Fuck.
Jack was gonna strip. He was seriously gonna strip and go skinny-dipping, right there, right then. I knew that look on his face.
"Ah… Jack? What are you doing?"
"What does it look like I'm doing?"
"It looks like you're about to get naked."
"Finish your beer and grab another," he told me. "I'm in the mood to feel young and daring again. Like the old days at the quarry. I wanna feel free again, Hux. Don't you?"
I chugged down the rest of another bottle in one gulp, watching as his shirt came off, revealing that toned, smooth torso of his.
"You seriously wanna go skinny-dipping?"
He unraveled the bandage around his hand. He unbuttoned his shorts, then unzipped them. "Why not?"
He dropped his shorts to the jetty boards and stepped out of them. Then, sliding his thumbs under the waistband of his briefs at the hips, he pushed his underwear down the length of his strong legs, kicked them out from under his feet, and stood upright in all his naked glory.
I stared up at him, trying to keep my mouth shut, my eyes close to watering as I marveled at his perfect form, his handsome face smiling somewhat nervously back down at me. His muscles were white in the bright sunlight. His nipples were hard even though the air was hot and still. His cock, the one I had tried so many times not to stare at, was flaccid and thick, but I could see it was gaining length with each passing moment that I stared at it.
I wondered whether I was allowed to stare at it, now that I had come out.
Or whether it was completely off limits forever.
As if to answer my question, Jack said, "It's okay, you can look at it. I don't mind. In fact, I think I kinda like it. I'm a single man now. So are you. We're already stripped bare. What do clothes matter now?"
God, he shrugged so casually I could have kissed him.
Before I had a chance, Jack launched himself off the jetty and dived into the lake.
My heart was a thunderstorm of excitement.
Of terror.
Of panic when he didn't surface after a few moments.
Suddenly he broke through the water and flicked his black hair out of his eyes, and with that enticing grin of his he said, "Well? Are you coming in?"
I sucked in a breath. "I would, but I'm kinda… you know."
Jack just laughed. "Hard again?"
I nodded almost guiltily, but Jack just responded with, "I'd be insulted if you weren't, knowing what I know now. So, are you coming in or what?"
He splashed me with water and drenched my shirt and shorts. He seemed determined to get me wet, either in or out of clothes.
"Okay, okay. Calm down, Flipper."
He made a dolphin noise then turned and dipped under the water, the moons of his bare ass briefly breaking the surface before he submerged.
"You fucking tease," I muttered to myself as I watched his air bubbles leave a trail through the water, heading away from me. "You have no idea what you're doing to me."
Or did he?
He surfaced again and called out once more, "Come on!" before breast-stroking his way to the middle of the lake.
I took a deep breath and stood from the edge of the jetty. I hesitated a moment longer, enough to make me try and imagine what would happen next. Naturally one of the many fantasies I'd kept buried deep my entire life began playing in my head.
The cool, shimmering water.
The movement of our feet treading water to keep us afloat.
The kiss I would suddenly steal, wet and tender.
And his reaction?
"Just keep your shit together," I warned myself quietly. "He's trying to prove that things are still normal between us. Don't fuck it up."
With another breath I peeled my T-shirt off and began to unzip my shorts. The bulge in my crotch was impossible to hide so there was no point trying. All I could do was act like it was no big deal. Like everything was still normal between us, right?
Anxiously I pushed my shorts down to my ankles and stepped out of them.
As I did, my enormous hard-on slapped up against my hairy belly.
"Woah," called Jack from the lake. "You really do need to keep a leash on that thing, don't ya."
I felt myself blush, but I knew there was no malice in his remark. Hell, he was just using humor to deal with the situation, to make it feel like this was no biggie, excuse the pun. After all, he would have made the same joke before he knew I was gay, so why hold back from using it now?
"Jealous much," I joked back. "Envy won't make yours any bigger, you know."
Yes, everything was just as it had always been.
At least that was the line we were both trying to walk. We sounded like teenagers unable to face the situation with any amount of seriousness. We relied on wisecracks to avoid my coming out turning our friendship into a train wreck. We chose levity over gravity, as men often do. Was I truly expecting anything else?
I wondered if he had detected the overcompensation in my words. I wondered if he knew he was trying too hard to overcompensate too. Or whether he was convinced by his own denial that me being gay changed nothing.
I honestly didn't know what he was thinking.
I wasn't sure he even knew himself.
All I knew was, I couldn't stand there a moment longer thinking about it.
Quickly I dived into the lake, swimming as far as I could under the water before breaking the surface and freestyling toward him. I stopped swimming and started treading water a short distance from him. I wouldn't allow myself to get any closer.
"Okay, so you win. I'm wet. I'm naked. We're skinny-dipping. Happy now?" I asked.
It was Jack who paddled closer to me, stopping within a few feet of me. Our arms swished the water and my fingers accidentally brushed his forearm. I felt my hard dick flinch. I tried to glance down, to see if my cock was noticeable through the water. The lake was crisp and clear and the shape of my dick rippled under the waves, unmistakeably hard.
But then again, so was Jack's.
Water splashed into my mouth. I swallowed some of it and coughed up the rest, quickly looking up before I got caught eyeing Jack's hard-on.
It was too late.
"Yes, I'm happy now," he said, answering my question. "See? Not threatened. Nothing's changed. Just like the old days."
Playfully he lunged at me in the water and pushed me under. I got a breath of air just before disappearing under the surface, then wrestled my way out of his grip. For a moment I was there, submerged and directly facing his distinctly erect penis.
I couldn't take it anymore.
I broke the surface with a splash, sucked in a lungful of air and said, "Okay, wait. Stop. I have to say something."
Jack was about to splash me again but he saw the troubled look on my face and stopped. "Hux? What's the matter?"
"This," I said, gesturing to the two of us. "This is the matter. Us pretending that nothing's changed when in fact a lot has changed. Jack, I just told you I'm gay. I know it's still the same old me, but that doesn't mean I want to shrug off that fact that the two of us should maybe try to deal with who I am now. I can finally be myself around you. I don't want to keep pretending to be someone when you're only seeing half the man I am. I want you to know all of me."
For a moment I almost kept going. I almost blurted out how much I loved him, how I had been in love with him since the day we met. But I slammed the door on that fast. Coming out to him was already a big deal and he was trying to deal with it as best he could. He didn't need me to bury him in an avalanche of secrets and revelations.
And so I held it in.
We treaded water for a few moments longer, just looking at one another.
Then quietly Jack said, "I do wanna know all of you, Hux." He paused and added, "But that's not all I want. There's something else."
"What is it?"
"I want you to kiss me."
I creased my brow and squinted my eyes at him, as though the words I'd heard couldn't possibly be the same words he just said. "What did you say?"
It took him a while to repeat it, as though he was considering backing out and changing his words to something else. But he didn't. "I said I want you to kiss me. Will you kiss me?"
I kinda gave a half-smile of disbelief. My face didn't know what it wanted to do. "What are you saying? Are you saying now that I'm out you're feeling all… I dunno… gay curious? I think you've had one too many beers. Are you drunk?"
Jack shrugged and his arms made angel-wing movements through the water. He looked more beautiful to me in that confused moment than ever before. I had no idea why I insisted on asking questions and delaying something I'd dreamt of almost my entire life. Maybe I was having trouble accepting that what was happening was indeed real and not another fantasy. Maybe now that my wish might finally come true, I was petrified of what consequences it might hold. Or maybe I was holding back, terrified he was about to burst out laughing at any second and tell me he was just joking. My heart couldn't have survived that kind of taunting and rejection.
But Jack didn't laugh.
His gaze didn't flinch, and neither did the earnest expression on his face. "I'm not drunk. Well, not that drunk. But maybe I am a little… I dunno… gay curious, maybe? I don't really know. I don't know what I want anymore. I don't really know who I am. I've been with Sophie for so long, I'm not sure who I've grown into. Part of me doesn't even want to find out." He swam closer to me then and added, "But part of me does."
My heart was a drummer with delusions of grandeur. My stomach was a sheet in a washing machine, twisting itself into knots. I didn't know what to say other than, "You want a kiss?"
Jack paused. Then nodded. "I do. But not here. Take me inside. Take me to your bed."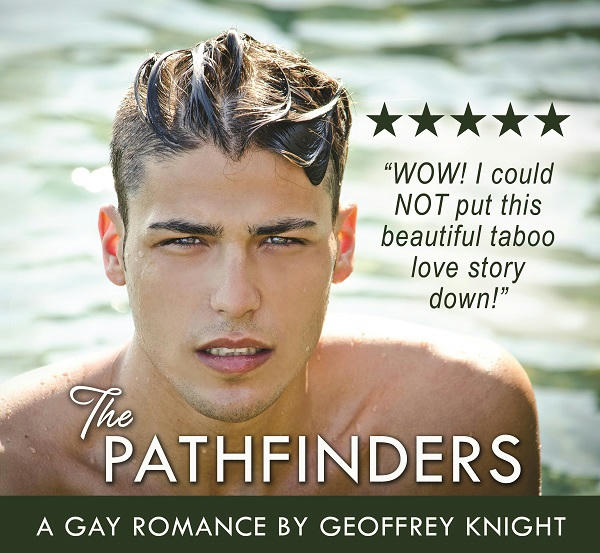 About Geoffrey!
Geoffrey Knight is the author of more than 25 gay fiction novels, novellas and short stories, ranging in genre from gay adventure, gay romance, gay suspense and gay comedies. He is the recipient of two Rainbow Awards including Best Mystery Winner and Best Overall Gay Fiction Runner-up. His work has been featured in several anthologies including Best Gay Erotica 2013, and he appeared as Guest of Honor at the inaugural Rainbow Con in Florida, 2014.
Geoffrey has worked in advertising, politics and journalism, but nothing is as fun as telling stories. He lives with his partner, their young daughter and their small furry family in a rambling old house in North Queensland, Australia, where the paint is fraying and life is good.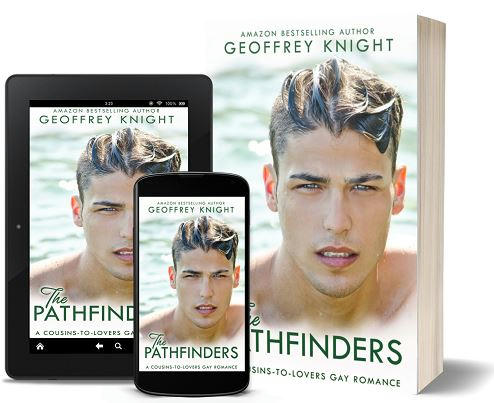 Giveaway!
Win an Ebook of The Pathfinders!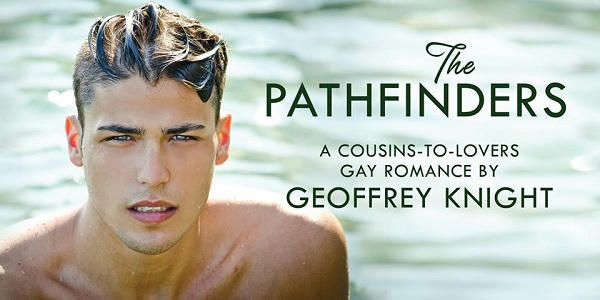 Check out the other blogs on the tour!
March 25
6 Feet Under Books
Book Review Virginia Lee
MM Good Book Reviews
MM Midnight Cafe
The Blogger Girls
Wicked Reads
March 26
Padme's Library
March 28
MJ's book Blog and Reviews
March 29
Boy Meets Boy Reviews
Mirrigold: Mutterings & Musings
March 30
Diverse Reader
Love Bytes
March 31
Bayou Book Junkie
Wicked Faerie's Tales and Reviews