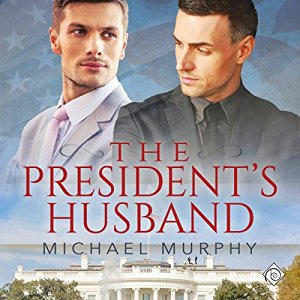 Title: The President's Husband
Series:  N/A
Author: Michael Murphy
Narrator: Randy Fuller
Genre: Contemporary
Length: 7 hrs, 26 mins
Publisher: Dreamspinner Press (24 May 2016)
Heat Level: Moderate
Heart Rating: ♥♥♥♥♥ 5 Hearts
Blurb: When an assassin's bullet strikes his predecessor, Grayson Alexander becomes the first openly gay president of the United States and his husband, David Hammond, becomes the first openly gay First Husband. With their world turned upside down, David relies on his career as a medical school professor and ER doctor to keep him grounded. But his decision to keep working ruffles feathers from day one.
Gray throws himself into learning everything he needs to know to be president, especially a liberal president surrounded by a conservative cabinet and staff. Even though he puts in outrageous hours working and traveling seven days a week, month after month, he's happy. But David has trouble coping with Gray's new job requirements. He can't help but feel abandoned by his husband of 10 years.
When Gray asks for his help with a public-health crisis, David obliges, but he is furious about what happens once the emergency passes. When they learn that the president's staff has manipulated them both, they wonder if their relationship can survive the White House.
Product Link: Audible AU | Audible UK | Audible US 
Reviewer: Prime
Review: The President's Husband is a fun look into what could happen if the US ever had an openly gay president in the present (I hope the world would be more enlightened in the near future, but you know pigs flying and all that). It is also a somewhat emotional look at the price that high stress jobs have on relationships, even a successful and well established long term relationship, which we are introduced to in this book.
The President's husband is Dr David Hammond. The President, who had been vice president for all of ten minutes before needing to step up to the post of president, is Grayson Alexander. He's the first openly gay Vice President, and then President in a conservative government. David and Gray have been married for ten years and they are just completely made for each other, that much is clear from the get go.
Being thrown into the deep end means that David and Gray's relationship is let go in favour of Gray learning the ropes, which means listening other more experienced White House staff. The problem about this, not only is David frowned upon for continuing work, he is also being neglected. When David manages to help in a health crisis which threatens the US, the fall out is horrible and I really wanted to hit Gray over the head (and yes, I did cry).
It will take Gray a lot to heal the rift that he ignored between them and that is what is the guts of the book. Sometimes you need more than love and that is the main theme of the book. Both guys learn a lot and in short I just loved this story.