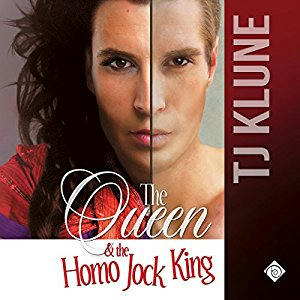 Title: The Queen and the Homo Jock King
Series:  Tell Me Its Real 02
Author: TJ Klune
Narrator: Michael Lesley
Genre: Contemporary, Comedy
Length: 17 hrs, 5 mins
Publisher: Dreamspinner Press LLC (1st August 2016)
Heat Level: High
Heart Rating: ♥♥♥♥♥ 5 Hearts
Blurb: Do you believe in love at first sight?
Sanford Stewart sure doesn't. In fact, he pretty much believes in the exact opposite, thanks to the Homo Jock King. It seems Darren Mayne lives for nothing more than to create chaos in Sandy's perfectly ordered life, just for the hell of it. Sandy despises him, and nothing will ever change his mind.
Or so he tells himself.
It's not until the owner of Jack It – the club where Sandy performs as drag queen Helena Handbasket – comes to him with a desperate proposition that Sandy realizes he might have to put his feelings about Darren aside. Because Jack It will close unless someone can convince Andrew Taylor, the mayor of Tucson, to keep it open.
Someone like Darren, the mayor's illegitimate son.
The foolproof plan is this: seduce Darren, and push him to convince his father to renew Jack It's contract with the city.
Simple, right?
Wrong.
Product Link: Audible US | Audible UK
Reviewer: Prime
Review: If there is something better than reading a TJ Klune novel, it would have to be listening to a TJ Klune audiobook. The Queen and the Homo Jock King is the sequel (and if you follow TJ on Facebook you will know that there are another 2 stories to go with this series). For fans of TJ Klune, I don't need to gush about how awesome and uproariously hilarious this is (and no trademark Wookie cry face) – that is for those who have not read the book before.
The Queen and the Homo Jock Queen shifts to the story of a different couple from Tell Me It's Real (the name of book 1 and the series), although Paul and Vince feature heavily throughout the plot as this centres on the romance between Vince's half-brother, Darren, and Paul's best friend, Sandy, a.k.a. the drag queen Helena Handbasket.  Sandy and Darren are about as crazy and just as hilarious as their friend/brother. Their attraction is palpable through the audio. Their story is a series of misunderstandings and well meaning friends, which means that this seems anything but normal.
I have to say, that Michael Lesley did an absolutely wonderful job narrating the book. He captured Helena's and Sandy's persona wonderfully, along with the other characters – I personally love his voice for Vince, Darren, Charlie and Paul. Also, another Easter egg for TJ's fans – when Paul starts babbling about sending Sandy away, he mentions that Sandy should use the name Gustavo Tiberius. Paul also says that anyone called Gustavo Tiberius would be totally kick ass. For fans of How to be a Normal Person, we all know that why Gustavo is a totally kickass person it definitely is not in the same way that Paul had been thinking.