Hi guys! We have Graham J. Wood popping in with his new release The Reckoning, we also have my reviews for The Prophecy and The Homecoming, so check out the post and enjoy! ❤️ ~Pixie~
The Reckoning
by
Graham J. Wood
The nightmare continues. Returning to Earth, Kabel and Tyson are fighting different battles. Kabel angry and struggling to restrain his feelings for Gemma, and Tyson fighting an internal battle with the methir still coursing through his body; the magics are growing stronger. On Earth, the Cabal are tightening their grip on the control of the zinithium and the fearful population. Their ruthlessness is supported by Zylar aggressively pushing his domination plan forward, and his desire for revenge on the Blackstone brothers is all consuming. The odds seem high, almost unimaginable. Into this despair stride the conflicted brothers with the support of their companions. Despair, defeat and death will face them. Now is the time to fight back, to face the ultimate battle of good versus evil, for the sake of the Earth, the universe and their own internal peace.
.•.•.**

❣️ Amazon US | Amazon UK ❣️

**.•.•.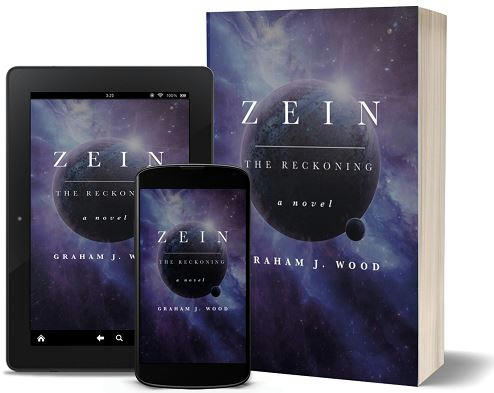 About Graham!
Graham J. Wood was born in Manchester, and grew up in neighbouring Sale. He coordinates global negotiations outsourcing information technology and business processes, and his work takes him all around the world. His daughter, Becky, had lifesaving open heart surgery in 2012 at the age of fourteen; born with the extremely rare heart defect interrupted aortic arch, she was considered a medical miracle as the condition went undiagnosed until she was thirteen. Graham and his family have donated over £2000 to Alder Hey & Ronald McDonald Trust as thanks for saving Becky's life. Graham and his wife live in Timperley, Altrincham. He is the author of Zein: The Prophecy (2014) and Zein: The Homecoming (2015) both published by Clink Street.
Review
Title: The Prophecy
Series: Zein 01
Author: Graham J. Wood
Genre: Fantasy, Science Fiction, New Adult
Length: Novel (334pgs)
ISBN: 978-1-019782-30-9
Publisher: Clink Street Publishing (30th June 2015)
Heat Level: Low
Heart Rating: 💖💖💖💖 4 Hearts
Reviewer: Pixie
Blurb: On Earth, an inexplicable change is occurring in young Tyson Mountford as an ancient power awakens within his body. In the skies above him, an alien race live in four vast quadrants. With their colony masked from the humans below by advanced technology, they are attacked from within by an evil that not just threatens their existence but that of humanity. Kabel Blackstone, from the most powerful alien Zein clan may be their last hope. Can he unravel the enigma of the Prophecy that one will come who will defeat this evil and bring peace to Zein and Earth? With his destiny tied to that of Tyson, Kabel seeks help on Earth from a small band of unlikely companions. They are pursued relentlessly by a malevolent force, driven by greed for control of the precious zinithium ore. Now the strangers from two separate worlds must put aside their differences, control their newly acquired magi and fight back to save their families, their planets and their lives.
Purchase Link: Amazon US | Amazon UK
Review: This story isn't the usually sort that I review but it's a mix of science fiction and fantasy and I thought what the hell (okay maybe a squee'd a little bit) and I wasn't disappointed, the story starts out as it means to go on, high energy action, danger and plenty of death.
The Prophecy chucks you in the deep end with the action starting on the alien plain in 1992, chapter 2 brings us to the present day where we meet Kabel a young man who is about to discover the truth about himself, Chapter 3 introduces us to Tyson and we see that there is something more to him than you first thought and you begin to wonder what the connection between the men could be.
So this story is very entertaining, it's enjoyable and it does pull you in and keeps your attention.
There's two main characters Kabel and Tyson, they both have female love interests with Tyson being confused about who he is interested in, I'll be honest and say that having the young women as the love interests aren't really needed, they could have just been friends, and the flowery descriptions for those interactions are just weird.
The story drags you along as the evil Zylar tries to conquer the Zein and rule with his iron fist crushing everyone. Kabel and Tyson become the driving force to stop him, Zylar commands some incredibly evil things be done and Kabel and Tyson struggle to stop him.
There's great world building and a hell of a lot of imagination being poured into this story, the descriptions are vivid and in some places brutal, there's quite a few battle and fighting scenes, one instance of off page rape and assault, a brilliant storyline and an ending that leaves you wanting more.
I recommend this to those who love a combination of science fiction and fantasy, action and danger, and interesting characters.      
Title: The Homecoming
Series: Zein 02
Author: Graham J. Wood
Genre: Science Fiction
Length: Novel (360)
ISBN: 978-1910782019
Publisher: Clink Street Publishing (7th July 2015)
Heat Level: Low
Heart Rating: 💖💖💖💖 4 Hearts
Reviewer: Pixie
Blurb: With Zylar defeated and on the run, newly appointed Lord Chancellor Kabel Blackstone leads a joint human and Zeinonian force in his search for his home planet, Zein. On Zein, Tate Malacca defends the survivors in the last remaining safe haven from the attacks of the vicious Pod hordes, who are intent on killing them all. As Tyson's powers in the magics grow more unstable… who can control or guide him; hopes may lie with the enigmatic Changeling, Zebulon. On Earth, the mysterious Cabal spreads its influence and network, with the ultimate aim of controlling the production of the all-powerful zinithium. Zylar waits for his opportunity for revenge, breeding his master race and building a new Ilsid army to crush the Blackstone brothers once and for all. Facing incredible odds Kabel, Tyson and their friends have to conquer their own fears and temptations to fight for not just each other but the millions who face certain death if they fail.
Purchase Link: Amazon US | Amazon UK
Review: The Homecoming continues the ZEIN series and more twists are thrown into the pot.
With Tyson's mum kidnapped by Zylar Tyson is desperate to head off into space to find her, Kabel knows that Zylar isn't just gonna go away not when Zylar has spent so many years building his army with plans to rule the Universe.
Landing on Zein things aren't going to be easy, the Zeinonian's are fighting for their lives against the Pod and someone in Kabel's group has orders from Earth that aren't in the least friendly. Tyson is struggling with the magic and is becoming unpredictable, and tensions are high between the humans and zein.
Okay so this story is just a powder keg waiting to go off, there are lots of different battles, there are a lot of deaths, and people are scheming in the background. Back on Earth things are falling apart as the Cabal begin to tighten a net around the Zein.
I enjoyed this story although there is a lot going on; it is again high action with a lot of different factions popping out of the wood work trying to manipulate situations to their own ends.
The world building is again wonderful and the descriptions are as vivid as ever.
I recommend this to those who love science fiction, young adult stories, and an interesting storyline.