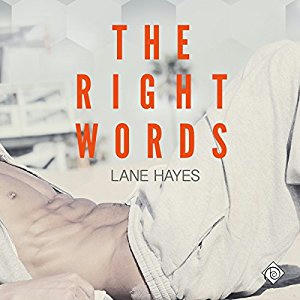 Title: The Right Words
Series: Right and Wrong 01
Author: Lane Hayes
Narrator: Michael Ferraiuolo
Genre: Contemporary Romance, Athlete-Coming Out
Length: 7 hrs and 25 mins
Publisher: Dreamspinner Press LLC (August 2015)
Heat Level: Moderate – Explicit
Narration: ♥♥♥♥♥ 5 Hearts
Heart Rating: ♥♥♥♥♥ 5 Hearts
Blurb: Escaping an abusive relationship left Luke Preston anxious and spouting panic-induced poetry. Desperate for a fresh start, Luke accepts a job remodeling a tired old beach house for a professional soccer player and his model girlfriend. While his passion is literature, not sports, focusing on the renovations eases his anxiety. Until the job he signed up for turns out to be more complicated than advertised.
Sidelined with a serious injury, soccer star Michael Martinez decides his beach house is the perfect place to recuperate. Remodeling might be the diversion he needs to keep his mind off his busted knee. Falling for the pretty designer with some quirky habits wasn't on the drawing board. Unfortunately, Luke didn't build a big enough closet for Michael to hide in. Having a star-powered sports career used to be all Michael lived for, but he'll have to reevaluate his plans and find the right words if he wants to build more than a beach house with Luke.
Product Link: Audible US |  Audible UK
Reviewer: Gigi
Review: First off, you're in for a treat because this whole series is beautifully written and perfectly narrated. I absolutely have a new favorite narrator. I was so glad to see Lane Hayes wrote a series of these heartwarming, soul searching, and steamy novels.
This first book in the Right and Wrong Series, The Right Words, focuses on two alluring and flawed characters: Luke, the anxiety ridden interior decorator still on the mend from an abusive relationship who is slowly rebuilding his life and his career. Luke is desperate for this big new job, but just how much will he be willing to put on the line?
Michael, the sexy Latin lover even I want to take home, the jock soccer superstar who is healing from a sports injury and is hiding out in seclusion in his retro home, is certainly surprised by Luke showing up on his doorstep. It doesn't help that Luke's design services had been arranged by Michael's disgruntled ex. Not a warm welcome as you can expect. These two have plenty of tension, attraction, and a journey of healing in common.
There are some fun plot twists, and fighting the drama of an athlete in the closet, a victim of abuse finding himself attracted to yet another boss, so many things could go up in flames. But the journey is wonderful, with splashes of heart sinking moments, tempered with some amazingly hot love scenes.
The most refreshing thing about how Hayes writes sexual encounters is that the main characters don't rush right to the one finger, two finger, fuck trope. These lovers enjoy all the senses, the kiss, frottage, fellatio, simply being held by another human being, long before the intimacy of intercourse. Each scene, whether it be a simple kiss, or a hot grope up against a wall, is beautifully written and narrated to perfection. I love Michael's accent, and the Spanish language is so perfect.
The Right Words is a refreshing journey through physical and psychological healing, bringing two lovers together against the odds and against society's phobias. I loved it! Grab the whole series, you'll be ready to load the next book as soon as you're finished with the first!