Hi guys, we have Katey Hawthorne popping in today with the tour for her new release Rise of the Virginie, we have a great new excerpt and a fantastic giveaway so check out the post and enter the giveaway! ❤️ ~Pixie~
The Rise of Virginie
by
Katey Hawthorne
Stefan Holt left home at nineteen, guitar in hand, determined that couch-surfing would be better than staying with his mother. He finally lands with Megan, an old band-mate, and they decide to resurrect their rock n' roll dreams to get them out of their opioid-riddled small town. Unfortunately, neither of them is much of a lyricist.
Han Westfall works at the local library, where he lives to rec poetry to the handsome, mysterious guy who brings in his guitar and stays all day. Han writes lines of his own, and when Stefan finally asks to see them, their musical chemistry clicks—and it brings them closer, faster than either of them imagined possible. They name their new band Virginie, ostensibly in honor of their Appalachian roots.
They'll have to work through band in-fighting, revenge porn, homophobic taunts, family addictions, parental drama, and their own inner demons to make things work, both in love and in music. But if they can make it, maybe they won't just get out of town. Maybe they'll rise up and take everyone with them.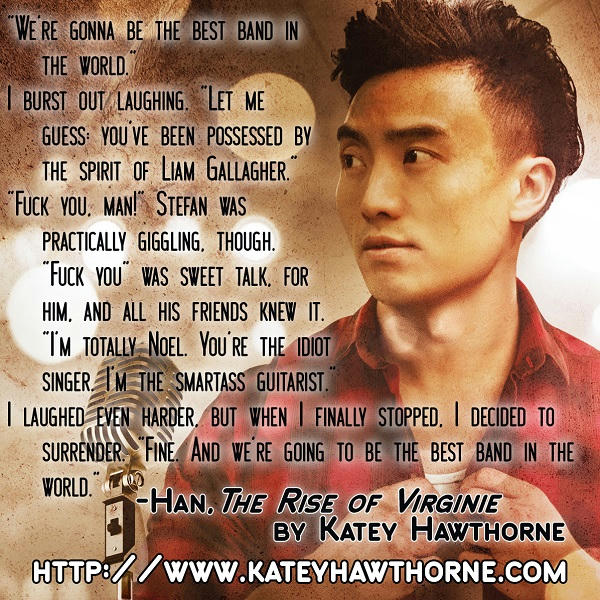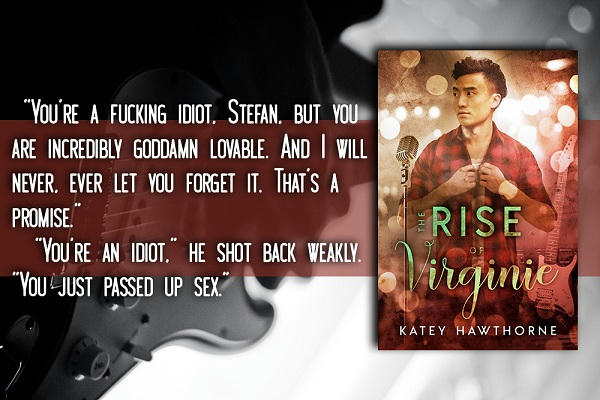 Excerpt!
"C'mere." Han picked up a random guitar that was settled against the wall and handed it to me. It was a steel-string acoustic Alvarez like his, way more action than I was used to, but nice. "Use this. I've had a tune in my head all day."
Then it hit me just how fucking brilliant he was. "A new song."
"Why not?" Han shrugged like it was nothing.
I wanted to tell him I loved him, but it scared me, so I just sat down with the guitar. "Sing for me."
"It's just a little bit of a song right now. A first line." And he sang, "We've got a little secret, baby… It's just yours and mine…"
I found the chords he needed, picked out the melody, then wrapped a riff around the chords like we always did. It came in waves, kind of, the melody coming and going, washed-out and dreamy. I hummed the next line, even though I didn't know what the words would be, running with it.
He nodded, eyes bright and serious, and added the words to bring it to life.
We've got a little secret, baby
It's just yours and mine
It's soft like skin and hard like you
Bathed in hot, sweet sighs
"Hot." If I sounded enthusiastic, I was. As usual, the sound of his honey-warm voice diving through my music was doing all the good things to me. My blood always heated, my heart always pounded, and my dick… well, my dick was a fan, for sure. Hey, he was the poet.
It doesn't matter if I win or lose
If there's one death I could choose
I'd end it all for one more time
I'd end it all between your thighs
"Dude…" My voice cracked, and I stopped playing.
Han flushed, which was rare when he was in rock-star-songwriter mode anymore.
"How long have you had this one?" I asked.
"Since the other night. You were coming back from the bathroom, and I thought…" He gave a helpless little laugh that made me want to jump him even harder. He moved the stool he'd perched on closer to me, then reached out to settle a hand on my thigh. "You look good naked. And we'd just been doing that thing where you wrap your legs around me?"
"Oh yeah, frotting, like the almost-fuck." I grinned. Loved rubbing my dick off on his—and his dick off on mine. Hell, I'd make him come any way he wanted, but there was something about getting my legs around him and then feeling his cum soak my cock and belly… Fuck, okay, now I was super hard. And we were supposed to be on a half-hour snack break.
Not enough time for everything I wanted to do to him right then. But enough for one or two, for sure.
"And I thought, I'd stay in bed all day if I could have those legs wrapped around me." Han leaned in closer and kissed my ear.
I broke out in goosebumps and turned to catch his mouth. We kissed for a second, slow and hot, over that guitar that wasn't mine.
Then Han pulled back, his voice lower and rougher than before. He squeezed my leg. "I thought of that old saying about Alexander the Great, you know? That the only battle he ever lost was to Hephaestion's thighs."
I snorted out a laugh. "I never heard that one, but it's hilarious. That was his… boyfriend?"
"Lover, favored companion, general, boyfriend." Han smiled softly, but his eyes still burned, dark and intense.
That look always meant I was gonna get laid. Hell, I'd do it right here, giant window to the empty booth or not, if he'd let me. How else could I show him… show him everything?
"You're the only thing that could keep me away from everything else," Han said. "And I thought, that's worth writing a song about. At least that might get us out of bed."
We laughed, then kissed again, this time a little longer. As we closed it off, I bit gently at his puffy bottom lip, and he gave a little moan that made my balls go tight.
"We have to finish the song," he whispered.
"I know," I admitted. "But I am gonna do some dirty, dirty shit to you tonight when we get home."
"Please." Another chuckle from Han. "Please, do."
"What's the song called?" I asked.
His smile almost went smirky when he said, "'Hephaestion.'"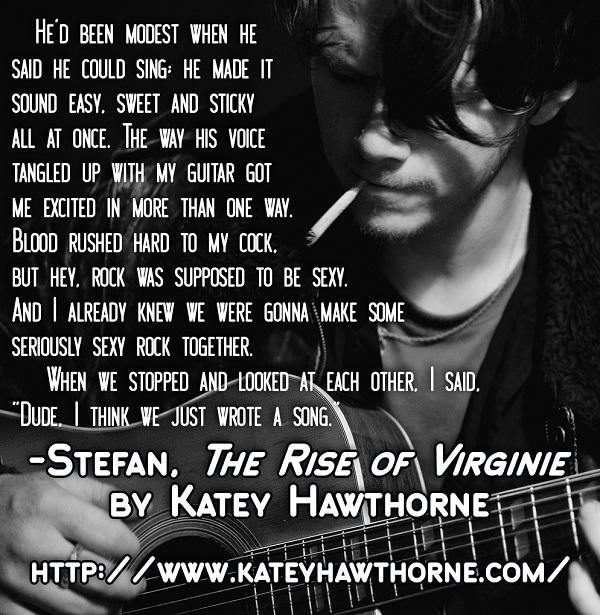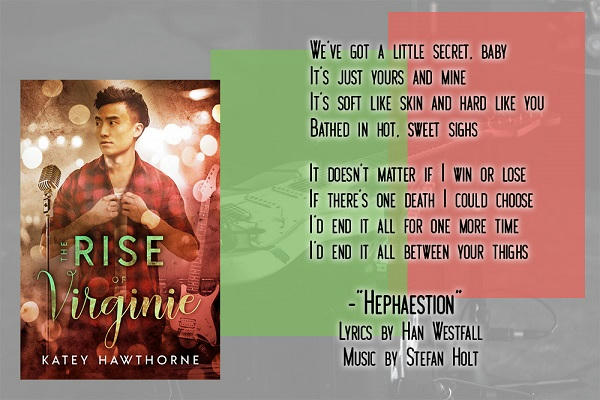 About Katey!
Katey Hawthorne is an avid reader and writer of superpowered and paranormal romance, even though the only degree she holds is in the history of art. (Or, possibly, because the only degree she holds is in the history of art.) Originally from the Appalachian foothills of West Virginia, she currently lives in Ohio with her family, two cats, and one very large puppy. In her spare time she enjoys travel, comic books, B-movies, loud music, video games, Epiphones, and Bushmills. Her favorite causes include animal rescue and bisexual representation in media. She is an unashamed fangirl and collects nerdy tattoos like she's trying to prove it.
Website | Facebook | Twitter | FB Group | Tumblr | Instagram | QueeRomance Ink | Newsletter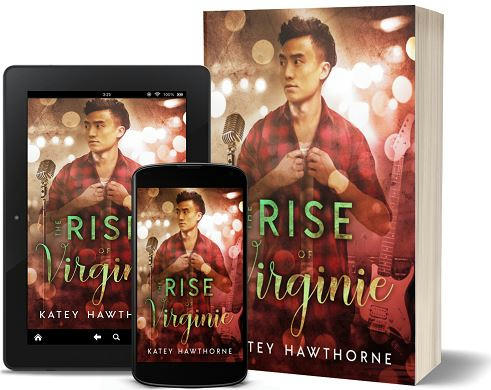 Giveaway!
Win a $10 Amazon Gift Card!
(2 winners)

Check out the other blogs on the tour!
Jan 2
Love Bytes
My Fiction Nook
The Blogger Girls
MM Good Book Reviews
Scattered Thoughts and Rogue Words
Jan 3
Diverse reader
Wicked Faerie's Tales and Reviews
Jan 4
MJ's book blog and Reviews
Jan 5
Boy Meets Boy Reviews
Xtreme Delusions
Jan 6
Books, Tattoos and Tea
Jan 7
MM Midnight Cafe
Jan 8
Bayou Book Junkie