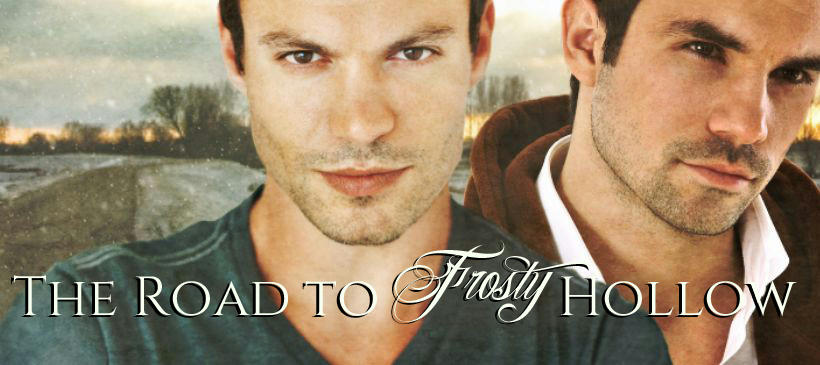 Hi guys, we have R.J. Scott & Meredith Russell stopping by today with their new release The Road to Frosty Hollow, we have a great excerpt and a fantastic giveaway so check out the post and click that giveaway link <3 ~Pixie~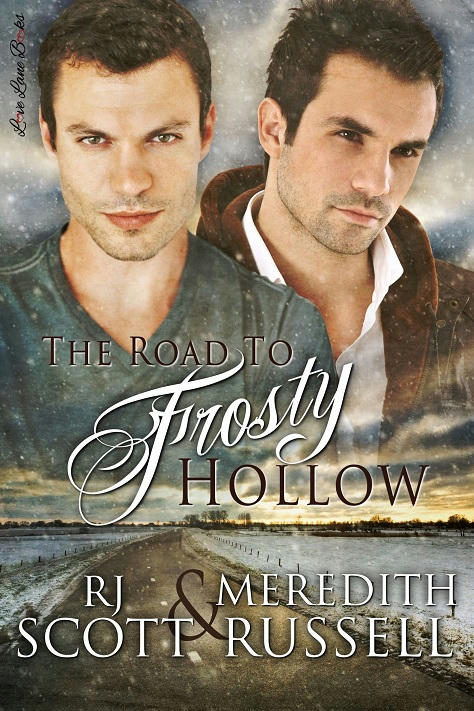 The Road to Frosty Hollow
by
R.J. Scott & Meredith Russell
Nick and Cameron face old demons, and find new love, on a Christmas road trip.
Former Marine Nick Sheridan is at a crossroads. With his entire life ahead of him he struggles to find direction and his place in the world. Car sharing to get home for his sister's Christmas wedding seems like a good idea at first. Spending the time with the man he kissed and left years before, maybe not so much.
Cameron Bennett lost most of his teenage years to cancer and he now lives every day to the fullest. He decides to drive from Seattle to Vermont for his best friend's wedding and capture moments of it on film. He hadn't planned on car sharing with the man who kissed him ten years ago, but somehow he ends up with a brooding Nick by his side.
Along the way, the men learn that sometimes life plans mean nothing in the grand scheme of things. Love can be found in the most unexpected of ways, and facing your demons head on is sometimes the only way to live.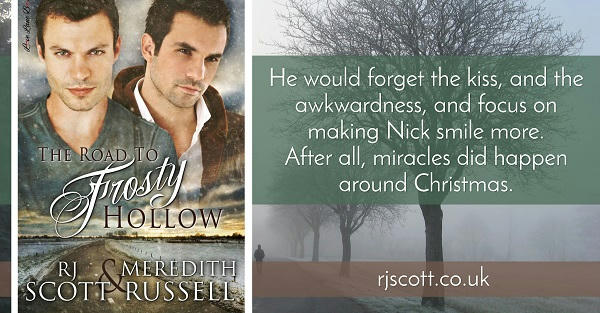 Excerpt
"This is crazy, sis. I can't believe I let you talk me into this road trip." 
Nick Sheridan sat on the end of the bed and stared at his luggage. He'd been pacing a line back and forth in front of his bedroom window for what felt like hours, but, was really only minutes, and his nerves were getting the better of him. He held his cell phone in front of him, set on speaker phone, waiting for the reassuring sound of his sister's voice to fill the room. 
"It'll do you good. It'll do you and Cameron both some good," Kaitlin said. 
Her voice held an edge of excitement. She was setting him up, and he knew it, and he was pretty sure she knew he knew it. Cameron Bennett was the last person Nick wanted to share a cross-country drive with, with his dimples, and his smile and his ability to make Nick forget how to speak. 
With a sigh, he scratched a hand though his hair, teasing his bangs to spiky points. "Maybe." He glanced around his bedroom. He was supposed to have packed everything into boxes ready for the move back home in the New Year, but surfaces were still scattered with mementos of his life and his closet remained full of his clothes. 
Kaitlin asked, "What time did Cameron say he was getting there?" 
Nick rested his phone on the bed and got to his feet. "Anytime now." He crossed to the window. Lifting a slat in the blind, he looked out on the street below. 
Kaitlin's voice came from the bed behind him. "You remember what he looks like, right?" 
How could he not remember Cameron Bennett? The man's face was plastered all over his sister's social media every time Cam happened to be in the same state as her: Cam and Kaitlin horseback riding along a treacherous mountain trail, or jumping out of a plane, or parasailing. The man took risks that made Nick worry, considering Kaitlin sometimes got involved too. Kaitlin and Cameron had been best friends since any of them could remember. 
Not only that, but Cameron's face was all wrapped up in memories of one stolen kiss and years of what ifs. 
Not that he was admitting that to his sister. "Shut up," he said, raising his voice to make sure she could hear him. 
Kaitlin laughed. "It's so easy to wind you up. But seriously, have some fun, live life, get all thinky about what you want to do." 
"Thinky?" Nick mouthed the word to the room and smiled. He had been thinking. In fact, he'd done nothing but thinking ever since he received the official invitation to Kaitlin's wedding a few months ago. 
Sitting on his dresser was the ivory-and-turquoise-decorated card. Nick eyed the names of his sister and soon-to-be brother-in-law, struck by a strange sense of loss. He rubbed at the feeling of emptiness in his stomach. When he had settled in Seattle two-and-a-half years ago, he'd thought that was it. Sure, there might have been a chance he would be called back to active duty, but Seattle had felt like home. He'd had a boyfriend and the promise of a career and finishing up school. It had been a fresh start. True, he and his family lived on opposite sides of the country, but that was okay; he had things to work through, and they didn't need a screwed-up Marine in their lives. 
Now, of course, the boyfriend was no more, the career was at a grinding halt, and he'd failed his last exam. Yeah, life's great. 
"Nick? You still there?" 
Nick breathed in deeply and glanced over his shoulder at his phone. "I'm here." 
Now he was in need of another fresh start, and as far as he was concerned, running back to his hometown in Vermont was for the best. He needed the security of having his family around him, at least for a while until he got his head on straight. 
Then why haven't you packed yet? 
"I have to go," Kaitlin interrupted his thoughts. "I've got an appointment with the florist. Mom's coming with me, so wish me luck." 
Their mom had taken to the role of mother of the bride like it was a military campaign. Kaitlin had even taken the drastic measure of phoning Nick one night, stressed, cursing, and insisting their mom should have signed up with him eight years ago. It was kind of nice she reached out to him, as though he was needed. "So, I'll wish you a safe journey, big brother, and guess I'll see you in three weeks. Text me, right? Text me a lot. Photos as well." 
Yeah, right. Photos of Cameron and his broad, stupid smile and his hazel eyes, standing next to Nick, the battered former Marine. Those were photos she'd love to share on her Facebook page. No way that was happening. 
"Three weeks," he confirmed. 
Then he shook his head, even though no one could see him. That was a long time to be just him and Cameron. He yawned widely. He'd not slept properly last night; when he'd rolled over on his arm, discomfort had kept him awake. 
"Like I said, it'll be good for you. Just—" She paused for a moment. "—just enjoy the ride and see where it takes you." 
Nick chewed his lip. His life had been so regimented throughout his twenties, and though he was all for living in the moment and taking some chances, his default setting was survival and it was difficult to adjust. "I'll try." 
"See that you do. Anyway, I have to go. Feel free to give Cam a big hug from me." Her voice held a laugh as she teased him. 
Shaking his head, he picked up his phone. "Later, sis." 
"Love you." 
"You too." He ended the call and pocketed his phone. 
Blowing out a breath, he checked around the room. Everything he'd put on his list was packed in his case and large backpack. He had three weeks on the road and an undetermined amount of time with his folks for the wedding, Christmas, and into next year. 
His cell phone chimed and he freed it once more from his pocket and eyed the details of the text message. It was from Cameron. 
Getting gas. Be with you in ten. 
OK, he typed. 
He hesitated, wondering if he was supposed to say more. Billy, his ex, added smiley faces to all his texts, even when he was pissed. "I am so out of the loop," he muttered. With a shrug, he hit Send; he didn't want to give Cameron a weird message by using the wrong yellow faces.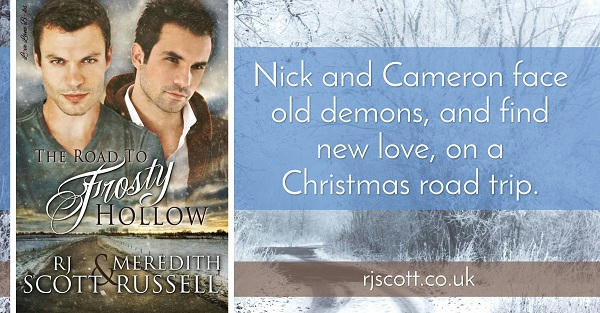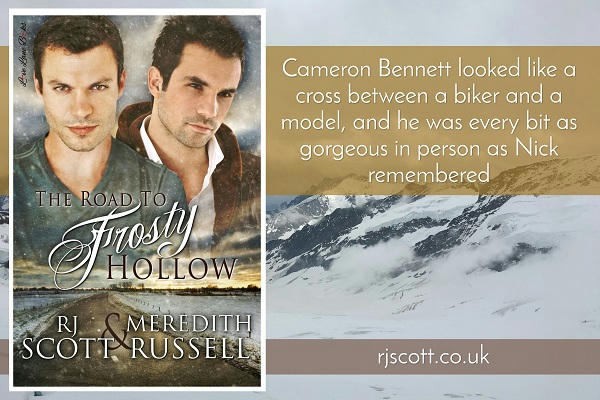 About R.J. & Meredith
R.J. Scott
RJ Scott has been writing since age six, when she was made to stay in at lunchtime for an infraction involving cookies. She was told to write a story and two sides of paper about a trapped princess later, a lover of writing was born.
As an avid reader herself, she can be found reading anything from thrillers to sci-fi to horror. However, her first real true love will always be the world of romance where she takes cowboys, bodyguards, firemen and billionaires (to name a few) and writes dramatic and romantic stories of love and passion between these men.
With over seventy titles to her name and counting, she is the author of the award winning book, The Christmas Throwaway. She is also known for the Texas series charting the lives of Riley and Jack, and the Sanctuary series following the work of the Sanctuary Foundation and the people it protects.
Her goal is to write stories with a heart of romance, a troubled road to reach happiness, and most importantly, that hint of a happily ever after.
rj@rjscott.co.uk | Website | Twitter |  Facebook | Librarything | Tumblr (some NSFW (not safe for work) photos) Pinterest
Meredith Russell
Meredith Russell lives in the heart of England. An avid fan of many story genres, she enjoys nothing less than a happy ending. She believes in heroes and romance and strives to reflect this in her writing. Sharing her imagination and passion for stories and characters is a dream Meredith is excited to turn into reality.
Website/blog | Facebook | Twitter | Instagram Email: meredithrussell666@gmail.com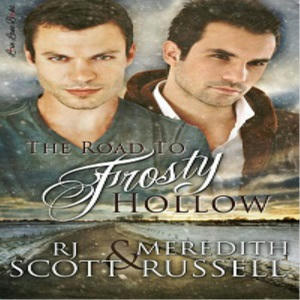 Giveaway!
Win a $15 Amazon or ARe Giftcard!
(Just click the link below)