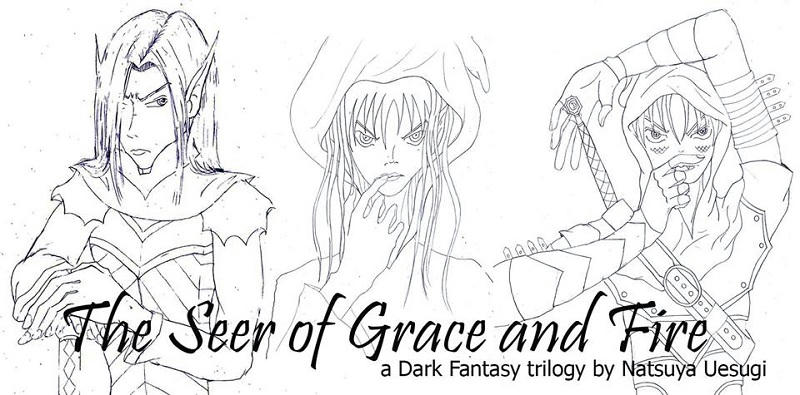 Hi guys, we have Natsuya Uesugi stopping by today with his newest release The Seer of Ice and Sky, we have a fantastic exclusive excerpt and a brilliant giveaway so check out the post and enter the giveaway! ❤ ~Pixie~ *Review coming soon!
The Seer of Ice and Sky
(The Seer of Grace and Fire 02)
Natsuya Uesugi
Surviving the devastation of DarkFall, Timorn is now rightful King of Faerie. With evil lurking at the fringes between the kingdoms of the humans and the elves, the dark mage Dalannin travels to Dragonreise to forge an alliance with the Dragon King.
Timorn's travelling party sets off on request from an elven emissary but dissent grows as the party passes through the human city of Ekhrine. As they stop at the Ecclesiastical University where the cleric Kabal translated The Legend of Arden prophesy, a demonic aura haunts their path.
Can Timorn forge an alliance with the dragons to ensure peace or will darkness drive a wedge between him and his magical twin Ethesian as they journey through the elven lands.
Transgender heroine.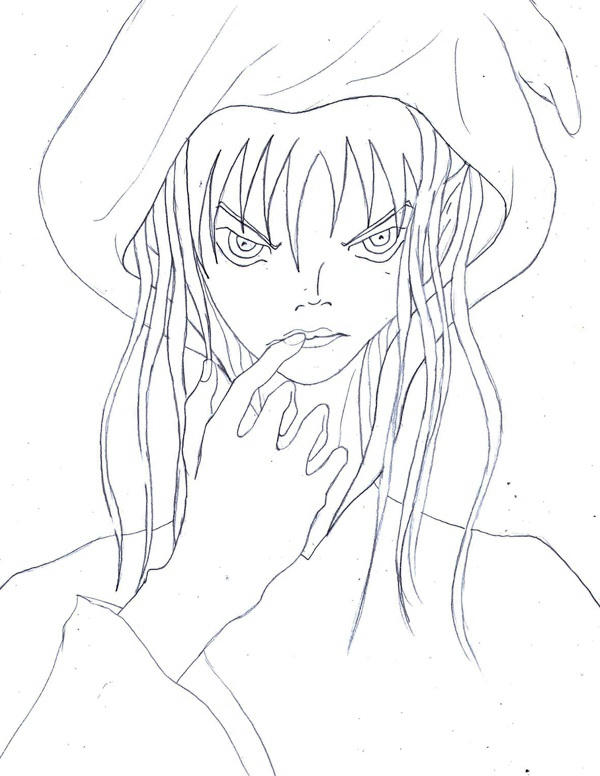 Character Interview!
Character Interview: Timorn  – The Seer of Ice and Sky by Natsuya Uesugi
Introduce yourself, good sir, what brings you to The Saint Elias Pub?
Just travelling through, no need to inquire further. My business is mine.
What is your profession, if you have one?
I am a ranger, travelling the human towns, work for hire. I go where I am sent, that is all.
You seem quite young, traveling alone? What brings you to Ekhrine?
I have business at the Ecclesiastical University with a cleric, again, not your business.
However, you seem to be more than you let on. I talked with your sister Ethesian. If I may, young man, you strike me as nobility. If I were to inquire, are you the young King of Faerie?
I guess you caught me. Yes, my name is Timorn, I am the rightful king of Itheria and of the territory of Amaralon and Eskar. The Valkyris has occupied my lands and brought devastation in Amaralon and Eskar but I will wrangle my lands back from her black grasp, her evil no knows bounds.
There is dark magic lurking since the anniversary of DarkFall when the Valkyris attacked Kannon, what have you heard of this recent news?
The Valkyris brought her demons and attacked Kannon. With them came a dragon that breathed fire killing many, the town devastated. It was only for the quick thinking of my dream seer that the dragon was contained.
Tell me a little about your parents?
The parents who raised me were poor farmers who tilled the land. They taught me resilience and hard work. My real parents, King Ailon of Itheria and Eanna, the First Consort, I never really knew. I feel lost sometimes since learning my true heritage.
Tell me a little about your magic?
My two faerie daggers and my sword are instilled with magic. My daggers can signal that faerie magic is near, ignite fire, cut stone, and can bring death though they are light in weight and supple. My sword is graced with divine providence, a luxurious design graced with faerie magic down its length.
What is your role at the faerie court?
I am the king of the fae. The faerie court is mine. The nobility and the gentry oversee the people as I rule. The palace leads and the people look to me to guide all of faerie.
What is your favorite pastime?
Practicing with my daggers and sword in my daily routine after my morning constitutional. Sparring with the head of the palace guard and solitary practice hones my skills keeping me fresh.
Tell me about your role at the battle for DarkFall?
I was in the middle of the fray. Demons all around me, I fought furiously trying to protect my people. Everyone was in it up to their strength fighting valiantly for faerie. It was taxing and we triumphed thanks to my sister Ethesian and the dragon heart crystal. Her magic triggered the power from my sword and we were able to vanquish the demon hordes.
If I may, what destination do you seek? Will you need a guide on your journey?
We are on our way to the elven realms, then onto Dragonreise for a meeting with the Dragon King. I am interested in what he knows about DarkFall where one of his own was seen on the battlefield.
What's it like to work for such a demanding writer?

My writer is demanding, if not crazed. He thinks he, a mere human can order me around. He may be human, but if I had my say, he is definitely faerie. He never forgets and his determination is stubborn. When he sets his mind to something he makes it happen, in that sense he is a little like me. Maybe he was a ranger in a previous life. He knows his way around a battle and has lead me on the best path to my destination, he is definitely a ranger, I would bet my life on that, and that is not something I do lightly, good man.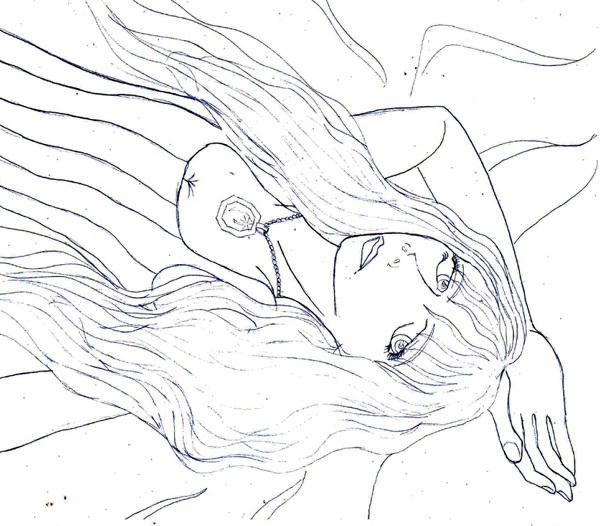 Excerpt!
Timorn squinted as he studied the elven emissary, Arhlamanel dressed in finery, yet his stance and mannerisms were less refined then  Ihel's. He sensed deception. His ranger skill told him the elf was concealing something about his identity,
"I am aware of dragon riders, but not of a dragon king in Arenth," Timorn said, turning to Eanna, his mother the First Consort, for confirmation. Eanna shook her head, also unaware.
Arhlamanel nodded. "The dragons are elusive and secretive, Your Majesty. Only a few high elves dare to venture up the perilous paths into the ice mountains to entertain them. It is treacherous as the dragons carefully guard the priceless gems within their lands."
Timorn gripped the arms of the throne, leaning forward. "At DarkFall, we saw an adult dragon. A rider in black sat atop its monstrousg form. Luckily the brunt of its power was stopped before it could let loose with abandon."
"It is as we heard. Thus, the dragon king requests you come to Akrisia, to the mountains in the North. He has sent me as emissary, in partner with the high elves, to bring you to hear his message. A party of your choice is invited to travel along, including one named Ethesian, who is also summoned. But be warned. One who wad banished many years ago has returned and is making inquiries in the dragon lands. He goes by the name of Dalannin. There is much suspicion amoungst the elves. Do you know of him?"
Timorn gasped. If Dalannin was with the dragons, that could only mean danger. Timorn spoke authoritatively, immediately deciding based on the elf's report. "Yes, we know Dalannin, and yes, my party and Ethesian will accompany you to Akrisia. Lady Eanna will remain and keep watchful eye on the crown."
"Yes, my lord," Eanna acknowledged the decree.
"You must come dressed as a ranger," Arhlamanel added. "That is how they will know you: by your clothes, your faerie daggers, and your sword. The dragon king and his half-dragon army will join you at the dragon court, high in the mountains. The trek up the expanse is arduous and will require a full day of walking to reach once we arrive."
"Had Dalannin already recruited dragon riders to his cause? Timorn hoped for a negative answer.
"Unknown your Excellency. I hope, for our sakes and all of Arenth he has not."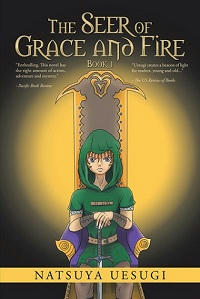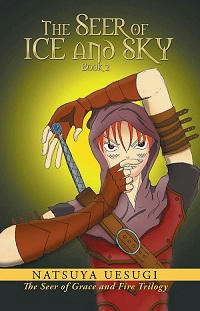 The Seer of Grace and Fire Trilogy!
A human cleric translating an elven prophesy must bring the work to the high court at Kannon in faerie before DarkFall, the solemn anniversary when all the male faerie newborns were murdered 17 years ago. If the translation does not arrive in time, all is lost. Timorn, a 17 year old ranger travels the human towns hiring out his services. A mysterious elven woman hires him to take her to Kannon before DarkFall, and only he can lead her with his purple faerie eyes.
The evil Valkyris is amassing an army to attack Kannon at DarkFall insisting she possess the prophesy. Sending her dark mage Dalannin to infiltrate faerie, he marches his demon hordes towards Kannon and sneaks into the palace. Ethesian, the 17 year old faerie daughter of King Ailon plays the dragon lyre, a female magic. Yet recently she has started having prophetic dreams as if she were male. When a lie is revealed, Ethesian is tasked to study magic she must master before DarkFall. Will Timorn reach Kannon before the Valkyris and Ethesian master a magic she shouldn't possess? Secrets and lies, revelations and wizardry, DarkFall is coming and so too the reluctant faerie who would be king. Learn more in the first book of the dark fantasy trilogy, The Seer of Grace and Fire.
The Seer of Grace and Fire starts the dark fantasy trilogy reviewers have called "Enthralling" and "A beacon of light for readers young and old." The series continues with release of The Seer of Ice and Sky book 2. Book 3 The Seer of Flesh and Death will be released early 2020.
The Seer of Grace and Fire (book 01)
.•.•.**❣️ Publisher | Amazon US | Amazon UK | B&N ❣️**.•.•.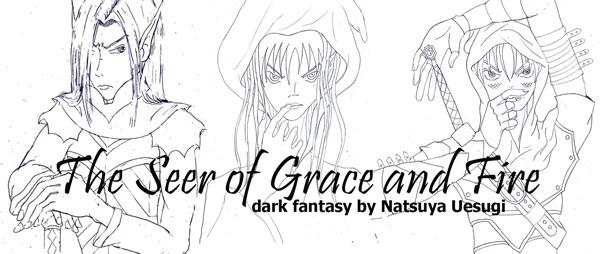 About Natsuya!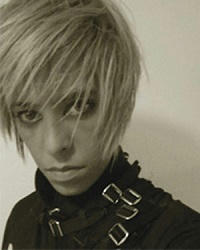 Natsuya Uesugi is a systems analyst and white hat hacker who has worked in the design of aerospace, semiconductor and financial systems. With an MBA in International Management and a minor in Japanese, Natsuya uses his Japanese, Black and Native American heritage to paint his stories, keeping an eye on diversity. By night, Natsuya is an author and manga artist weaving stories in his cyberpunk grydscaen world, his dark fantasy universe The Seer of Grace and Fire, and his contemporary yaoi graphic noiz which takes place in New York City. He studied animation and game design at the Art Institute of Phoenix where he learned sequential art and traditional animation that fueled his childhood dream of creating manga and anime. To date he has created four manga and two episodes of the short anime grydscaen: A Storm's Coming based on the teenage hacker Rom. He enjoys skydiving, cosplay, manga, World Cup futbol, watching French news, eating ramen and anything with matcha, watching anime in Japanese, and writing poetry.
Website | Facebook | Facebook Author Page | Twitter | Amazon Author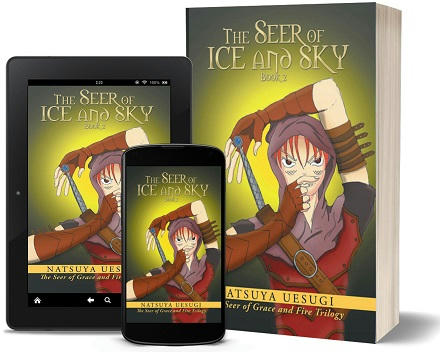 Giveaway!
Win an ARC of book one in the series – The Seer of Grace and Fire !