Hiya peeps, we have Louise Lyons stopping by today with her new release  The Short Stories Collection, which includes In Darkest Peru, One Snowy Night and Lost and Found. We have a great excerpt and a brilliant giveaway, so check out the post and enter that giveaway! <3 ~Pixie~
The Short Stories Collection
by
Louise Lyons
A collection of three short stories.
In Darkest Peru
When shy and geeky Rhys White is ditched by his boyfriend of five years, and made redundant from his job in the space of one week, he decides to make some changes. Tired of being boring and hiding being his computer, he throws caution to the winds and buys a plane ticket to Peru.
The adventure in Peru starts out well, but then disaster strikes when the bus he is travelling on is held up by thieves. Rhys loses everything, including his passport, wallet, and phone.
Stranded in Cuzco, not too far from the famous Inca city of Machu Picchu, Rhys tries to find someone to help him. Just when he begins to lose hope, sexy Brazilian, Rafael, comes to his rescue, and his desperation situation takes a turn for the better.
One Snowy Night
After yet another failed date, Keith Brambles' luck turns from bad to worse, as he tries to drive home in heavy snow and crashes his car. With no phone signal, no warm clothes, and the weather worsening, he fears freezing to death overnight.
But help is at hand in the form of a knight in a white van. Mike Talbot stops to help Keith, and takes him home to warm up—in more ways than one, when the pair's mutual attraction kicks in.
Mike is everything Keith has ever dreamed of when he thinks of his ideal man. But can Mike really be Keith's dream come true, or is their night together just another bit of fun?
Lost and Found
When author Philip Johnson loses his much-loved dog, Prince, he buries himself in the fantasy world of his latest novel. But as his heartbreak gradually lessens and he focuses more on the happy times he had with Prince, he realises the hole left in his life needs to be filled with a new puppy.
After responding to an advertisement for a young dog, Philip is surprised to find the owner is none other than Edward Manby, the very good-looking vet who took care of Prince in his last hours. Philip is delighted to discover his attraction to Edward is returned and despite the twenty-year age gap between them, their love for their pets brings them together and leads to romance.
Excerpt!
from One Snowy Night
"Thanks. I don't know what I would have done if you hadn't turned up. I thought I'd be stranded there all night. I considered walking back to Wragby, but I probably would have frozen to death on the way. I'm not really dressed for it." I laughed self-consciously.
"Do you always go out looking like that?"
"Most of the time." My cheeks warmed. "I suppose it's not your cup of tea. The same as my music."
"I didn't say that. You look sort of hot. I just wondered if it was an act for the stage, that's all."
My eyebrows rose again. Sort of hot?
"I'm gay," Mike added. "In case you hadn't cottoned onto that before now." He laughed loudly. "Most people don't know, except for my family and close friends. Some of them still have trouble believing it, but it doesn't bother them."
"I have to admit, you don't look, um—" I stopped and smiled, as Mike interrupted with another guffaw. "My parents avoid the issue as much as they can," I added. "I think I'm an embarrassment to them. They don't like that I chose to put myself in the limelight."
"What about friends?"
"Most of those I knew before I started singing, fell by the wayside. I have one best friend from my teens. New ones are hard to come by when they just want to hang off my coat tails and get a taste of what I have." I sighed. "Sometimes I wonder if it's all worth it."
"But you must enjoy it, right? Or you wouldn't do it."
"I love singing and being on stage. The rest of it sucks sometimes."
"Nothing's perfect," Mike said. He placed his empty plate on the coffee table in front of us. "Do you want to have a shower or something? Bathroom's upstairs on the left."
"I don't have a change of clothes."
"You can borrow some of my stuff.  There are shorts and T-shirts in the top of the bathroom cupboard. They should fit you okay."
"Thanks, I think I will have a shower." The thought of hot water cascading over my body was very welcome. I made my way upstairs.
I spent ten minutes in the shower and got rid of the makeup and the hair product that made my blond hair stand up in spikes. I scrubbed himself dry and helped myself to a Lynyrd Skynyrd T-shirt and a pair of black gym shorts from the cupboard. The shorts had a drawstring waist, and I yanked the string tight to stop the garment falling from my slim body. When I returned downstairs, a blanket and pillow lay on one end of the couch, and Mike was watching TV. He had removed his sweatshirt to reveal a T-shirt with another rock band on it. The Grim Reaper glared threateningly from one arm, while the other was covered from wrist to shoulder in Japanese designs incorporating a huge orange koi. Mike looked up and grinned, and his chocolate brown eyes twinkled.
"Feel better?"
"Yeah, thanks. What are you watching?"
"Once Upon A Time In Mexico. Are you up for it, or do you want to get some sleep?"
"I don't mind watching it." I pulled my legs up onto the couch and folded them in front of me, resting my elbows on my knees.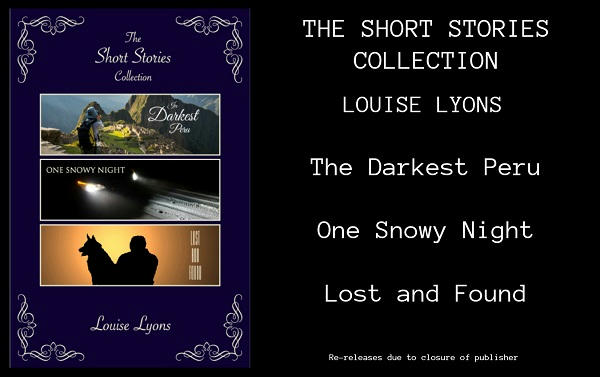 About Louise!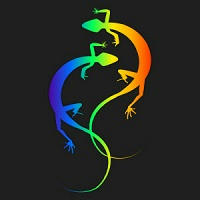 Louise Lyons comes from a family of writers. Her mother has a number of poems published in poetry anthologies, her aunt wrote poems for the church, and her grandmother sparked her inspiration with tales of fantasy.
Louise first ventured into writing short stories at the grand old age of eight, mostly about little girls and ponies. She branched into romance in her teens, and MM romance a few years later, but none of her work saw the light of day until she discovered FanFiction in her late twenties. Posting stories based on some of her favourite movies, provoked a surprisingly positive response from readers. This gave Louise the confidence to submit some of her work to publishers, and made her take her writing "hobby" more seriously.
Louise lives in the UK, about an hour north of London, with a mad dog called Casper, and a collection of tropical fish and tarantulas. She works in the insurance industry by day, and spends every spare minute writing. She is a keen horse-rider, and loves to run long-distance. Some of her best writing inspiration comes to her, when her feet are pounding the open road. She often races home afterward, and grabs pen and paper to make notes.
Louise has always been a bit of a tomboy, and one of her other great loves is cars and motorcycles. Her car and bike are her pride and job, and she loves to exhibit the car at shows, and take off for long days out on the bike, with no one for company but herself.
Where to find the author:
Facebook  | Twitter  | Pinterest  | Website | Instagram | louiselyons013@gmail.com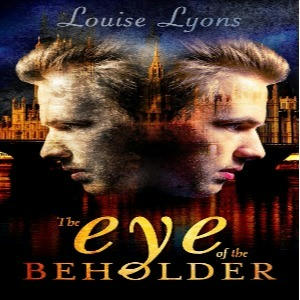 Giveaway!
Louise is giving away a signed paperback copy of her 2015 fantasy/vampire romance novel, The Eye of the Beholder, which is no longer available for sale.
Please comment on any of the Release Blitz posts to enter. Available for worldwide shipping.
(Just leave a comment on this post)