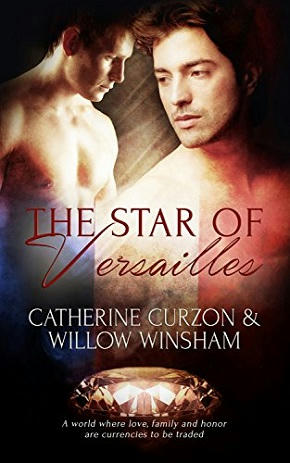 Title: The Star of Versailles
Author: Catherine Curzon & Willow Winsham
Genre: Historical, Sweet Romance, Thriller, Suspense
Length: Novel (270 pages)
Publisher: Pride Publishing (February 7, 2017)
Heat Level: Moderate
Heart Rating: ♥♥♥♥ 4 Hearts
Blurb: As the Reign of Terror tears Paris apart, a dandy and a spy are thrown together on a desperate race through France.
In the darkest days of the Reign of Terror, rumors grow of the Star of Versailles, the most exquisite treasure ever owned by the doomed Marie Antoinette. For Vincent Tessier, the notorious Butcher of Orléans, this potent symbol of the ancient régime has become an obsession and he'll stop at nothing to possess it.
When Alexandre Gaudet arrives in France to find his missing sister and nephew, the last thing he expects is to fall into Tessier's hands. With Gaudet tortured and left for dead, salvation stumbles accidentally, if rather decorously, into his path.
For Viscount William Knowles, life as a spy isn't the escape he had hoped for. Yet a long-held secret won't let him rest, and the fires of Revolution seem like the easiest way to hide from a past that torments him at every turn.
Adrift in a world where love, family and honor are currencies to be traded, the world-weary Viscount Knowles and the scandalous Monsieur Gaudet have no choice but to try to get along if they want to survive. With Tessier in pursuit, they search for the clues that will lead them to the greatest treasure in revolutionary France—the Star of Versailles.
ISBN: 978-1-78651-523-0
Product Link: https://www.pride-publishing.com/book/the-star-of-versailles
Reviewer: Shorty 
Review: I did not know what to make of this story the first few chapters but then the characters seemed to come alive and piqued my interest. They were night and day from each other. Gaudet was anything but boring with his over the top personality. I found myself liking him from the start. William is me reserved and quiet as is expected of someone on the hunt for something. 
Together these two go on amazing journey with deceit, betrayal, danger, action and drama hot their heels the entire way. But they do get close to one another as the story progresses.
I liked the fact that there was a whole cast of characters introduced in the story that played one part or another for the two men on their travels. It was entertaining and enjoyable to the very end.
Great read.