Hi peeps! We have Victoria Sue visiting today with the blog tour for her new release The Strength of His Heart, we have a great exclusive excerpt and a brilliant comment giveaway, so check out the post and leave a comment to enter the giveaway! ❤ ~Pixie~
The Strength of His Heart
by
Victoria Sue
To protect and serve…. All Vance Connelly ever wanted to do was continue his family's tradition and join the Tampa Police Department, but his dreams were crushed the day he woke with the enhanced mark on his face. After years of struggling to adjust to life as an enhanced human, by a stroke of luck, he met Talon Valdez and became a proud member of the FBI's Human Enhanced Rescue Organization.
Samuel "Angel" Piper is eager to leave his DEA undercover work behind as he joins the HERO team as Vance's regular human partner. But Sam's painful past is ever present, just below the surface of the life he has built for himself as an ambitious young agent. When the team investigates rumors of a new drug using enhanced blood, the case's mysterious connection to Sam threatens not just his life but Vance's.
Trust doesn't come easy for Sam, but Vance is willing to fight to convince his partner that the strength of his heart might be the salvation they both need.

Exclusive Excerpt!
"What happened to you?" Talon asked.
Sam would have closed his eyes, but that would never get rid of the images, the memories. He'd tried so hard. "I got caught stealing food five days after she had gone." He had been careless, but he wouldn't have been able to pay the bills, so he was on borrowed time anyway. "Department of Children and Family Services became involved, and I was sent to my first foster home."
He risked a look at Vance and silently acknowledged his understanding gaze.
"It wasn't too bad, but the woman got fired for theft, so we got taken from her. I got bounced around for a while." Such a banal term for a nightmare that had lasted four years before he'd gotten placed in a group home and managed to stay there until he left for college.
"And you have no idea what he wanted?" Talon nudged.
Sam shook his head. "It's gotta be this case. Jaylen seemed terrified, even though his family is okay."
Talon nodded and, with a look at Sawyer, stood up. "How's the back?" he asked Vance.
Vance smiled. "Great."
"Good," Talon said dryly. "Keep it that way. Sam, if you have any trouble with him not doing as he's told, just tie him to the bed or something."
Sam was glad Sawyer's disbelieving laugh covered his own reaction at the innocent words.
"I will arrange for the apartment to be watched tonight and until Gregory decides if you need to be moved. And Sam"—Talon fixed his icy blue stare on him—"Vance is to be treated as your full partner from this second onward. Everywhere you go, he does. I want you to stick to each other like glue. I would insist Vance stay at home tomorrow, but seeing as how the whole team will be in, not least because of what happened tonight, I know it's pointless." He looked at Vance and got a beaming smile. Talon grunted, and they both left.
"Are you okay?" Vance asked, coming to sit back down on the couch after he had locked the door behind Sawyer and Talon.
Sam thought about what Sawyer had said. "Does Sawyer have a family?"
Vance shook his head. "He went into foster care when he was six."
"Six?"
"I know he was happy for a few years."
Sam smiled. "Even with the mark?"
"He got a long-term placement with a real nice family, so I understand. He was with them for… maybe three years, I think, until he transformed. His foster mom completely freaked out, and even though they were going for adoption and everything, he was back in a group home later that day."
Sam swallowed. "Shame it wasn't your mom."
"I guess." Vance's knee bounced. "I think I have the best background of us all. I was lucky. There's a lot of good parents trying to do their best with enhanced kids, but there's as many horror stories as well."
"I guess I'm only just realizing today how tight your team is."
"Finn calls it a family."
Sam smiled. Sounded nice. "What's the deal with Sawyer and Eli?"
Vance shrugged. "No one knows."
"You don't have to tell me anything you feel uncomfortable with." Even though he was curious. He didn't think Eli had ever actually spoken to him. "Eli seems kinda shy."
Vance wrinkled his nose, which made him look about ten. "He's not shy like most people think of when they hear that word. He's angry."
"What, at me?" Sam was startled. "I never—"
"No." Vance paused as if he was struggling to explain. "He doesn't trust anyone. He doesn't share. I'm betting he's never shaken your hand."
No, now he thought about it, he'd never seen Eli voluntarily touch anyone.
"So shy isn't a word I'd use. More defensive, I guess."
"Even with you?"
Vance nodded. "He was the biggest objector to Finn—any regulars—joining the team, but I think Finn kinda won him over."
"You mean he accepts it even if he doesn't like it?"
Vance studied him for a few seconds. "They all felt the same way, but we know it's the only way the team's gonna happen."
"And you? How do you feel?" Sam had no idea why he was pushing. No idea at all.
"My dad had the same partner for eleven years. Said the only downside to promotion was losing Abe."
Sam gazed at his partner. At the man who had saved his life. The man who had risked his own life without thinking. "Your dad sounds like a smart man. I think Gregory has the right idea for the team as well. Show the world that enhanced and regular humans can work together."
Vance stood and rubbed his hands eagerly. "Do you still want to watch the movie? Didn't you say something about popcorn, partner?" he added, mischief in his eyes.
Sam started a little at the about-face. He didn't think Vance would want to brush off talking about partnerships so easily, but he didn't really know, and he had far bigger things to worry about.
Sam had someone after him, which could be for no good reason at all. There was even the chance something connected to his past was gonna bite him on the butt. And what he thought was likely to be the hardest thing he was going to have to endure was sticking to his very hot, very gorgeous partner, who seemed to make a habit of diving on top of him and pinning him down.
And still pretending he wasn't gay.

About Victoria!
Victoria Sue fell in love with love stories as a child when she would hide away with her mom's library books and dream of the dashing hero coming to rescue her from math homework. She never mastered math but never stopped loving her heroes and decided to give them the happy ever afters they fight so hard for.

She loves reading and writing about gorgeous boys loving each other the best—and creating a family for them to adore. Thrilled to hear from her readers, she can be found most days lurking on Facebook where she doesn't need factor 1000 sun-cream to hide her freckles.
Website | Twitter | Facebook | Facebook Group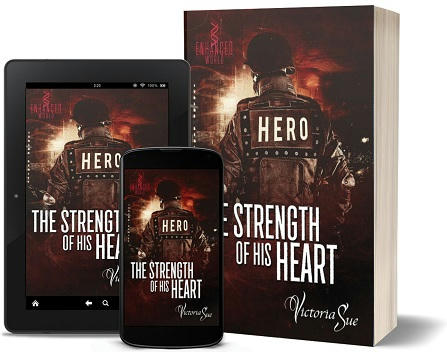 Giveaway!
Win a backlist ebook from Victoria Sue!
(Just leave a comment below)
Winner will be pick randomly from the comments by Victoria Sue.