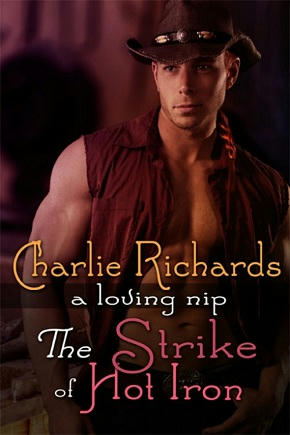 Title: The Strike of Hot Iron
Series: A Loving Nip #13
Author: Charlie Richards
Genre: Paranormal
Publisher: eXtasy Books (May 19, 2017)
Length: Novella (92 Pages)
Heat Level: Low
Heart Rating: ♥♥♥♥♥ 5 Hearts
Blurb: Just a little Love Bite: When a dingo shifter finds a reluctant mate, he needs plenty of help from his friends.
Pascal agreed to move with his two brothers to a vampire coven which runs a dude and cattle ranch. With both of his brothers wrapped up in their mates, he has plenty of opportunity to explore. He accepts his sexuality as he learns his likes, dislikes, and craving, which include submitting to a dominant lover. With abuse part of Pascal's past, his brothers don't understand why he occasionally sports bruises from sex he claims is consensual.
When the new blacksmith arrives at the ranch, Pascal finally understands what his brothers had talked about when describing the mate-pull. Abner Johnson is all he can think about. Unfortunately, while the huge redhead is okay with a little fun, he doesn't want a relationship…with anyone. He's also up front about his feelings on biting–don't even try it.
Can Pascal get help wooing his mate from his family and friends, even when they don't understand his desires?
ISBN: 978-1-4874-1323-1
Product Link:  http://www.extasybooks.com/the-strike-of-hot-iron/
Reviewer: Lisa
Review: Each book in A Loving Nip collection features a different romantic couple. To enjoy the overall story arc and crossover characters, I would recommend reading the series in sequential order. In fact I would recommend reading the very first series that leads you to this one. Wolves of Stone Ridge is the starter that many different series branched off, so I would start with that one first. There are about five different series, so you will definitely be entertained. 
I came across Charlie when she wrote her very first book for the Wolves of Stone Ridge series and never looked back. You will meet a group of alpha that want the love of their mates. They live many centuries and their mates make their lives better and a bit interesting. Most of the time they have their serious tones but there is quite a bit of humor mixed in with them that make them even more fascinating for me. Each story will have danger, excitement, adventure, and a touch of kink to them that will keep your attention the whole time, like it does for me. 
Pascal and his brothers were rescued from their old lives and brought to live among a vampire coven.  It was definitely a change for them, to live with no fear.  The ranch is a nice place to heal, but Pascal is a bit different.  He is learning that he is definitely a submissive, but is afraid to let the others know.  That is until his mate shows up.
Abner is one of the few who cannot be tranced by a vampire.  He found that out the hard way.  Now he is let into the secret of the paranormal world and is fine as long as no one wants a snack.  He is interested in a bit of fun with the dingo, but nothing to serious.  Too bad for him, he is a mate.   
I love how Charlie puts together a book that will draw you in and keep you captivated all the way to the end. Charlie has become one of my favorite authors, and I am glad to see that it will never change. This is one book I would recommend.