Hi guys! We have Z. Allora stopping in today with her upcoming release The Temple of Heaven, we have a fantastic guest post with a couple of great excerpts and an awesome giveaway where there's 3 e-books of The Great Wall, 5 e-books of Finally Fallen and a $20 Dreamspinner GC up for grabs, so guys check out the post and leave a comment to enter the giveaway! ❤ ~Pixie~
The Temple of Heaven
by
Z. Allora
Music is Tian Di's life and his love, and he's made plenty of sacrifices. His career is finally taking off with his band, Made in China, and he'll continue to put music first… until he meets Jordon. Then insta- lust becomes insta-love and a commitment to the future—no matter how difficult it might be.
Jordon lives in a bubble constructed by his overprotective older brothers, who are so controlling that they've kept him from dating. A talented artist, Jordon managed to keep his success with a Japanese manga publisher a secret from his family, but now he fears discovery. It's easier to let his brothers handle everything, but Jordon has reached his limit. He's ready to draw some boundaries so he can be his own man and face all the challenges that come with that.
Their families and careers aren't the only obstacles. Jordon must accept his identity as a gay man who doesn't top or bottom. Fortunately, Tian Di—and his special talents—help Jordon open up to his sexuality in an erotic adventure that spans Japan and China, and with love, luck, hard work, and open minds, will end in a happily ever after.
Z. Allora!
Greetings! Thank you MM Good Book Reviews for the opportunity to share a little bit about me, Jordon Davis, and my new release The Temple of Heaven.
To celebrate I'll be doing a giveaway across the tour: 3 e-books of The Great Wall, 5 e-books of Finally Fallen and a $20 gift card to Dreamspinner. (Details about the giveaway are below.)
Jordon has been in my head since 2010. He is the youngest of the Davis brothers. The two older ones basically raised him—even before their mom threw Jordon out for coming out to her church group. Their attention and love didn't replace Jordon's need for parental affection but reinforced he was worthy of love.
We meet Jordon Davis in his eldest brother's book Finally Fallen. His brothers are trying to convince him to stop sextexting strangers. We see him in Lock and Key as the absent-minded artist. In his own book, The Temple of Heaven he struggles to move past the bratty overprotected teen his brothers see him as to become independent. He wants to do that without hurting his brothers.
Excerpt from Finally Fallen:
(This snippet comes later in the book. Jordon is with his brothers playing paintball. He's sixteen years old. It's classic Jordon.)
Jordon whipped around the hay wall and yelped, "Ah-ha! Got you!" When he went to shoot he was out of paintballs. "Aw, no fair!"
Dusty laughed. He could have easily pulled his trigger. Instead, he handed Jordon his gun and put a finger to his mouth, indicating the kid should shut up.
He spread his arms wide in a big brotherly sacrifice so Jordon could tag him. He bit back an 'ow' when Jordon nailed him in the boot… twice.
Jordon pursed his lips before mouthing, "Sorry."
Dusty waved off the apology and gestured for them to go opposite directions. They could circle around behind Zack so Jordon could get him.
"Who was shot? Jordon, did you bite the dust again?" Zack called out.
With a nod, Dusty and Jordon twirled around the barrier Zack hid behind. Dusty faked a sneeze to draw Zack's attention long enough for Jordon to ping their middle brother about ten times, though Jordon missed the same amount before he pelted Dusty a number of occasions.
Jordy's enthusiasm wasn't dampened in the least by how he'd claimed his victory. "I won! I won! I won!"
Zack snatched Jordon's borrowed weapon and took off his goggles. "Thanks, Dust. Now I have to hear this for the next six years."
"No worries, Zack. I'll bet it drops off after the first five." Dusty chuckled. Hey, it made the kid happy.
Jordon giggled as they piled into Dusty's car.
"Hey, use the tarps. I just had the leather redone." Dusty handed Zack the plastic fabric out of the trunk, ignoring the major eye roll. Dusty pulled on his Boston cap and his sunglasses.
On the way home, Jordon chortled. "Hey, Zack."
"Yes, Jordon?"
"Remember that time I beat you in paintball?" Jordon was on a high.
"I think this is what you both should call the start of the Jordon Dynasty."
 "Dusty, seriously, man, can't thank you enough." Zack glared at him.
"Oh, not to worry, Serf Zackery. I'll be a benevolent ruler." The kid continued to happy dance in the car without pause.
"Drive thru?" Dusty asked as he pulled up to the menu board.
The kid wiggled over the top of Dusty to speak into the box. "Hi, I hope you're having a great day. I'll have a number one and a big cup of cola." A scratchy voice said, "Why, thank you. I hope you're having a great day. That's one number one and a huge cola."
"Oh, I am having a great day. I just beat my older brothers at paintball." "Well, congratulations," the box said.
"Thanks. I…" Jordon's words were lost as Zack pushed him into the backseat so he could order.
At the window, the woman took Dusty's money. She returned his change and handed them the food. "And this is for Mr. Paintball King." Jordon took the crown with as much reverence as if he were named the King of England. He placed cardboard on his head and gave a royal wave to the cashier. As soon as Dusty drove off, Jordon filled the car with a squeal fit for a teen princess.
Jordon reached over the front seat to pat both Dusty and Zack on the shoulders. "Thanks, guys. I had an epic time, and not just 'cause I'm the greatest paintball player who ever lived."
Zack glanced over at Dusty with a grin he couldn't quite hide. Yeah, the littlest Davis was a handful, but he was theirs.
Here's an excerpt from Lock and Key Jordon is almost eighteen. It's dawn and Zack calls him for assistance. (Jordon is full on in artist mode)
"Zack? Where the hell have you been?" Jordon growled into the phone.
"Good morning to you, grumpy one!" Zack injected some happy into his voice.
"I'm not grumpy. I can't make the exact color I need…. Wait, where are you? What time is it?"
Zack pushed sweet into his voice. "Almost time for breakfast. I'm outside a diner. You're up working anyway. Meet me."
"Why can't we have breakfast here at home?"
He'd stoop to bribery. "I'll buy you breakfast."
"What's going on?" Jordon demanded.
"I need you to bring me some clothing." The request wouldn't allay worry or suspicion, but there was nothing to be done about it. He couldn't stand the idea of the weekend being over. If he could just avoid it a little longer, he could deal with the sinking feeling of loss threatening to overwhelm him.
"Why do you need clothing? Just come home and change. Can't we do lunch? I'm having trouble with this piece…."
"Jordy, please. I'm not going home yet and I need you to bring me some clothing and a few other things."
"Why? Why don't you come get them yourself?" With barely a breath, Jordon's questioning turned into conclusion-jumping. "Wait! Are you in trouble? You're in trouble? Oh my God! What did you do? Did
188 Z. Allora
you kill someone? Christ on a cupcake! My own brother on the lam, a fugitive from the law."
"What? No." Jesus, his brother's imagination scared him. Chuckling, he shook his head to try to follow Jordon's line of reasoning, getting lost quickly. "Insane much? I just need you to bring me a few things."
"Like your passport, right?"
"No! I don't need my passport." Zack checked his pocket to make sure he had his wallet. All he needed was his driver's license for ID. "Meet me."
"This piece is really…." Jordon became silent, and what sounded like paint being slapped onto canvas became louder.
No. No. No. Strangling him was out of the question because it would make Dusty even more pissed. Plus, a dead Jordon wouldn't be able to do his bidding. He couldn't lose his accomplice to his brother's art.
Zack groaned. "Jordy, please. I need your help."
His younger brother grumbled, "Fine. Why do I have a feeling you don't want me to mention our breakfast plans to Dusty?"
"'Cause you're the brightest crayon in the entire box."
"Dusty's going to kick my ass for this, isn't he?" The excitement that tinged the kid's voice was distressing. Damn, any little bit of intrigue…. Jordon needed more friends.
Zack rolled his eyes. "He won't. If he finds out, I'll tell him I swore you to secrecy."
*****
These classic snippets show where Jordon has been and in The Temple of Heaven we see him struggling to be seen as who he is now and not who he was when he was a kid. He wants to be independent for his future husband but he hopes to find a way that won't hurt his brothers.
About Z!
Z. Allora believes in happily ever afters for everyone. She met her own true love through the personals and has traveled to over thirty countries with him. She's lived in Singapore, Israel and China. Now back home to the USA she's an active member of PFLAG and a strong supporter of those on the rainbow in her community. She wants to promote understanding and acceptance through her actions and words. Writing rainbow romance allows her the opportunity to open hearts and change minds.
To contact Z. Allora:
FACEBOOK | Blog | Website | Twitter | Dreamspinner Press Author | E-mail: Z.AlloraHappyEndings@gmail.com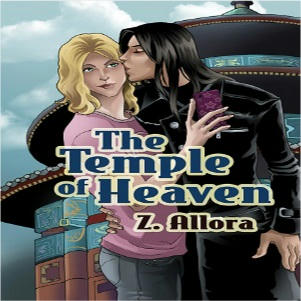 Giveaway!
Win! 3 e-books of The Great Wall
Win! 5 e-books of Finally Fallen
Win! $20 gift card to Dreamspinner.
Just leave a comment telling us whether or not you have siblings.
Tour wide giveaway so comment on all stops.
(Winners will be picked July 20th. (Leaving your email helps but isn't necessary)
Check out Z. Allora's Website for tour stops.