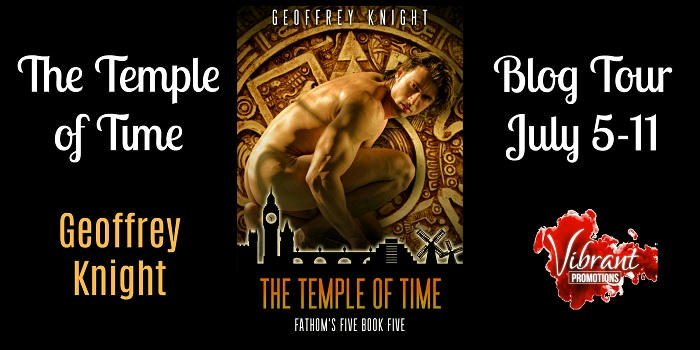 Hi guys, we have Geoffrey Knight stopping by today with the tour for his new release The Temple of Time, we have a great excerpt and a fantastic $10 Amazon GC giveaway so check out the post and enter the giveaway!  ❤ ~Pixie~
The Temple of Time
by
Geoffrey Knight
There is a civilization that vanished without trace. There is a lost temple that can change time as we know it. There is a fragile fraternity that protects the most important secret in human history. And there is one man who will destroy everything and anyone to know the truth—his name is Caro Sholtez.
In his possession are the four pieces of the most powerful mythical clock in the world, and the only person who can stop him from finding the Temple that can unlock Time itself is Professor Fathom.
And so it seems to Caro Sholtez that distractions, kidnappings, killings are necessary to disperse the Professor's men to keep them from stopping him from finding the one thing he wants—the power to control the passage of Time.
From the markets of Marrakesh to the pot parlors of Amsterdam, from the landmarks of London and Prague to the very cradle of Mayan civilization, join hunky New York adventurer Jake Stone, Brazilian biologist Eden Santiago, Texas cowboy Shane Houston, Italian art expert Luca da Roma, and Californian college quarterback Will Hunter on their greatest adventure yet.
**Please note: This is the fifth book in the Fathom's Five adventure series. It is recommended to read the series in order to fully appreciate the sequence of events.

Excerpt!
Big Zettie walked toward the dining table with a large tray of tea. Her hands were shaking so much from the news that the cups clattered loudly. Will helped her ease the tray down before returning to his nervous pacing.
Everyone had gathered around the table.
Elsa sat beside Luca, rubbing his back as a mother would care for a distressed child.
Daniel sat beside Shane, squeezing his hand for reassurance.
Jake stood in the doorway, side-stepping from one foot to the other as though ready to make a move as soon as the Professor gave the green light.
At the head of the dining table sat the Professor with Eden by his side.
In front of them were three opened envelopes, and beside each of these was a short letter.
Eden read them aloud one by one for the Professor.
"This was the message left at Will's house," Eden said by way of explanation.
"I expected to see Felix," Will interrupted, his anxiety evident by his quivering voice. "He's always there, always telling me to slow down… or finish my homework… or eat my goddamn vegetables. The house was so quiet and empty. It was so fucking empty without him."
Jake grabbed Will's shoulder and hugged him tight.
The Professor nodded for Eden to continue. "Please read me what it says."
Eden took a breath and delivered the message. "Dear Master Hunter, if you ever wish to see your faithful Felix Fraser alive again, you'll solve this riddle… Voiceless I howl, toothless I bite. Cities will crumble in the wake of my might."
Silence filled the room. "What the hell does that mean?" Jake said, his brain refusing to function and the fuse of his temper quickly burning to its frayed end.
"Patience, Jake," said the Professor, himself trying to remain calm and composed. "He wants to rattle us. He wants to cloud any sense of clarity we might have with anger and fear. Our emotions are our weakness right now." He turned to Eden. "Please, Eden. Continue."
Eden picked up the second letter. "This was the letter left for Shane."
"That goddamn asshole Claudius Welles handed it to me while I watched the home my father built burn to the ground," uttered Shane through gritted teeth. "That stupid coward saved himself rather than try to save my mother."
Daniel clutched Shane's hand tight. "We'll get through this. We'll find your Mom and we'll all get through this together."
The Professor said nothing to Daniel's comment. He could already see how this was playing out. Caro Sholtez was indeed about to divide and conquer in a somewhat ruthless and spectacular fashion.
"Eden, please read on," the Professor said.
Eden held the second message in his hands. "Dear Mr. Houston, if you ever wish to see your beloved mother alive again, you'll answer this riddle… Angry I run, cold I am still. But when I am hot, the air I will fill."
"I think I see where this is going," said Daniel, his mind clearly ticking over.
"I've no doubt you're correct, Daniel," said the Professor. "Eden, would you mind reading the final riddle?"
Eden picked up the third letter, the one addressed to Luca.
Luca said nothing. He had replayed the words over and over again in his head so many times he didn't need to hear it again. He turned away.
"Dear Signor da Roma," Eden read aloud. "If you ever wish to see your cherished Bride of Christ again, you'll answer this riddle… My colors I change, by day and by night. My fury is dark, but my silence is bright."
A sniff escaped Luca. He lifted his face to reveal his glazed eyes and numb expression. After a moment, he uttered quietly, "Sky."
"What did you say?" asked Jake, unable to hear Luca's mumbled words from his place in the doorway.
"The answer to the riddle is 'sky'," Luca replied in a monotone voice. "I've read it so many times, I've thought of every possible answer, and the only one that makes perfect sense is the sky. The sky changes color every hour of the day. Yellow at dawn, pink at dusk, blue at noon, black at midnight. When there's a storm it's dark and angry, but on a calm, quiet day, the sky is clear and bright."
Daniel, the puzzle-solver of the group, stood nodding. "He's right. All the answers are part of nature. Voiceless I howl, toothless I bite. Cities will crumble in the wake of my might. That's the wind. The answer to Will's riddle is the wind."
"It howls and bites and tears buildings to shreds in a tornado," agreed Will, some hope finally returning to his voice.
"And as for Shane's riddle, that answer is water," said Daniel. "Angry I run, cold I am still. But when I am hot, the air I will fill."
Shane nodded, understanding the references now. "Raging rivers run. Ice is still. And boiling water…"
"Rises into the air as steam," finished Jake. "But what does it all mean? Sky, wind, water… the answers just leave us with more questions and no clues what to do with them."
"The clue is in Caro himself," the Professor said. He turned his head toward Jake and Will and gestured for them to stop pacing and join the others at the table. "Please, gentlemen, take a seat. It's important I tell you everything there is to know about Caro Sholtez. Or at least everything I know about him."
"If it leads to Felix and the others," said Will, quickly pulling up a chair, "then hit us with everything you've got, Professor."
"There is a Temple somewhere in the Mexican jungle known as the Temple of Time. Nobody knows where it is, at least nobody left alive today. The last known sighting of it was by a man named Hernando Cortez in the late sixteenth century. Cortez was a thief who stowed aboard a ship in the Spanish Armada, posing as a Conquistador. He was after gold and silver and bragged that he had plundered a lost temple in what is now known as the Lacandon Jungle in Mexico. Unfortunately for Cortez his bragging was short-lived. The natives soon realized what he had done and quickly captured him, sacrificing him to their gods for his crime. But legend has it Cortez found more than simply gold and silver… according to the stories, he found—and stole—the four pieces of the clock inside the Temple of Time. The natives were furious. They put safeguards in place to stop anyone else from finding the Temple, but the damage had already been done. The pieces of the clock were gone, and Cortez… well… he had no idea how close he came to finding the greatest discovery in human history. You see, according to legend, the Temple holds the key to unlock time itself."
"What do you mean, unlock time?" asked Daniel.
"I'm referring to the ability to control time. Bend it. Contort it. Travel through it," said the Professor. "It is a place of untold power."
"Travel through time?" Shane asked. "Are you serious?"
"I'm deadly serious. And so is Caro. Finding the Temple has been his entire life's obsession. He has murdered his way across continents to fulfill his quest."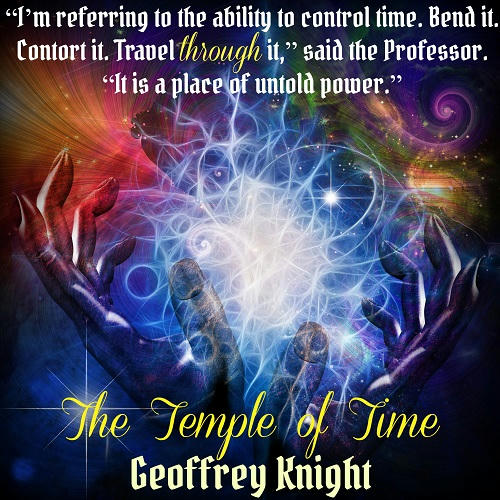 About Geoffrey!
Geoffrey Knight is the author of more than 30 gay fiction novels, novellas and short stories, ranging in genre from gay adventure, gay romance, gay suspense and gay comedies. He is the recipient of two Rainbow Awards including Best Mystery Winner and Best Overall Gay Fiction Runner-up. His work has been featured in several anthologies including Best Gay Erotica 2013, and he appeared as Guest of Honor at the inaugural Rainbow Con in Florida, 2014.
Geoffrey has worked in advertising, politics and journalism, but nothing is as fun as telling stories. He lives with his partner, their baby daughter, two dogs and two cats in a rambling old house in North Queensland, Australia, where the paint is fraying and life is good.
Amazon Author Page | Twitter | Facebook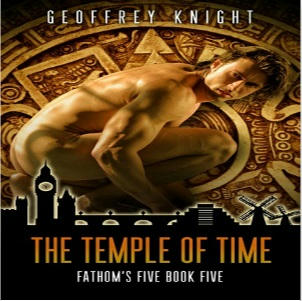 Giveaway!
Win an $10 GC to Amazon!