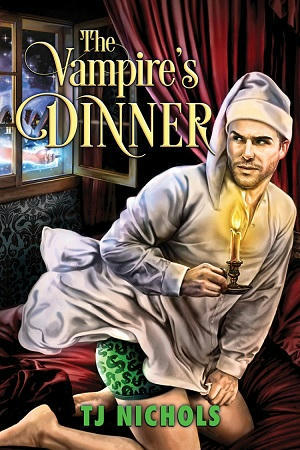 Title: The Vampire's Dinner
Series: 2016 Advent Calendar Bah Humbug
Author: T.J. Nichols
Genre: Holiday, Paranormal
Length: Short Story (39 Pages)
Publisher: Dreamspinner Press (December 22, 2016)
Heat Level: Low
Heart Rating: ♥♥♥ 2.5 Hearts
Blurb: For vampire Charles Redfort, Christmas is a bitter reminder of the day he was killed by a werewolf. After fleeing the vampire army he was created to serve in, he has lived in exile in England. Once a year he allows himself to tell the truth about his life over dinner. Then he eats the man he's hired for the night.
Blake Wells is an engineering student by day and escort by night. He works Christmas because he doesn't want to see his father, and his mother doesn't want to see him. When he meets Charles, he thinks he's gotten a bonus present that he can't wait to unwrap. But as the truth is revealed, Blake will have to think fast to live until morning and convince Charles to give up his lonely life. 
ISBN: 978-1-63533-184-4
Product Link: https://www.dreamspinnerpress.com/books/the-vampires-dinner-by-tj-nichols-7978-b
Reviewer: Lisa
Review:  This one is definitely not to Christmas themed, and I am not sure about what to think of it.  Vampire killed and in hiding from his own kind.  Alone on Christmas, he hires a sexy little man to be his for the night and you will just have to read.
This one was a very weird story and not at all what I wanted.  It actually was depressing in its way, but the ending was a tad bit better.  However I am afraid that this is one story that was not for me.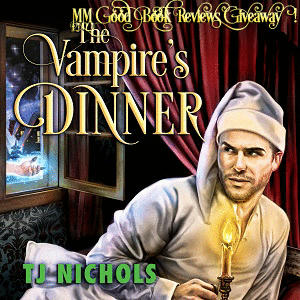 1st prize $100 DSP credits!
2nd prize $50 DSP credits!
3rd prize $25 DSP credits!
4th prize $25 DSP credits!
T.J. Nichols's Question!
In what country was A Wolf's Resistance set? 
(Just leave a comment with the answer on this post)
Catch up with the previous questions: MMGBR Bah Humbug Giveaway!
(Winners will be picked by a dart on 1st January 2017)