Hi guys! We have debut author Anna Veriani stopping by today with her upcoming debut release The Winter Quarters, we have a brilliant guest post, a great excerpt and a fantastic pre-order giveaway, so check out the post and enter the giveaway! ❤️ ~Pixie~
The Winter Quarters
by
Anna Veriani
Snow, steam, and a second chance.
Reluctant socialite Kai has thirty-five days before his family starts shooting the next season of their reality TV show, revealing a life he'd rather keep private—and one that feels increasingly scripted. Desperately needing a break, Kai escapes to his childhood best friend Hiro Asada's inn in rural Japan. He finds peace in the thousand-year-old hot springs, but his yearning for Hiro resurfaces at the worst time: Hiro is about to inherit the inn, and his parents expect him to marry within the year.
Hiro's traditional family loves him for who he is, but they can't imagine two men running the inn. Meanwhile, Kai has a TV contract his lawyer insists can't be broken. Hiro and Kai need to think outside the box—and solve their problems before Christmas Day, when Kai's show shoots its annual holiday special.

Anna Veriani!
"Writers are lost people. No one would write a book if they weren't lost." This is how Paul Kingsnorth starts his book on writing, Savage Gods, referring to the idea that writers write to attempt to answer their own questions. But Kingsnorth goes further, discussing the idea of displacement in the modern world, the wandering writer writing to feel a little more rooted.
What does any of this have to do with The Winter Quarters, a snuggly, cuddly holiday romance? In retrospect The Winter Quarters is so clearly what I wrote for myself during the long, dark winter and bright, unfurling, green spring that was my first year in Japan.
In The Winter Quarters, Kai Ledging, like me, comes from New York City to a rural town in Ishikawa, Japan. Unlike me, Kai has roots in the place he visits: His family lived in Ishikawa for generations, and he grew up best friends with a boy whose family owned a thousand-year-old hot spring inn, one of the oldest hotels in the world. Can't have roots deeper than that, can you?
Kai takes his roots for granted. He's found fame and success in New York, starring in a major reality TV show. Nearly everyone in his life had guided him away from his family's traditions and toward the gleaming, modern pursuit of wealth and materialism. What he's found—surprise, surprise—is that it's not made him happy.
And it is kind of a surprise, because that's not really how romance novels are supposed to go. When I lived in New York I interned in publishing, working primarily with romance novels, and I remember one satisfied email from an editor read: Perfect ending. Woman got man AND got rich. 
That equation is the classic happy ending: man + rich. But when I moved to Ishikawa, I experienced an essential shift in my understanding of luxury. New York had seemed to offer everything, but living expenses were so steep that affording your own rent was a real privilege. In Ishikawa, rent was a quarter of the cost, and the world was suddenly rich with luxuries: Every morning I walked to work, crossing a river dotted with herons; I stopped to watch the rushing waters and the rising sun. People were kinder, slower, in a way that I had never experienced. People's time was not ruled by money, and they treated each other differently, quicker to connect.
The culture made room for small pleasures: During an overnight work event in the summer, we all took hot baths and cooled down with beers and barley tea, barefooted, eating sushi with our fingers. That just wasn't something I would have ever done at a work event in New York. Suddenly, my life was full of myriad pleasures, and none of them were expensive.
I felt that Ishikawa would be the perfect setting for a romance. Kai's best friend, Hiro, knows and loves his roots, and he understands something that Kai does not: Pleasure does not need to be exceptional. In the right kind of place, we can all have big and small pleasures throughout our days, in every season. Hiro's world is one of ancient hot springs, mouthwatering food, and eternal gardens. When Kai steps back into it after years away, his understanding of the world starts to shift, and in that shifting he's able to open his heart to the man he's always loved.
The Winter Quarters is my first love letter to Ishikawa. I hope there are many more in the future, because already my understanding of this place has deepened, and I only love it more as time goes on. I envy that Kai, unlike me, has proper roots to the region, but like Hiro, I now more fully understand that we don't all need to work tirelessly for meager rewards. Hot spring baths—like winter kisses—are for everyone.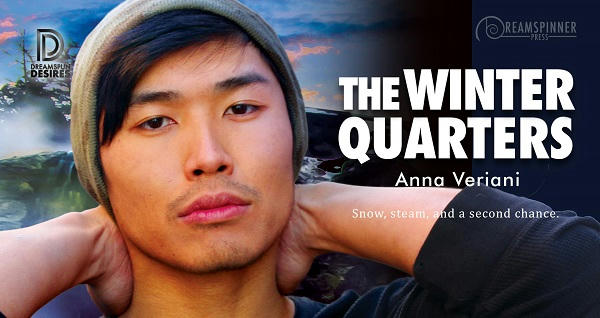 Excerpt!
HE HAD expected to be recognized at Kanazawa Station. This was, after all, his hometown, and it had the kind of fierce local pride in him obscure places had in their born-and-raised celebrities. He'd just thought it would take longer than three steps off the train.
"Eh—Kai-chan?" He paused when he heard a woman in a rabbit fur muffler gasp, and that was his undoing. "Kai-chan!"
Chan was an honorific for girls, puppies, and boyfriends, and somehow it had been attached to his name once the show started. He enjoyed this precisely as much as any grown man would.
It was like every woman on the train platform suddenly smelled him, sharks going after blood. He tucked his head down and strode toward the exit, but it was too late. The click-clack of high heels followed him. He kept walking even as the call of his name grew louder, attracting more attention in a vicious cycle. Abandoning his security team at JFK Airport yesterday had seemed thrilling at the time; now he wasn't sure what he'd been thinking.
"Excuse me, ladies," a voice boomed behind him in Japanese. Kai flinched and nearly broke out into a run.
The police, the police…. He looked around frantically just as a massive arm wrapped itself around his shoulders, so heavy he nearly crumbled.
"Sir, I am not Kai—" he tried in his most dignified Japanese, retrieving his phone. He wasn't sure what he'd do with it—call the police? Chuck it at the man's face?
"Obviously." The man grabbed Kai's phone and held it above both their heads. "I, however, am enormously famous, so I thought I would grace you with a selfie." He set it to selfie mode. "Cheers."
The camera clicked as it took their picture, and Kai was blinded by sheer outrage. Then he saw the man's face clearly in the camera screen—specifically his wide, doggish grin.
"Hiro, you absolute bastard," Kai said in English. The horde of women had left them. He didn't blame them. Hiro probably looked like a bodyguard, and not the kind you would risk messing with.
"Is that the hello I get from an old—"
Kai wrapped his arms tight around him and squeezed.
"Oh." Hiro hugged him back, and Kai swore his own blood pressure lowered. "Hey, man. It's good to see you." He squeezed his shoulder. "Shit flight, right?"
"You know it." Kai pulled away and got a good look at his face.
Hiro may not have actually been post-op, but there were people in the world who would pay for cheekbones like his. Time had taken his face and sculpted it beautifully: his baby fat chiseled away, all angles and a wide, grinning mouth; his hair longer now, feathery near his chin. Five-o'clock shadow graced his skin, and Kai wanted to rub his own cheeks against it.
Okay. It was time to tone it down, before some of those thoughts ended up leaving his lips. Kai had gone too long without a date, putting him a little on edge. But Hiro had mentioned he was engaged over text message just last week—which was something Kai had to grill him over later. He was a little confused about why he hadn't heard about Hiro's fiancée.
"Sorry," Hiro said suddenly.
Kai realized he'd been staring in silence a beat too long. "For what?"
"Staring," said Hiro, and for a wide-eyed moment Kai thought he was being accused. "I know we talk almost every day, but… seeing you in person is different, somehow."
It hadn't felt like it at the time, but they'd still been babies when they'd roomed together at NYU. Four years after graduation, and Kai felt about two decades older.
"It is," Kai admitted. "And what's up with this?" He poked Hiro's torso. "Since when did you get buff?"
Hiro was wearing a black long-sleeved shirt and leather jacket, and he leaned back and laughed, which emphasized Kai's point. The shirt stretched around his chest and hugged his thick arms. Hiro had always been taller than Kai, but Kai didn't remember him being so broad. He hadn't stopped growing vertically either. Well over six feet now, he was built like a lumberjack.
"What's up with you waltzing around Kanazawa Station like you don't want your picture taken?" said Hiro. "Don't you know there's a banner with your face on it right outside?"
"Is there?" Kai cringed.
"And this city only has about five billboards, so people aren't going to forget you."
Kanazawa Station was bright and open, making it the worst kind of place to hide in. A schoolgirl's eyes went lemur-wide as Kai passed, and Hiro put an arm around him. The girl leaped away to give them space.
"Don't scare people," Kai chided. "You look like you're yakuza standing next to me."
"How dare you suggest such a thing," Hiro said. "I look like your much richer and handsomer brother."
Kai raised his eyebrows. "We don't look like brothers, man."
"Yeah," Hiro agreed, and there was something behind his tone that Kai couldn't decipher. "Nothing fraternal here."

About Anna!
Anna Veriani was born with a deep love of queer lit and .99¢ New York pizza slices. After graduating from NYU with a degree in East Asian Studies, she set sail for Ishikawa, Japan. Now she spends her days writing by the river and dreaming of opening an expat pizzeria.
Website | Twitter | Newsletter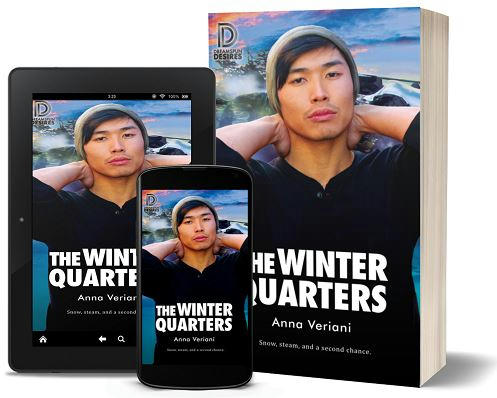 Pre-order Giveaway!
Everyone who pre-orders and fills out this form gets a postcard from Japan with a thank you note from the author.

)
One random winner will also receive a box of Japanese goodies, including Japanese snacks, teas, and skincare products.
More details about the giveaway are

 here.
Open internationally from now until October 14th, 11;59 EST.
Pre-order from any vendor, in paperback or e-book edition.
One entry per person. 
After the campaign…
One grand prize winner will be ~randomly~ selected.
Postcards and package will be mailed after The Winter Quarters's release date, October 15th.