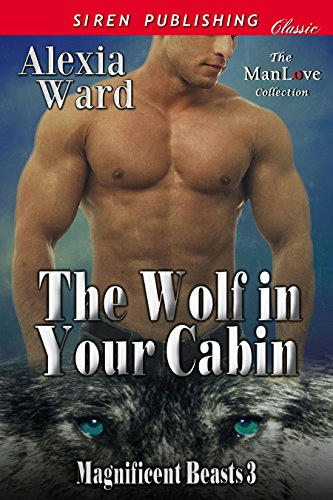 Title: The Wolf in Your Cabin
Series: Magnificent Beasts 03
Author: Alexia Ward
Genre: Paranormal
Length: Novella (96 Pages)
Publisher: Siren Publishing (August 20, 2016)
Heat Level: Low
Heart Rating: 💖💖💖💖 4 Hearts
Blurb: Freddie Dark is looking forward to some rest and relaxation at a ski resort. When he gets stuck with a hunky human named Justin Isaac as his roommate in a luxurious cabin, he is none too pleased. In his mind, shifters and humans don't mix. But his predisposition quickly changes when he realizes that Justin is his mate.
Justin Isaac is about to be evicted from his apartment when he wins a ski trip. Hoping to escape his dire financial woes for a little while, he sets out on his vacation. To his delight, his new roommate, Freddie Dark, is a giant wolf shifter with super good looks and strength. It may be cold and snowing outside, but things soon get hot and steamy in their cabin.
There's a murderer in the ski resort who's killing guests one by one. Freddie and Justin are next on his hit list. Can they figure out who the killer is before he strikes again?
ISBN: 9781682954539
Product Link: Siren-BookStrand | Amazon US | Amazon UK
Reviewer: Lisa
Review: Each book in the Magnificent Beasts collection features a different romantic couple. To enjoy the overall story arc and crossover characters, I would recommend reading the series in sequential order.
Freddie was about to go crazy. He is going through the empty nest syndrome. Two of his three younger brothers have found their mates and the third is never home. He is going bored with each minute. That is until he wins a free skiing trip. He is paired off with one hell of a sexy human.
Justin is broke, soon to be homeless and nothing good in sight. Then he won a trip of a lifetime. He might as well have a bit of fun with it. Then he gets an eye of his sexy roommate and well we shall see. Then things start happening that just might end them both.
It is a pretty sweet story, but it doesn't flow off the pages as it should. It came off rushed and a bit off. Freddie might be an alpha wolf, but he comes off as a paranoid idiot in parts. In other parts, like with his brother, the alpha shows. Also is it just a pack of three, because even in real life wolves need packs.
I honestly not really sure about this story, but it is still a nice read.