Hi guys, we have K.A. Merikan stopping by today with their new release Their Property, we have a fantastic giveaway so check out the post and enter the giveaway! ❤ ~Pixie~
Their Property
by
K.A. Merikan
— Bruised not broken. Loved. Always. —
Clover's life was perfect a year ago. He'd found four men to love, each essential to making him whole. Each one of them tough in their own way, part of a crew of mercenaries living on the wrong side of the law. 
Tank was his loving Daddy, Pyro the wild one always pulling him into mischief, Boar taught him how to cook, and Drake showed him how to use knives in a wholly different fashion. 
All Clover wanted was to finally be an equal in the group. So he trained, he pushed, and risked, but when real danger stared him in the face, he broke like a twig. 
Now, with one of his lovers taken, Clover can't find a way back to his former self. Each of the relationships they'd so meticulously built is fractured, and might never be the same.
If their group is to ever be whole again, Clover needs to find the courage he's lost, but that means facing the monster who scarred him, and truths none of his men want to confront. 
*
THEIR PROPERTY is a dark gay harem contemporary romance, book 3 in the "Four Mercenaries" trilogy. The story contains scenes of explicit violence, offensive language, morally ambiguous characters and lots of scorching hot, emotional, explicit scenes.
POSSIBLE SPOILERS:
Themes: polyamory, mercenaries, bounty hunters, albinism, commitment issues, dark past, male bonding, human trafficking, size difference, danger, alpha male, found family, size difference, distrust, shared, victim and protector, revenge, organized crime, angst, trauma, rescue, missing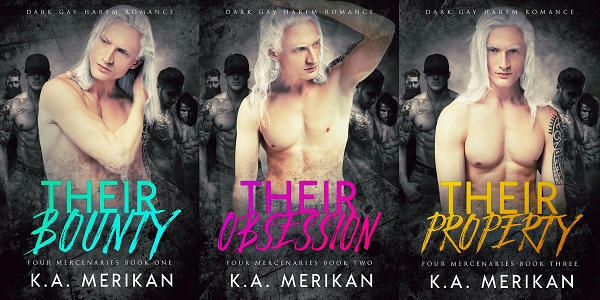 Four Mercenaries series!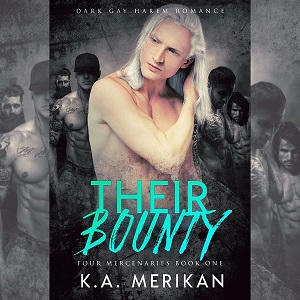 Their Bounty (book 01)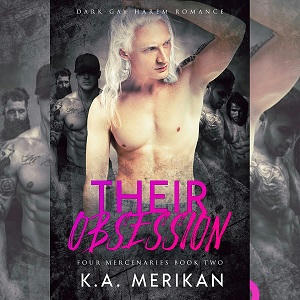 Their Obsession (book 02)
.•.•.**❣️ Amazon US | Amazon UK ❣️**.•.•.
Set Aflame
(Four Mercenaries prequel)
.•.•.**❣️ Amazon US | Amazon UK ❣️**.•.•.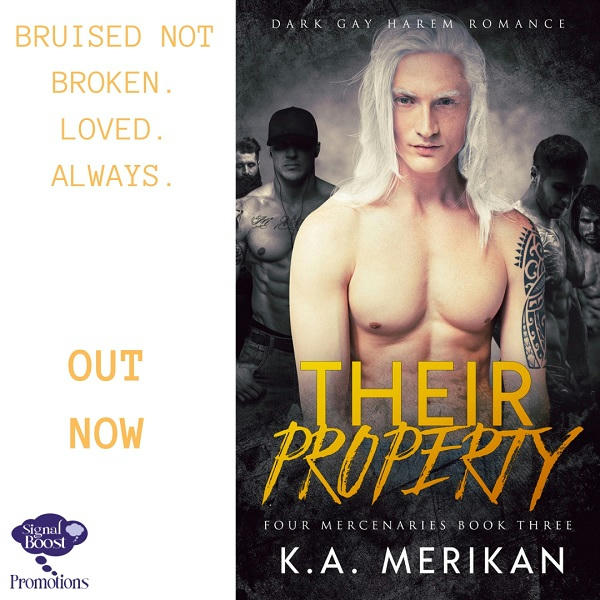 About K.A.!
K.A. Merikan are a team of writers who try not to suck at adulting, with some success. Always eager to explore the murky waters of the weird and wonderful, K.A. Merikan don't follow fixed formulas and want each of their books to be a surprise for those who choose to hop on for the ride.
K.A. Merikan have a few sweeter M/M romances as well, but they specialize in the dark, dirty, and dangerous side of M/M, full of bikers, bad boys, mafiosi, and scorching hot romance.
Facebook | Twitter | Goodreads | Pinterest | Miss Merikan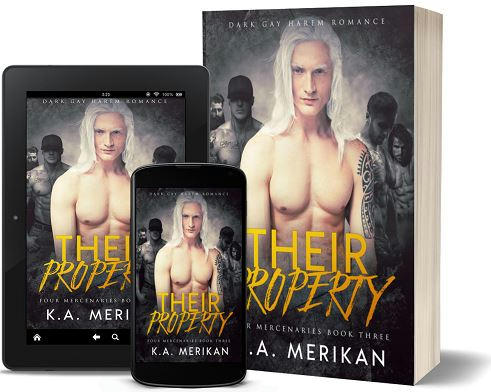 Giveaway!
Win a Backlist Ebook from K.A. Merikan!