Hi guys, we have Tia Fielding popping in today with her new release Thirteen, we have a great exclusive excerpt, so check out the post and enjoy! ❤️ ~Pixie~
Thirteen
by
Tia Fielding
Deputy Mark Forrest and Nurse Francis Archer can't deny the chemistry that arises between them. A chance meeting awakens the idea of something greater than either had ever imagined.
Mark craves being able to let go, and Francis loves to take him out of his head. But Mark's past bears a truckload of personal demons that have kept him in the closet and made him lash out at the LGBTQ community in the town he's come to regard as home.
Despite finding love and a new purpose in Acker, Francis's new job might end up being temporary, and he doesn't want to lose the life he's settled into. Can the two of them build a future together despite a bitter past, and diverging paths?
Trigger Warning: Abusive, homophobic, and racist language, light D/s, homophobia, vague descriptions of domestic violence and sexual abuse.
This novel is the third book in the Love by Numbers series. While it can be read as a standalone, the author suggests that you start from book #1, Ten, and go from there for the best reading experience.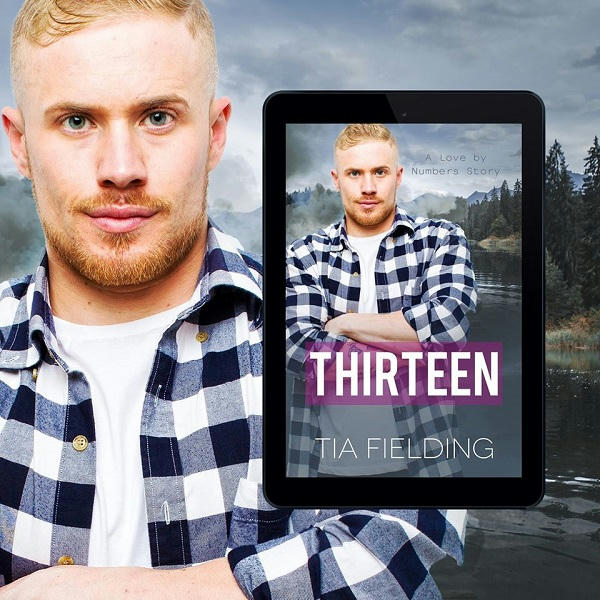 Exclusive Excerpt!
Neither of them had noticed Mark walking in. He was trying to get past Lotte, hovering awkwardly behind her and searching for a way to get away from… Francis.
"Oh, sorry Mark, I didn't notice you there! Am I in your way?" she asked as soon as she saw him.
"No, no it's okay—"
The devil went into Francis then, as Marcus's mother might've said once upon a time. "Hey, Deputy Forrest," he said in a friendly, even tone, instead of letting Mark slip past.
"Oh, you two know each other?" Lotte looked curiously from Francis to Mark and back. "Here, you can have my seat, I was just leaving."
Despite Mark's protests, she pushed him into the seat she'd vacated, and patted his shoulder. "Have a nice lunch!"
"Bye, Lotte," Francis said cheerily. Then he turned his gaze to Mark who seemed shell-shocked, to say the least. "So, we meet again."
For a few moments, Mark's expression stayed the same, then he relaxed and snorted. "Very Bond villainy of you to say."
Leah noticed Mark and came to take his offer. "The usual, Deputy? And will you have anything else, Francis?"
Something hard to read passed Mark's expression, but he concentrated on Leah. "Yeah, the usual is fine. Add a shot of espresso to the latte, please?"
"Will do." She smiled and turned to Francis.
"I'll have another latte as well, and a slice of whatever pie you might have?"
"I have about five types left." Her tone was dry, which made him realize it was, indeed, Thanksgiving week.
"Surprise me?"
"Alrighty." She walked away again.
"Look," Francis started once they were alone again. "I'm not here to cause you any trouble, okay?"
Mark fiddled with a napkin he'd picked up and twisted it in his fingers. "I know that. It's…." He took in a shuddering breath and clearly kept a firm hold of himself.
"So, how was your Thanksgiving?" Francis asked, leaning back in his seat to pull the pressure back from Mark a little.
"I worked, and I'm doing half-shift this morning, too."
Francis did the math. "Are you on your way home, then?"
"Uh, yeah." Mark still couldn't bring himself to look Francis in the eyes.
"Here you go, boys." Leah set a plate of food and a coffee in front of Mark, and another mug and a piece of pie in front of Francis. "Holler if you want anything else."
Mark put the napkin aside and picked up his knife and fork, but didn't seem to know where to start.
"Hey, if I'm putting you off your food, you can move somewhere else," Francis said after watching his struggle for a whole minute.
"No, no it's… it's not you. I'm…." Mark glanced at him, then back to his plate, and speared some of his Caesar salad with his fork, then put the food into his mouth and started to chew.
If it was possible, Francis was pretty sure Mark would've been a bit green around the gills like a cartoon character. He sipped at his latte and took a fork to his… chocolate cream pie? Francis hummed at the taste of the chocolate. It was so very good and not at all too sweet.
"I'm expecting a call," Mark said after forcing himself to eat a few more bites. He drank some of his coffee and put his mug down. "Sort of."
Francis nodded. "Not a scheduled call, just one that might come anyway?"
"Y-yeah, it's…." And suddenly whatever Mark was thinking about made him change in front of Francis's eyes. He paled, shrank a little in his seat, and something about his demeanor screamed "abuse victim" at Francis clear as day. He'd seen this sort of thing before, many times. In women, and sometimes men, he met at work. People who were okay alone, but as soon as they heard their abuser's voice, they became… this.
Whomever was going to call Mark had seriously fucked with his head.
"Are they calling from somewhere close?" Francis asked, trying not to show his worry.
Mark shook his head, not quite looking at Francis, but also not quite seeing what he was looking at, either. "N-no, they're back… back in Arizona."
No hints there, other than the phrasing that suggested Mark had once been in Arizona as well.
"Okay, well, then they're there and you're here, right?" Francis said in his best practical tone.
Mark stared at the window, not through it, for a few seconds longer and then snapped out of it. He turned to Francis and his eyes were filled with relief. "You're right. You're absolutely right. Thank you."
Francis smiled and concentrated on his coffee instead of Mark, to give him space.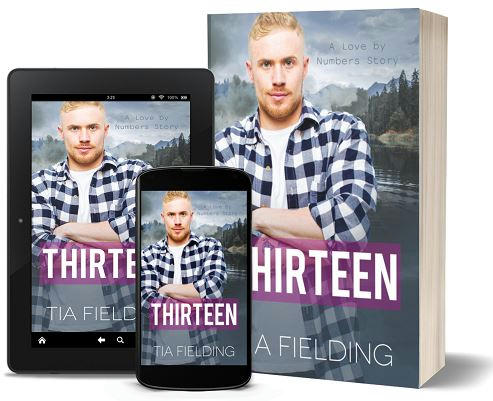 About Tia!
Tia Fielding is a Finnish author who loves witty people, words, peppermint, sarcasm, autumn, and the tiny beautiful things in life.
Tia identifies as genderqueer but isn't strict about pronouns. Why? Because luckily, in her native language there aren't gender-specific pronouns.
These days, preferring to live in the middle of nowhere with her fur babies is as big of a part of her psyche as writing. Tia likes to recharge in nature and tends to watch where she's going through her cell phone's camera.
In 2013 Tia's novel Falling Into Place was recognized by the industry's Rainbow Awards in the Best LGBT Erotic Romance (Bobby Michaels Award) category.
In 2019, her novel Four (Love by Numbers #2) won a Rainbow Award in the Best Transgender Contemporary category.
Facebook | FB Author Page | FB Group | Twitter