Hi guys! We have Kelly Jensen stopping by today with her new release To See The Sun, we have a brilliant guest post & Kelly's playlist and a fantastic giveaway where you can win a $25 Riptide credit and some swag stickers and a bracelet, so check out the post and leave a comment to enter the giveaway! ❤ ~Pixie~
To See The Sun
by
Kelly Jensen
Survival is hard enough in the outer colonies—what chance does love have?
Life can be harsh and lonely in the outer colonies, but miner-turned-farmer Abraham Bauer is living his dream, cultivating crops that will one day turn the unforgiving world of Alkirak into paradise. He wants more, though. A companion—someone quiet like him. Someone to share his days, his bed, and his heart.
Gael Sonnen has never seen the sky, let alone the sun. He's spent his whole life locked in the undercity beneath Zhemosen, running from one desperate situation to another. For a chance to get out, he'll do just about anything—even travel to the far end of the galaxy as a mail-order husband. But no plan of Gael's has ever gone smoothly, and his new start on Alkirak is no exception. Things go wrong from the moment he steps off the shuttle.
Although Gael arrives with unexpected complications, Abraham is prepared to make their relationship work—until Gael's past catches up with them, threatening Abraham's livelihood, the freedom Gael gave everything for, and the love neither man ever hoped to find.
Kelly Jensen's Playlist!
I wrote my first few books at a desk in the kitchen with the TV tuned to VH1. I wouldn't really be aware of the music until I took a break, and then I might spend the ten minutes away from the laptop dancing in front of the television. It's okay, I'm usually home alone during the day. No one can see me acting like a fool. My writing day would wrap up around eleven, or whenever I heard the Real Housewives of Somewhere yelling behind him. Or the bleeps used to censor their cursing.
When I moved upstairs to the nook we designed just for me (with a new desk and chair better suited to long hours at the laptop), I tried to listen to music—first using an old CD player, and then streaming through the internet—and discovered that it didn't work. It was too distracting. I fiddled with the volume and the style, but couldn't make it work. My theory is that when the music came from the TV, some distance away, I could tune it out in much the same way I tune out the alarming amount of golf my husband watches, or the endless stream of YouTube my daughter prefers. Upstairs, in my own space, not so much.
So when it comes time to put together playlists for my books, I generally have to rely on music I hear while driving—that makes me think of my characters—or songs I pick while writing posts like these. I enjoy both, though. I love being out and about and hearing the perfect song. My characters are nearly always on my mind, but the right note or lyric can bring them forward and even inspire me to rework something in a story. Searching for songs afterward is always a bit bittersweet, as though I'm saying goodbye. But I love having these lists set aside for whenever I want to revisit.
Here are the songs I chose for To See the Sun. (Visit the list on YouTube.)
John Murphy – "Sunshine" (Adagio in D Minor)
There's a scene in the book where Gael gets to watch his first sunrise. I have long loved John Murphy's compositions, particularly the soundtrack for the movie Sunshine, and this piece of music is perfect for that first sunrise, and for a metaphorical sunrise later in the book, when Gael finally tells Bram why he accepted the contract and journeyed to Alkirak.
M83 – "Wait"
This one is for Aavi. And Gael. And Bram. For all of them, really. For all the waiting they had to do, the distance they had to travel, and the time that had to pass before they could become a family.
Also, the video is just damn cool. I love M83.
Coldplay – "Yellow"
"Yellow" has long been one of my favourite songs. I love the lyrics, I love the video, I love imagining it was written for every love story I've yet to tell. I used this song title and the lyrics as inspiration for a chapter of fan fiction, back in the day, but I think it works better for To See the Sun. Bram is a poet and he so badly wants to love someone. It's not hard to imagine him writing this for Gael.
Milky Chance – "Stolen Dance"
I adore the sound of this song. and when I was collecting tracks for this playlist, I clicked on this one and immediately thought yes! It's the guitar. It evokes the feeling of a dusty saloon on a remote colony, miners gathered to listen to music. The beat is easy to dance to. Then I went to have a look at the lyrics and decided this song had been written just for Bram and Gael. It's perfect.
Foo Fighters – "Everlong"
Did I pick "Everlong" because it's the only song I can get 100% on playing Guitar Hero? Maybe. The reason I play it so well, though, is because I love it, and the sound of the song and the sentiment of the lyrics are perfect for this book. The waiting and wanting this to feel real.
Soundgarden – "Black Hole Sun"
A bittersweet entry here, but I still play this one all the time, and it's another song with particularly fitting lyrics.
Do you have any song recommendations for a love story between a failed assassin and a lonely farmer set on a planet at the outer edge of the galaxy?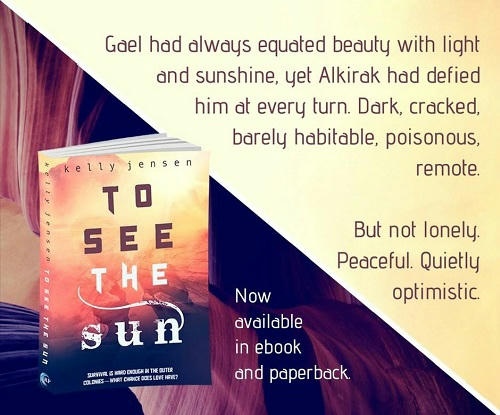 About Kelly!
If aliens ever do land on Earth, Kelly will not be prepared, despite having read over a hundred stories about the apocalypse. Still, she will pack her precious books into a box and carry them with her as she strives to survive. It's what bibliophiles do.
Kelly is the author of a number of novels, novellas, and short stories, including the Chaos Station series, cowritten with Jenn Burke. Some of what she writes is speculative in nature, but mostly it's just about a guy losing his socks and/or burning dinner. Because life isn't all conquering aliens and mountain peaks. Sometimes finding a happy ever after is all the adventure we need.
Connect with Kelly: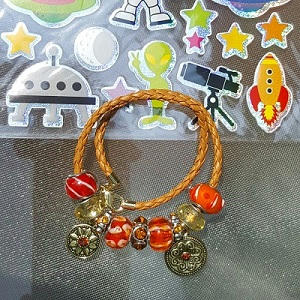 Giveaway!
To celebrate the release of To See the Sun, Kelly is giving away a $25 Riptide credit and some swag stickers and a bracelet!
(Just leave a comment with your contact info to enter the contest. )
Thanks for following along, and don't forget to leave your contact info!
(Entries close at midnight, Eastern time, on August 18, 2018. Contest is NOT restricted to U.S. entries.)