Hi guys, we have Erik Swill popping in today with his upcoming release Too Many Temples, we have a fantastic guest post and a great excerpt, so check out the post and enjoy! <3 ~Pixie~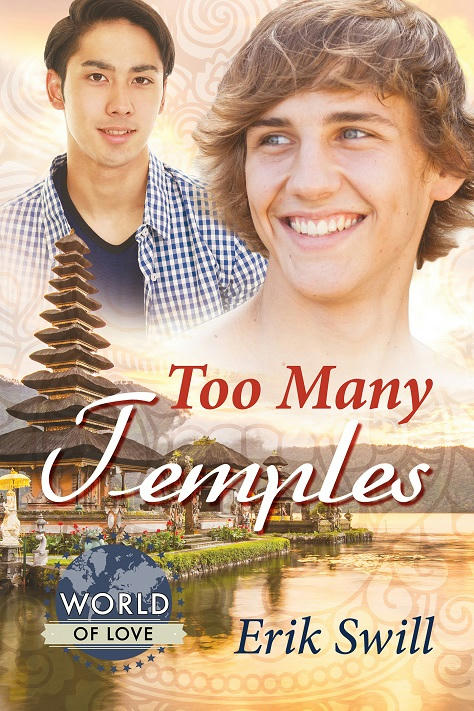 Too Many Temples
by
Erik Swill
Looking to spice up his stagnant sex life in Brisbane, self-professed player Adrian takes a week-long vacation in Bali, anticipating sun, surf, and plenty of no-strings-attached hookups. He doesn't expect his attraction to the tour guide, Ketut, to become an obsession. As he travels around the beautiful Island of the Gods, Adrian is startled that he might be falling in love after swearing off relationships for good.
When Ketut opens a window of opportunity for a real relationship in Queensland after the vacation ends, Adrian retreats into his life of commitment-free fun. Unable to forget about Ketut, though, Adrian strikes out to the rural Queensland town of Rockhampton to find the man of his desires—hoping he hasn't lost the chance for true love.
Release date: 28th June 2017
Erik Swill!
I am filled with both excitement and anxiety as the publication date draws near for my latest novella, Too Many Temples. I'm grateful to have the chance to talk a little bit about it here on MM Good Book Reviews. And while I plan to do just that, I also want to talk about the novella's ending. Don't worry! I'm not planning to spoil it for anyone. Specifically, I want to share my thoughts about happy-for-now (HFN) and happily-ever-after (HEA) endings.
Who doesn't want to read a story with a happy ending? Actually, I usually don't! Call me a fatalist or what not, but I find it difficult to connect with endings that are so utopian and sugary sweet. Don't get me wrong. I want to be happy in life. I want my readers to be happy in their lives and with my stories' endings. But I also like to challenge myself and my readers with resolutions that aren't easily categorized.
"But this is a romance; it HAS to have a happy ending," you say? Okay, I can go along with that. Life can be too depressing to invest emotionally in a book about a potential relationship that ends up not even happening. Or to add insult to injury, one of the characters even DIES just after (or before!) realizing their love. That can be a bit of an anticlimax, or one that is so angst-ridden you feel like slitting your wrists as you spot that earth-shattering conclusion lining up several chapters before the end.
There are so many possibilities to end a story without making the reader contemplate suicide. But what is it about HFN and HEA that has come to epitomize the conclusion of so many romance books? First, let's look at HEA.
I understand that Disney princesses are guaranteed to get their happily ever afters. But most of us don't live the life of a Disney princess … even though quite a few of us may fashion ourselves as queens. But that's another issue altogether for a different blog post!
HEA has its benefits. It's a nice way to end a story where the characters really worked to get their happy ending. It's also a great way to conclude a series. But is it believable? Can we really relate to the character having all their dreams come true? That doesn't happen in real life. At least, not with me it hasn't! Am I missing something?!? Nevertheless, fiction is a great form of escapism from the real world and investing in a character only to see them fail in their struggles doesn't really offer much hope for us in our own lives. If a fictional character couldn't make it happen, how could I?
For me, HFN is the way to go in these instances. In a sense, though, every HEA ending in my cynical eyes is a HFN ending. After all, how do we really know it will be forever? Too cynical perhaps! I know. But I do believe that HFN endings give the reader a more realistic portrayal of how relationships that struggle to work actually come together at the end of a story. Because the end of the book isn't "the end" for these characters' relationship. In most cases, it's just getting started. Who are we (including the author) to presume that there won't be any further hardships?
Writing pseudonymously, I publish mostly contemporary fiction. With or without a romantic element to the story, the endings are usually hard or even noir. But I like to think they are real. This type of ending doesn't usually work so well in the romance genre. At best it could be the ending of middle novel in a series … when you at least know the happy ending is coming at the conclusion of the series. But even then, I think, the series has got to be pretty good to warrant making readers wait for that happy ending–of any variety.
With Too Many Temples, it would be so easy for me to write a not-so-happy ending. But it also raises the question: what is a happy ending? Happy for who? The author? The reader? The protagonist? As an author, you can't please everyone. No matter how hard you try or what you write. And that's largely because everyone has a different idea of what happiness is. Or, in the case of a particular story, what happiness should be for the characters involved.
I have a habit of writing unlikeable characters. Intentionally! That also doesn't go over so well in the romance genre. If you don't like the character, what difference would it make if they got a happy ending or not? This type of character works better when the onus of ending on a positive note doesn't hover over the story (or, in this case, the entire genre). And I admit that I had to rethink certain elements of the protagonist's personality (with very helpful prodding from the editors). However, I think we got it down with this novella.
I want for the readers to like the characters, want them to see their relationship through to fruition, and cheer for them through the ups and downs they face. As for the actual ending of Too Many Temples, you'll just have to read it to find out how it goes! Hope you enjoy it!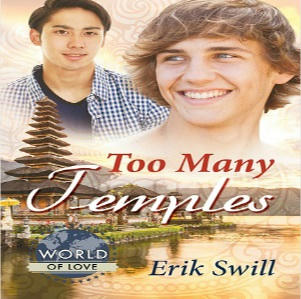 Excerpt!
"The sea here is both beautiful and deadly. The color of the water and the temptation to walk out at low tide to the base of the temple… but when the tide comes in and you are left stranded out there, the currents are strong and poisonous sea snakes swim here in large numbers. It's odd that something so beautiful can also be so deadly. Many people have died here."
"So it is better to avoid it completely."
Ketut thought for a moment before answering. "No, Adrian. That makes it all the more important to visit. That people have died to see something so beautiful, so holy, makes this even more special. Sometimes taking a risk can lead to a life-changing experience. Or at least one that you will never forget for the rest of your life. How long will you remember this moment, Adrian? Right here, right now?"
Adrian had been staring into Ketut's striking eyes as he spoke. There was a depth to him that Adrian admired, something that he would never know based solely on their first encounter. For a moment, Adrian wondered how many of the guys who had served as one-off fucks for him over the years also had something more than a tight ass to offer him. But the thought was short-lived.
Ketut leaned in and pressed his lips lightly against Adrian's, pulling back slightly after a brief kiss. Adrian refused to let go. He pushed his face forward to continue what Ketut had started. He wasn't done. The moment was too immediate to settle for anything less.

About Erik!
Erik Swill is a professional editor and a cheeky storyteller. He has spent half of his life living abroad and half of that time trying to convince friends that he is not an international fugitive or secret agent. He isn't. Really. But it probably doesn't help that he writes under several pseudonyms, moves house frequently, and rarely posts anything on his social media accounts. He has published short fiction in Gay Flash Fiction and erotica in the Nifty Archives. With his longtime partner, Swann O'Hara, he coauthored the novella Wild Goose. Erik likes to write contemporary fiction but will try any genre once. Because why not?