Hi peeps! We have Tamryn Eradani stopping in today with her new release Tournament of Champions, we have a great excerpt and a fantastic giveaway so check out the post and enter the giveaway! <3 ~Pixie~
Tournament of Champions
by
Tamryn Eradani
After figuring out where their relationship is and where it's going, Daniel and Ryan begin to tell the people closest to them.
Excerpt!
Tournament of Champions, Tamryn Eradani © 2017, All Rights Reserved
Chapter One
Daniel's stretched out across the couch, feet on Ryan's thighs, because he's learned not to put his head on Ryan's lap while Jeopardy is on. He learned it the hard way, falling off the couch when Ryan leaped to his feet, because the contestants were "too stupid to know how long the Hundred Years War was." Ryan apologized and helped him up off the floor, but Daniel doesn't sit too close during Jeopardy anymore.
He stays on his side of the couch with a book and occasionally glances up to smile, because it's hilarious to watch Ryan work himself up over a trivia competition.
"You should be on my team for the company Jeopardy tournament," Ryan says during a commercial break.
"No." Daniel doesn't bother looking up from his book.
"We'd do well," Ryan continues. "You have a bunch of random facts in your head, and I know just about everything, so…"
Daniel can feel Ryan's grin, but he still keeps his book between them as a shield. "Modest," he says. "Still no. I don't do optional company events."
They host a Jeopardy tournament every year, the only rules being that the teams of four can't be made up from four people in the same department. It's supposed to foster community or something, but Daniel doesn't understand how pitting your employees against each other for bragging rights and petty cash is supposed to build community.
"It'll be fun," Ryan says. "We can recruit Tracy and Aoife. Tracy will rock the Fun Facts category, and you'd clean up in Company Dealings."
"How do you even know about the format?" Daniel asks. "You've never been to one before."
Ryan flicks the bottom of Daniel's foot. "Please. I have a Jeopardy radar. I heard your interns and my interns are banding together."
"They're going to crash and burn." Daniel puts his book down on his chest, open so he doesn't lose his spot. "You don't need my help."
Ryan gives him a look. "Of course I don't. I'm the Jeopardy master. You could be my cheerleader." He smirks, even after Daniel kicks him. "It'd get you bonus points with Harvey."
Daniel narrows his eyes. It's dirty pool bringing up their boss and Daniel's desire to be acknowledged by the man. "I don't need bonus points with Harvey. My work speaks for itself."
"Your work gives you regular points," Ryan says. "Bonus points come from going above and beyond. But fine. How about bonus points with me?"
Daniel picks his book back up. "I know how to get bonus points with you, and it has nothing to do with Jeopardy."
He goes back to reading, surprised when Ryan lets the subject go.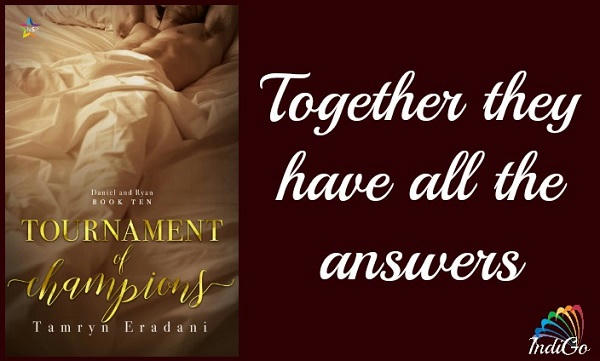 About Tamryn!
Tamryn studied English and Creative Writing in school but has been writing since she could first hold a pencil. Recently, she's turned her focus towards writing erotica. She enjoys writing stories where sex comes first, then feelings, because doing things out of order can be fun.
Tamryn has spent the past few months writing the Daniel and Ryan series with a lovely view of mountains out her window, and she's now searching for a new mountain range to serve as her backdrop as she begins her next project.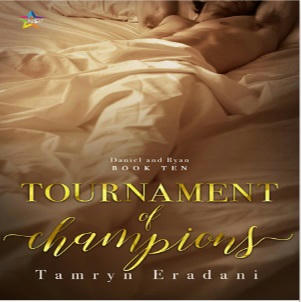 Giveaway!
One lucky winner will receive an ebook of their choice from NineStar Press!