Hiya guys! We have the ever lovely Rhys Ford visiting today with the tour to her upcoming release Tramps and Thieves. We have a short intro from Rhys, a fantastic part of her blog story for this tour and a brilliant $20GC giveaway! So guys check out the post and leave a comment to enter the giveaway! <3 ~Pixie~
Tramps & Thieves
by
Rhys Ford
Whoever said blood was thicker than water never stood in a pool of it.
Retiring from stealing priceless treasures seemed like a surefire way for Rook Stevens to stay on the right side of the law. The only cop in his life should have been his probably-boyfriend, Los Angeles Detective Dante Montoya, but that's not how life—his life—is turning out. Instead, Rook ends up not only standing in a puddle of his cousin Harold's blood but also being accused of Harold's murder…and sleeping with Harold's wife.
For Dante, loving the former thief means his once-normal life is now a sea of chaos, especially since Rook seems incapable of staying out of trouble—or keeping trouble from following him home. When Rook is tagged as a murder suspect by a narrow-focused West L.A. detective, Dante steps in to pull his lover out of the quagmire Rook's landed in.
When the complicated investigation twists around on them, the dead begin to stack up, forcing the lovers to work together. Time isn't on their side, and if they don't find the killer before another murder, Dante will be visiting Rook in his prison cell—or at his grave.
Rhys Ford!
One of the best things about being a mystery writer is that there are always murders to solve so I get to revisit a fantastic-to-write couple like Rook Stevens and Detective Dante Montoya. There are endless possibilities and plot lines for the characters, the city and their circumstances that I cannot wait to explore over the years. With the second book coming out, I wanted to do a blog tour that was just a bit of fun so in this serial, I welcome you to join Rook and his cousin, Alex, on what should be an estate sale of macabre curios but what awaits them is something neither of them planned for.
So sit back, be sure you read the whole story AND please enter the blog's giveaway! One lucky winner will be chosen to receive a $20 USD gift certificate from the online store of their choice!
I hope you enjoy this small jaunt as the cousins set out on their quest and be sure to pick up Tramps and Thieves, the sequel to Murder and Mayhem. Published by Dreamspinner Press, it will be out on September 18th on the DSP portal, Amazon and other fine book stores.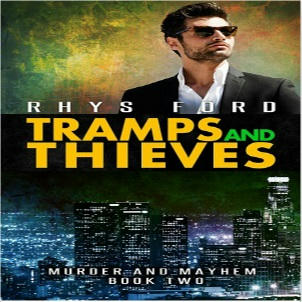 Blog Story Part 01
One
There were quite a few things in life that Alex Martin understood. They included which fork to use a formal dinner, how to get the plastic on his headlights cleaned with toothpaste, but most of all what he intimately knew was how much trouble he would end up in whenever he agreed to one of his cousin Rook's schemes. On the surface they always seemed like an interesting, intriguing proposition but when it was all said and done, Alex often found himself in more hot-water than he could swim in.
So when Rook Stevens left a voicemail for him about an estate sale in Antelope Valley, Alex had serious doubts on whether or not he should call his cousin back.
"It's just an estate sale," James said as he gulped down a cup of coffee before he headed out to fight crime on Los Angeles's busy streets. As a homicide detective, James's hours were erratic and often times having a cup of coffee with him was the only part of the day Alex got to spend with his husband. "How much trouble can the two of you get into? You get to poke around in some junk, break out your checkbook, spend an obscene amount on cereal box toys and then come home cackling about how much profit the two of you will make. Knowing both of you, that will satisfy your voracious avarice for weeks on end."
"It's not that I don't want to go," Alex protested. "It just that I know as soon as we get over there, something horrible is gonna happen because nothing good ever comes from me going with Rook anywhere. Do you remember the last time he and I just went out for slurpies? We ended up in the middle of a SWAT raid in Little Tokyo and a kilo of cocaine in my backpack."
"It wasn't a kilo of cocaine, babe. The security guard just thought it was," the detective chuckled. "It was about a pound of rice flour that a mochi seller accidentally dropped while he was running through the shopping mall chasing that thief. It was just coincidence it ended up in your open backpack. The problem with you when Rook is that if something bad is ever going to happen, it's going to happen to the two of you."
Alex's entire life was played out in a very safe sandbox of society. The first time something dangerous and exhilarating happen to him it'd been a string of murders that eventually lead James to his side. The Hispanic detective had been skeptical and distrusting at first and Alex couldn't blame him. After all, how many comic book store owners ended up with half a handful of dead bodies cropping up like daisies after a rainstorm. They danced around each other — James growling while Alex was mostly confused — then eventually fell in love. Okay, Alex thought, he probably had fallen in love the moment he saw James swagger across the parking lot after the first murder. James, in true James fashion, took a little while to finally get around to admit he was in love.
Now the only murders in their lives were ones that James found it work and thankfully, didn't bring home.
Still, Alex had to admit, he did miss the thrill just a little bit but he didn't want someone to die for it.
"If you want to go, don't go. Make something up like… I was going to say a dead body fell through your ceiling at the store but since you already have had that happen a couple of times, I don't think he's going to buy it happening again. Maybe you could have a mundane lie. Like somebody calling in sick and you have to cover for them?"
"I'd already told him yesterday I didn't have to work and you know as well as I do, I'm the world's crappiest liar." He stopped pacing the kitchen and picked up his cat, Mrs. Whosit. Cradling her against his shoulder, Alec stroked the feline's back, comforted by her purring. "I kind of want to go because it's going to be a big sale. The guy's estate was worth millions and he liked to collect pop-culture stuff and Rook is always able to recognize good deals. I learned a lot from him but I also end up seeing a lot of the inside of jail cells, and that's something I kinda hope to skip this weekend."
"Well, I kind of would like to not have to bail you out again," James replied. "It's kind of embarrassing when I have to take off work because my husband is in a pair of handcuffs and they're not attached to my bed. Shit, I'm late. Just let me know what you decide so I can take enough money out of our savings account. Nothing worse than showing up in front of a judge with only enough cash to buy a couple of tacos and a beer."
Be sure catch the entire story on the Tramps and Thieves Blog Tour and enter to win the giveaway featured on every blog!
About Rhys!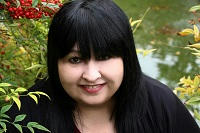 Rhys Ford is an award-winning author with several long-running LGBT+ mystery, thriller, paranormal, and urban fantasy series and was a 2016 LAMBDA finalist with her novel, Murder and Mayhem and a 2017 Gold and Silver Medal winner in the Florida Authors and Publishers President's Book Awards for her novels Ink and Shadows and Hanging the Stars. She is published by Dreamspinner Press and DSP Publications.
She's also quite skeptical about bios without a dash of something personal. Rhys shares the house with two cats, Yoshi, a grumpy tuxedo and Tam, a diabetic black shorthair, as well as a ginger cairn terrorist named Gus. She is also responsible for the care and feeding of a 1979 Pontiac Firebird and enjoys murdering make-believe people.
Blog | Facebook | Twitter | My books can be purchased, folded and first chapters read at Dreamspinner Press & DSP Publications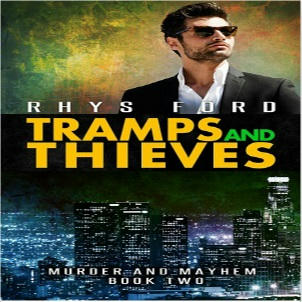 Giveaway!
Win a $20 USD gift certificate!
(Just leave a comment telling us what you think of Rhys's blog story.)
Each blog on the tour has it's own giveaway so check out all stops on the tour!
(Ends when Rhys picks a winner!)

Check out the other blogs on the tour!
Sept
14    MMGoodbook Reviews
15    Love Bytes
18     Sinfully Gay Review
19    Joyfully Jay
20    NDulgent Bloggers
21     It's About the Book
22    The Novel Approach
23    rhysford.com (Epilogue)