Hi guys! We have Jacqueline Grey popping in today with the tour for her new release Tricks & Bids, we have a brilliant guest post, a great excerpt and a fantastic giveaway so check out the post and enter the giveaway! ❤️ ~Pixie~
Tricks & Bids
by
Jacqueline Grey
When Michael Nole propositions Dillon Spade outside a BDSM club one evening, all he is looking for is a potential client and a little kink. He gets much more than he bargained for. As a prostitute, Michael enjoys sex but keeps an emotional distance between himself and the men he sleeps with. His priority is to keep himself safe, but after a night in Dillon's bed, he finds the line between enjoyment and occupation blurring.
Dillon hasn't taken another man home since his previous lover passed away six years ago, but there is something about Michael that calls to his inner Dominant in a way he cannot resist. His instincts want to claim the boy even as he reminds himself that he is only paying Michael for temporary company.
Their relationship may have started as a business transaction, but it's difficult to remain professional when breaking all the rules.

Jacqueline Grey!
I am so happy to be here. Thank you for having me. I am so happy to be here with the release of Tricks and Bids, the first book in the Suit of Harte's trilogy. In addition to introducing you to my book, I thought I'd let you get to know a little bit about myself by answering 5 random questions.
Name 5 fictional characters you'd like to have dinner with
The hard part about this isn't just picking who I'd like to eat with. It's basically planning a dinner party. You don't want to invite people who are going to end up wanting to kill each other. Or maybe you do. It would liven the meal.
My guest list would include Shen Wei from Guardian by Priest, Felix Harrowgate from the Doctrine of Labyrinths series by Sarah Monette, Kyle Murchison Booth from The Bone Key by Sarah Monette, Watanuki from xxxHolic by CLAMP and Xie Lian from Heaven's Official Blessing by MXTX.
This may be the best dinner or the worst decision I have ever made. Shen Wei is a college professor of science, but he's also an immortal born from darkness who fell in love with a god. Felix is a wizard who is incredibly powerful yet worked as a prostitute when he was young. Kyle is a museum archivist who attempted necromancy for the sake of his crush and ended up sensitive to ghosts. Watanuki is also haunted by ghosts and spirits. Xie Lian was a beloved prince who ascended as a god and then went through 800 years of suffering.
Many of these people are unsociable, but they're all intelligent and have studious interests or interesting characteristics about them. I'm sure if we could get the conversation going it would be fascinating.
Name 4 Items you would buy with a million dollars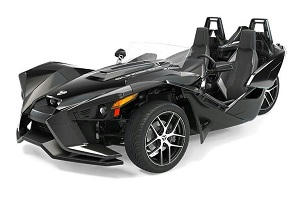 This is actually a difficult question since there are not many crazy-expensive things I want to buy. I am saving up for a Polaris Slingshot. It's a three-wheel motorcycle that looks like a bat mobile. I suppose I would also buy my dream 1972 Chevy Corvette. After that I'll probably have to invest in a garage to put the cars in, lol. As for number four…a trip to either Italy or Japan. They are on the top of my list for vacations.
Name 3 food items you cannot possibly live without
Seafood, seafood and seafood.
No, wait. Make that last one tea.
Name 2 things you love to do besides writing
Cosplay and sewing. I got into sewing because of cosplay, but I also like to make regular clothes. I have a bunch of jacket designs in my head that I'd like to create, but, like writing, I need to sit down and actually do it.
Name 1 person who makes your life better
Ooh this is hard. I have a small group of very special people in my life. It is difficult to single one of them out. I suppose I will have to go with Oz. He is one of my precious fur babies. (I have two cats.) I often call him Cutie Face because he is adorable, even when being a spoiled brat. He is really long, and his fur is soft. When he gets comfy he flattens out onto the couch and looks like a small rug. He's the best to snuggle on a bad day or just because. Snuggling with Oz definitely makes my life better.

Excerpt!
Tricks and Bids, Jacqueline Grey © 2020, All Rights Reserved
"Hey. Wanna play?"
Dillon glanced up to find a young man leaning against the hood of his car. At Dillon's pointed look, he took a step back, so he no longer touched the automobile.
"What gave you the impression I want company?"
"You obviously didn't find what you were looking for in there" came the reply with a nod back at Harte, the BDSM club Dillon had just exited. "If you had, you wouldn't be leaving this early."
"And you think you're what I want?"
The boy shrugged.
Dillon peered at him. He appeared to be in his midtwenties, fit and tight in the way Dillon remembered being before he'd hit thirty-three. He was shorter than Dillon with dark-brown hair long enough to grip: two things Dillon liked in a submissive. There was something familiar about him as well. If Dillon wasn't mistaken, he'd seen him heading into a nearby motel a few times and never with the same "date."
"Are you a prostitute?" Dillon asked.
The blunt question evoked an expression of surprise, but it rapidly morphed into a smooth smile. "'Prostitute' sounds like a job. It's more of a hobby."
"One you get paid for."
"It's a good hobby."
Dillon cracked a smile. "How much do you charge?"
"Depends on what you want to do."
That was reasonable enough, and if he'd been waiting outside Harte, he must know to expect kink and charge for it accordingly. "Are you clean?"
"Yes, and condoms are necessary and at your expense."
"Expense? That sounds like a job term to me," Dillon teased.
He considered his options. The boy was right. He hadn't found what he was searching for in the club, and he held no illusions he ever would. Even after six years, he couldn't help comparing every submissive he came across to the lover he'd lost. Harte called him a stubborn old goat, but the thought of building a relationship from scratch exhausted him. It was so hard to find someone whose rhythms and tastes fit with his own. Granted, the club was designed for negotiation and mutually desired play, but that was for the scenes that took place there. What about the rest of the time?
Dillon didn't want a casual play partner. That did nothing more for him than scratch an itch that would return in no time. He wanted someone he could build a life with. He wasn't going to find that with a prostitute, but something about the stranger brought forth yearnings Dillon hadn't felt in years. He could take the boy home with him, indulge in what he wanted in his own territory and under his own rules. It would be a purchased illusion, but it beat going home alone and sleeping in an empty bed.
"Come on," he said, pulling his car door open and unlocking the other side. "We'll talk details when we get to my place."
"Your place? Don't you mean a hotel?"
"My place," repeated Dillon. "I don't do quick fucks."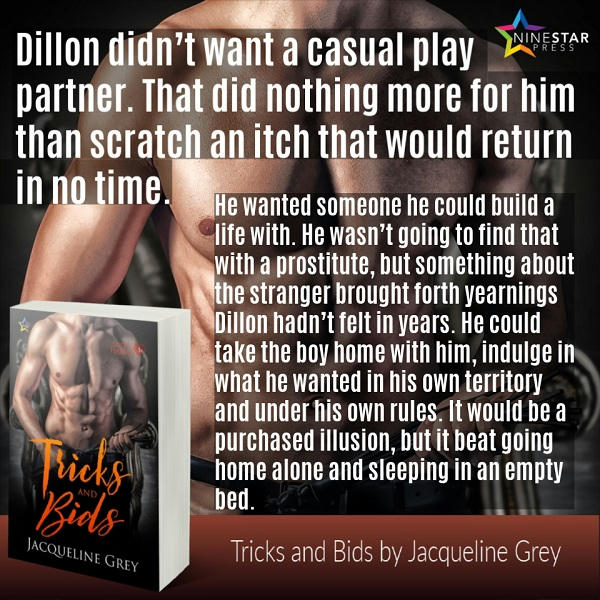 About Jacqueline!
Jacqueline Grey currently lives on an island on the east coast of the United States. She spends her time outside her day job juggling her many interests which include reading, writing and drinking tea. She loves M/M romance, usually focusing on stories that include BDSM themes to one degree or another.
Jacqueline has always been driven by characters. She loves a good plot, but it's the characters that pull her into a story. She loves romance and believes everyone has a right to be happy. She enjoys seeing her characters find that happiness for themselves.
Website | Facebook | Twitter | Pinterest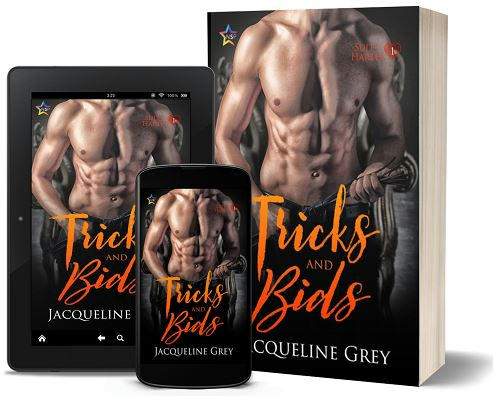 Giveaway!
One lucky winner will receive a $10.00 NineStar Press Gift Code!

Check out the other blogs on the Tour!