Hi guys, we have David Connor & E.F. Mulder stopping by today with their upcoming release Truth, Pride, Victory, Love. We have a brilliant guest post from David and a great excerpt, so check out the post and enjoy! <3 ~Pixie~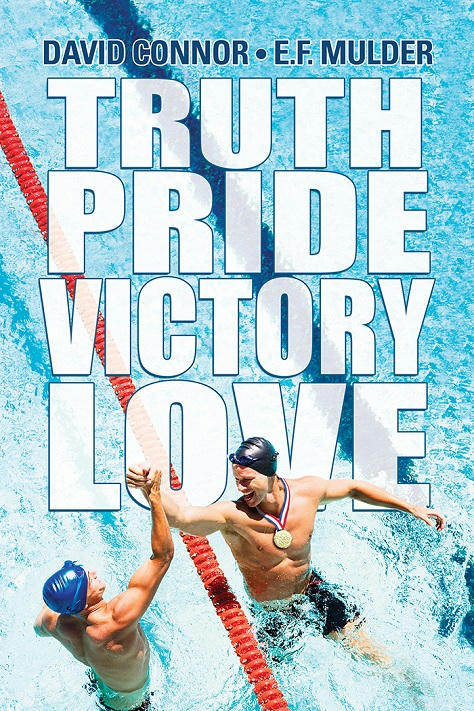 Truth, Pride, Victory, Love
by
David Connor and E.F. Mulder
Since elementary school, the question of Reed Watson's race has needled him. But the one thing he's always known is that he is destined to become an Olympic star—he felt it the moment he first hit the water. Chosen by a former Olympic swimmer to train for the 2016 Olympics, Reed determinedly works toward his dream.
Along the way, Reed develops feelings for two men he's known since childhood: Cal, his next-door neighbor, and Mathias, his rival since the fourth grade. Cal's struggle with his sexual identity and a tragedy complicate Reed's feelings, while Mathias's wealth quickly makes it obvious they are from vastly different worlds. 
As Rio approaches, Mathias becomes a gay sports icon, while Reed is told to hide his sexuality for a lucrative endorsement deal that will offer his family a financial boost and help him with mounting debt. Reed's unresolved desires for both men remain and so too do all the things that have kept them apart. Has he grown enough to navigate rougher waters, to find truth, pride, victory, and love?
Release date: 30th December 2016

David Connor & E.F. Mulder!
Being a writer is a lot like being an Olympic athlete. No… seriously. Stay with us here. We both follow a strict diet. Leading up to the games in Rio, a video surfaced of Michael Phelps eating a huge breakfast of pancakes, eggs, sausage, bacon and waffles. Some reports claimed the swimmer took in as many as 12,000 calories per day. We had some fun with this when it came to Reed chowing down with his family. Just as an athlete needs proper nutrition to race, a writer needs proper nutrition to create. For E. F. that usually starts with three cups of coffee before she even fires up the laptop. I tend to jump right in and often reward myself with a Little Debbie snack cake or some such treat every time I finish a chapter. I had to grab a leftover slice of cold pizza one day at 11:45 a.m. when my stomach reminded me I'd skipped breakfast because I was too wrapped up in the scene where Reed and Cal decide body hair slows them down. E. F. confessed to eating a bowl of Cheerios at 9:30 at night for dinner because she couldn't tear herself away from the confrontation in the Bellamy living room after Cal's accident. With the proper sustenance, however, no matter how late it came, we managed to finish the story.
Just as Reed, Cal, and Mathias had to get in the water long before any shot at getting to Rio, we had to come up with an idea before we could knock out a hundred thousand words. The Olympic Games are always a great event around which drama can be created. I first did that with "Double Flip" back in 2012 when the Games were in London. No one will ever hang a medal around my neck for that one. The experience reminds me of that skier crashing during the opening of Wide World of Sports when the announcer says "…the agony of defeat." But we grow and we improve. I went back to The Olympics—the winter ones this time—for "Quadruple Flip". That book I love, and I'm happy to say the story isn't finished. "Truth, Pride, Victory, Love" took us back again. Reed first felt the fire of competition back in kindergarten. It was certainly still burning hot by fourth grade when he was pitted against Mathias Webber for the first time. Writing is a competition of sorts. The blank page is your opponent and every keystroke brings you one step closer to the finish line. Two words—The End—that's your victory tape.
Someone in a story about The Olympics has to say "There are the Olympics, and then there is everything else." In our case, the "everything else"—family dynamics, insecurities, romance, battles of conscience—is where the story comes from. Reed Watson didn't just show up at one event and then join the US team for Rio. He had to start locally and work his way there, dealing with tragedy, money problems, a confusing romantic life, and missing his loved ones. We dealt with all that too. Sometimes the battery on the laptop goes dead—tragedy. Sometimes you want to write, but you have to get to your second job if you want to pay the electric bill so the battery can recharge. Confusing romantic entanglements? Write what you know. As for missing time with loved ones, sometimes conveying the excitement of a high school swim meet with words takes precedence. "Sorry, Speckles. Can you sit on Daddy's lap later? I'm writing."
Once Reed set his sights on Rio, the next four years seemed so far away. The second step in writing a novel is submitting it for possible publication. Those six to eight weeks waiting for a response sometimes felt like years. Once the manuscript is accepted, the real work begins. Reed, Mathias, and Cal all change exponentially throughout the story. The story itself grew and evolved with the help of several great Dreamspinner Press editors, led by Desi, who coached us along with tremendous encouragement and guidance, just as Reed was mentored and supported by Coach Keller. Near the end of a long day of finessing the tale, it sometimes felt as if I'd swum a couple hundred laps myself. At least I didn't end up with water in my ear and the only muscle soreness E. F. complained about was from the wrist down. After a good night's rest, just like Reed, the next day, we dove right back in.
Reed has a tough time transitioning from local swimming competition to the college level. He sticks with it, though, and the feeling he and his coach are left with when he posts the best numbers ever brings a new hope and a definite resurgence in his dedication and love of the sport. Similarly, sometimes a particular plot point in a story will give us trouble. There are some delicate situations in "Truth, Pride, Victory, Love" and it was important to us that we treated them with respect and intelligence. Also, a realization came during the first edit that one character was getting shortchanged. A writer often doesn't see his or her story for several months between acceptance and the first edit. This really gives you a fresh eye. It's almost the same perspective a first-time reader might have. When Desi suggested we go back and really think about this character's journey—his growth and future—that fostered the most wonderful creative renaissance and left us both totally excited about continuing his story in the future. Stay tuned! Mathias, he gets easily distracted. We can relate to this too. "David, are you writing or scouring YouTube cat videos?"
Finally, Reed is rewarded for all of his hard work. The road has been bumpy. "I quit!" Reed said that. I said it during edits and even before the first draft was done, but we both took time for a little tantrum and then got back to work. Just as Reed stands in Mathias Webber's backyard about to do something he's never done before or at the opening ceremonies hours away from his first race, when the book is released, uncertainty looms. We hope the hours that went into it make it exciting and enjoyable for anyone who picks it up. The truth is E. F. and I both have to write. We can't help it. We take pride in some of our work and wish we could get a do-over with others. (Hello again, "Double Flip". Though it does have one beautiful cover, thanks to Paul Richmond.) Victory comes a few ways. Like I said earlier, finishing the story is the first one. Then we finish it again, and again, and again one last time before it goes to print. The second victory is hearing from someone who says. "I liked your story. This is how it touched me." Love…. We love to write. We love spending time with the characters who become friends or even enemies along the way. "Truth, Pride, Victory, Love"… what a journey.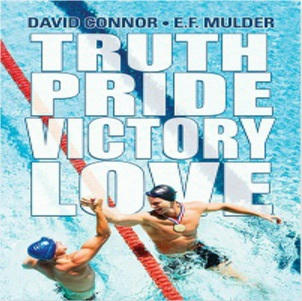 Excerpt
Prologue
"REED, YOUR word is a noun." My fourth-grade teacher, Mrs. Smeckler, stood beneath the big clock I spent most of the school day watching, her vocabulary book in hand, her stare boring into me. "It is defined as a deep feeling of pleasure or satisfaction derived from one's own achievements. Mathias…." She turned to him. "Your word is also a noun, one meaning something accepted as factual. You must tell this at all times. As you know," Smeckler said, "the score is tied."
Not for long, I thought. I was ready to kick Mathias What's-his-name's butt.
"Whoever gets to the board and correctly writes their word first…."
That's going to be me.
"…will bring their team the victory."
My word was pride. I knew Mathias's too. His was truth. Truth and pride… I planned on writing both, just to show how smart I was.
Come on! Say go!
My entire body quivered with excitement as I waited. I really wanted to win, and not just because the victors got fifteen minutes added to recess while the losers had to stay in and study. I always wanted to win—at everything—because winning felt so good.
"Remember, spelling counts."
Stop talking, Smeckler! I was ready to fly.
"Take your mark." She dragged it out. "Get set." She raised her hand. "Go!"
An empty chair toppled sideways as I bolted, and a book slid off Mike Savoy's desk when I crashed right into it.
"Reed!" Smeckler scolded me.
"Dang it!" I had to go back and pick both items up, wasting precious time.
"Remember, move to the opposite white board without actually running."
What the heck fun is that?
The class was divided in half, my team in front of the windows, Mathias's group shoulder to shoulder along the wall with the "What Do You Want to Be When You Grow Up?" bulletin board.
"Go, Reed!" My team cheered me on. Mathias's sort of coerced him—harassed might have been even more fitting. He hadn't budged from his spot, and as I glanced back, half his teammates were yelling, while the other half were staring him down. Smeckler did too, like some sort of alien monster with laser-beam eyes.
"Mathias…?" she said. "Do you know your word?"
I came to a halt after picking up Mike's book. Come on, kid, I thought. I don't want to win on a forfeit. There was no pride in that. Truth!
His word didn't seem that challenging for a fourth grader, except maybe for the dropped e from true, its root. "Many of these words will have some tricky phonemes and graphemes." Mrs. Smeckler had tossed that out at the start of the so-called game. I wasn't familiar with either one of those terms, but I knew how to spell truth, and I couldn't imagine any of us didn't, including poor old Mathias…. Mathias… what? Mrs. Smeckler had mentioned his surname that morning, and each of the four days of school so far that year. He sat right next to me in first-year band. We both played trombone. The band teacher had called out both names too, but I'd have been damned if I could recall it at that moment. The short, frail-looking kid always slouched down in his seat during scales. He was squirmy now, and had been from the start. Actually we were all still summery restless. The fall leaves hadn't even begun to change color yet. It was still hot outside, and every one of us wanted to be out there, not in some stifling classroom involved in a nerve-racking matchup only Mrs. Smeckler could consider enjoyable. "A vocab bee is a fun way to learn and get to know one another." Those had been her exact words.
Fun? As if.
Personally, I'd have rather been pitted against my classmates in a rousing game of dodgeball. I got a sense timid Mathias would have been petrified by dodgeball—not that he seemed the epitome of calm while playing word games. Me, I was always fidgety. When Mrs. Smeckler asked me on the first day of class why I couldn't sit still, I told her it was because I had a constant surge of energy coursing through me like an electric eel. "They feel like that, right… all charged up and spazzy?" She looked at me funny. "Hey. Do they, like, electrocute each other when they touch?" Smeckler told me to look it up. I figured that meant she didn't know. I decided I'd just ask my father—my father, not my mother, because she'd tell me to look it up too, even if she did know.
The longer Mathias took to answer, the more restless I became and the more his teammates derided him and glared. Mine were on my case too, but I just flipped them off—three fingers, middle one straighter—as I stood between Trish Haley's and Mike's desks, transfixed. As much as I wanted to, I just couldn't move. I'd noticed several new kids in the cafeteria the first day at lunchtime, but Mathias looked the shyest and always the most uncomfortable. He seemed completely panicked now. His spiky blond hair quivered as he literally quaked in his cowboy boots—red ones. Dude had fashion sense, if nothing else. His gray eyes were wet behind black plastic-frame glasses, as if he was on the verge of tears. Then as his teammates chanted, "Go, Mathias! Go!" he did, and the front of his pants grew wet as well.
A bunch of our jerky classmates started to laugh.
"Shut up!" I shouted. I had no real idea why I jumped to the new kid's defense. It wasn't as if I was Mr. Compassionate back then.
"Reed, we don't say 'shut up' in this classroom." Mrs. Smeckler turned her evil sneer upon me.
"We shouldn't laugh at people either," I answered back.
Mrs. Smeckler didn't have a comeback for that, nor did she chastise the others. Turning her attention back to her frigging competition, she simply asked, all straight-backed and pursed lips, "Would you like a new word, Mathias?"
Mathias moved his head side to side as the wet spot on the front of his tan corduroys got bigger and bigger. Maybe Smeckler thought ignoring it was the compassionate thing to do, since we were close to dismissal. Surely she saw it. Everyone did. I'd have made a joke, something like, "It's a vocabulary bee, not a vocabulary pee." The word pee might have even brought forth a smile from Mathias. We were at that age.
"Reed, it's up to you, then." Smeckler fixed her eyes on mine. Maybe she wasn't being kind. Maybe she was wicked. "Please, go to the board."
"And if I don't?" From wide brown circles to defiant slits, I imagined my eyes shooting death rays. I was quite the smartass, quite brave. I knew it was close to the end of the day. There was little time for conversation, let alone a new word. If I refused to spell out pride, I assumed the bee would end in a tie.
"Please take your hand from in front of your face."
Ugh. She was really on my case. It was a habit I had—covering my mouth sometimes when I spoke, because my teeth were jacked up.
"If you know the word, Reed, go to the board and write it."
The entire class grew silent. It was a real competition now, not between my team and Mathias's, but between Mrs. Smeckler and me.
"Reed?"
"What?"
Tick, tick, tick, the clock over her head counted off the final few seconds of the day. She knew I knew. Even after just a few days as my teacher, she knew I was smart, and I knew she knew. Would she call my bluff or just move on to my teammate Caryn?
"Fine. If that's the way you want it, tomorrow we'll have a written test." Smeckler clapped her book closed, like an alligator capturing its prey. "Spelling. Fifty words. Unless everyone in the class gets a passing grade, there will be no recess at all for the rest of the week."
Big deal. I may have lost the vocabulary bee, but I'd won the fight for human decency, and the victory felt good, at least until Jeff Ackerman got up in my business, hissing a whispered warning, like the snake he was.
"We lose recess, Watson, I beat the crap out of you." Jeff was a jerk—and a troublemaker. He sat right next to me in our assigned seats, way up front, real close to the teacher's desk. My reputation had preceded me. His word had been homely, and he'd written underneath it on the board Like Reed Watson. The class had laughed at me, like they had at Mathias. Had it been aimed at someone else, I might have considered it clever from someone our age. I got some solace at least from the fact the doofus put two m's in homely—h-o-m-m-e-l-y. I got to laugh right back at him. The difference was, when he hung his head and looked sad about the teasing, I actually felt bad.
"I'd like to see you try, Ackerman." That was a lie. I was pretty sure Jeff could put me in a full-body cast if he wanted to.
"Meet me in front of my bus outside, then, and I'll rearrange your ugly face."
"I will."
I didn't. I might have been mouthy, but I wasn't masochistic. Though I hated my jagged, whack teeth, crooked nose, and scarred chin, I didn't really want my hommely features rearranged. My pride took a backseat to common sense that day. Jeff scared me, and that was the truth.

About David & E.F.
David Connor
My 7th grade English teacher told me I should be a soap opera writer when I grow up. I have always made up stories. Even before I realized I was doing it, I was playing pretend, creating elaborate characters and situations I acted out with my sisters and friends. (We've all done that!) I would sit with catalogs in a quiet room and make up tales to go along with the pictures. I had my favorite pages in the JC Penney or Sears books for sure, the handsome gentlemen who would ask the pretty ladies on dates from a few pages back. My stories have changed a little since then. 🙂 I would add more story to the picture books my mother read to me or I read to myself. I was always thrilled when a teacher would say "Write a story about…." I even dream fiction. I have vivid, adventurous dreams every night, some of which are worked into my works. My imagination never rests. I always loved soap operas. I watched "Another World" after school with my mom. She got home from work partway through, and I would fill her in on what she missed. I would write out my own stories, which she would read, as far back as my early teens. Soap opera writing has always been my dream job. I dipped my toe on those waters a little a bit, and then I found Dreamspinner Press. Romance novels are a lot like soaps. The connection of the couple is part one. Then, there is something that keeps them apart and something drawing them together. I am living my dream.
Soapy Romance Novels by David Connor and E. F. Mulder: https://www.facebook.com/mmromcomsinprint?ref=hl
E.F. Mulder
E.F. Mulder has been an avid reader and storyteller since childhood. Whenever a book was assigned for class, E.F. would be thrilled, even as other students grumbled. Soon, that love of a good story expanded to creating them herself. E.F.'s mother received a ton of catalogs in the mail and E.F. would spend many a lazy summer afternoon or quiet Sunday envisioning the goings on of the men and women—or men and men—in pretty clothes or decorating their Christmas trees when the holiday books showed up in late fall. This creativity also came in handy when playing Barbie with her sister and sometimes her brother. Since E.F.'s mother was a soap opera fan, sitting down for half of Another World and General Hospital daily after work, E.F. came to appreciate that sort of storytelling as well, where love could be a struggle, but also a miracle that conquered all. This sort of yarn spinning led to E.F.'s Barbie and her beaus going through some very interesting plotlines and later came in handy writing romance novels where the road to happiness has plenty of bumps. To this day, E.F. and her writing partner, David, love to throw romantic soapy twists into their tales.
E.F. also enjoys rainy days, crisp autumns, Christmas decorations, her four kitty cats, Molly, Speckles, Tuxedo, and Mama Bear, and working on a virtual farm when not writing. It's so much easier to clean under the fingernails when done digitally. A love of QVC means the kitties have a fresh rotation of new boxes to play in and the cute UPS man gets to visit often. Maybe there's a story there….