Hi guys! We have J.S. Bright stopping by today with her new release Tuning The Guitarist, we have a great excerpt so check out the post and enjoy! ❤️ ~Pixie~
Tuning The Guitarist
by
J.S. Bright
Timothy
I can't trust my past and relying on my future is no good either. Stopping in Seaside Bay is dangerous. I should move on, but I'm tired. Searching for food and a safe place to sleep consumes me until I land in Seaside Bay. The people here are too friendly. I should take off before someone finds out the truth. When I meet Mike, I know I can't trust him, but he's the safest person I've ever known.
Mike
My life turned upside down when I lost my hand, but moving to Seaside Bay might have saved me. From partying too hard to living the fast life, I was on a path to destruction. Seaside Bay has calmed me and convinced me I love the quiet life. Then Tim stumbles into my life, and everything gets upended. I'm lost without him close.
I'll change everything for Tim. He's got a load of heat on him, and I'm not sure I can save him once that heat comes down. Can I save Tim, or will his past consume him?
Tuning the Guitarist can be read as a standalone.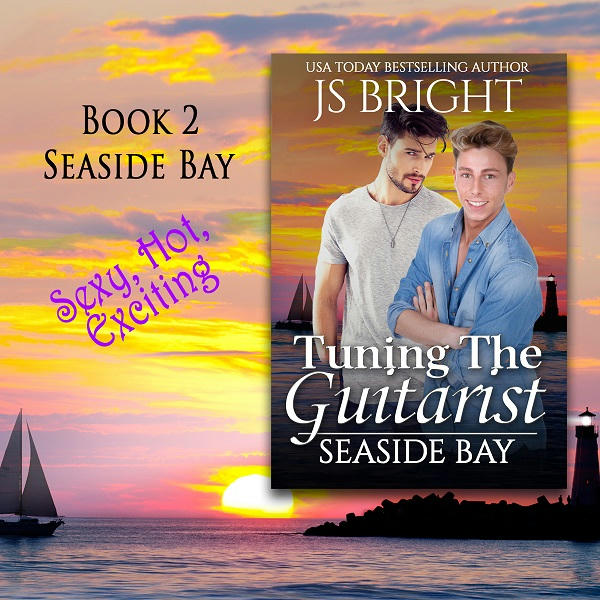 Excerpt!
A funny tune had entered my head as I turned to head back in, and I was humming the melody when something caught my eye. My foot faltered as I stared at the huddled mass blinking up at me from between the trash dumpster and the cement stairs. The two fear-filled eyes grew wider and he flinched. But the boy had nowhere to run. Plus he had pulled the shirt he'd stolen from me over his knees and had his arms out of the holes, probably wrapped around his torso. In the few seconds I stared at him I took in his face, seeing the bruises and cuts in the wild look in his eyes, the mop of dirty blond hair wasn't stylish, instead, it just looked unkempt. Touring overseas, I'd seen the look before. Homeless kids living on the street who had to steal their food always had that look no matter where they came from.
I held up both arms, my one palm facing him, hoping he understood I meant peace.
"Did you sleep here all night?"
The kid said nothing as he pulled his knees out from under the shirt and pushed his arms through the holes.
"Listen, kid, I don't —"
"I'm not a kid," the guy blurted out.
Words froze in my mouth. I narrowed my gaze, studying him.
"Well, how old are you?" That wasn't the question I meant to ask. I wanted to know if he would like some food or coffee. By the way he shivered and his teeth clattered, he had to be cold and most likely hungry.
"I turned twenty three days ago. So I'm not a kid."
What the heck? Did he say he was twenty-three? His words rolled through my mind. No, he turned twenty but only three days ago. He was just a dollar and a quarter over nineteen and he'd fallen on hard times. Shit.
We had some homelessness in Seaside Bay, but it wasn't like the problem in LA or San Francisco. Usually they didn't stick around for long on their way to bigger cities.
"I was about to go across the street and grab something to eat and some coffee. Are you hungry?" Maybe I shouldn't have encouraged him, but he was shivering like he was freezing cold, and I doubted he had eaten enough based on how skinny he looked.
"Yesterday you tried to tackle me, and today you're going to give me food? I don't believe you."
Anger at the situation filled me. Why couldn't he just accept help? When I'd toured with the band, our ticket prices were usually one hundred for the cheapest seats and sometimes up to a thousand for the front row. People in our country had money. My T-shirt shop did well enough to pay for itself and pay my living expenses so I didn't have to dip into my money from my music. Why was this kid—young adult—living on the streets?
"Come on," I grumbled. "You can pay me back by doing a few of the tasks I have a hard time with. I don't have an extra worker today." I held up my handless arm. "I could use your help."
The guy stood and stretched out, his head barely coming to my shoulders. The desire to lean in and sniff him wove through me, but I held back. He wasn't a party favor left behind the store waiting for me. Plus, I wasn't that guy any longer, and this was Seaside Bay. My actions here would follow me, and honestly, I'd grown disgusted with many of the things I'd done back then. We weren't the worst of the bands, but I certainly hadn't been an angel.
"I'm Mike. What's your name?" I stepped away from the stairwell, hoping this guy would follow me instead of running off. He was too skinny, that he looked like shit made me wonder what had gone on with him.
"Timothy."
Timothy followed me, not saying much as we walked through the back of the store to the front. On my way past a display, I grabbed a hoodie. "Put this on."
"I-I can't."
"Sure you can. It's about your size, small, right? You're shivering and I can't stand to see you shake."
Timothy took the hoodie and slid it over his head. It fit him perfectly. Now he would be warm. Even if he took off, he wouldn't freeze at night.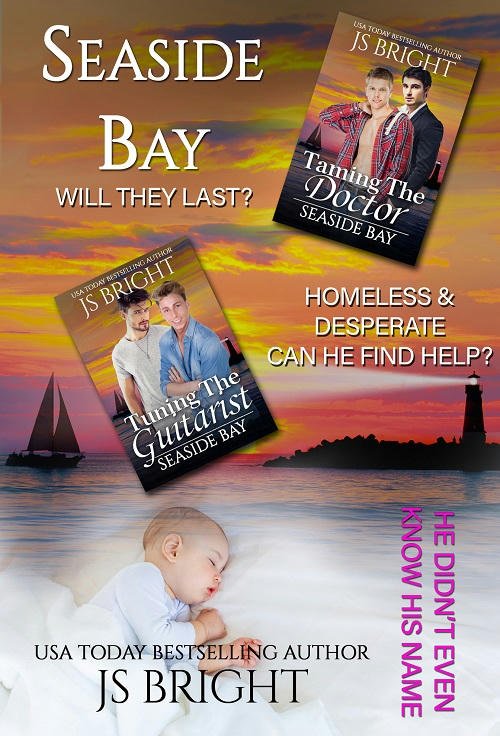 About J.S.!
JS Bright, a USA Today Bestselling author of paranormal romance and reverse harem romance, lives in the south where "bless your heart" is an insult and "shut up" shows love. JS has been reading since they could open a book and has taken the passion for words and combined it with the love of travel to create stories full of passion and excitement.
If you love a good book with a fantastic happily ever after and a paranormal twist, you'll enjoy a JS Bright novel. For a contemporary novel, pick up a Julia Bright book.
For updates and more information, subscribe to Julia Bright Mailing List
 Facebook | Twitter | Pinterest | Instagram