Hi guys, we have Felice Stevens popping in today with her new audio release Under The Boardwalk, we have a great excerpt and a brilliant $10 Amazon GC giveaway so check out the post and enter the giveaway! ❤ ~Pixie~ p.s. keep an eye out for the audio review coming soon!
Under The Boardwalk
by
Felice Stevens
Beneath the famous Brooklyn landmark, love is hidden but not denied: All his life, Alexi Kharpov has dreamed of traveling to unknown exciting places instead of working at his family's frozen custard stand on the famous Coney Island boardwalk. Every year is the same until a gorgeous man picks a spot in front of his stand to sing, captivating him with his beautiful voice. After two summers of listening, it might finally be time for him to cross that boardwalk and take a chance.
Opera singer Cameron Maxwell has traveled the world, but the sight of the beautiful man serving custard to tourists touches his heart like nothing ever has before. A summer fling might be exactly what he needs to put his problems out of his mind, but the last thing Cam expects is to want the summer to last forever.
It's a season of discovery for both men who learn to dig deep within their heads and hearts to decide whether secrets old and new should remain buried, or if love is too important to keep hidden under the boardwalk.
Excerpt!
Alexi loved kissing. He loved everything about it: the softness of another person's lips on his, the silky tongue sliding into his mouth, their breaths in perfect rhythm. Give and take. In and out.
But kissing Cam wasn't sweet. Raw electric heat spilled through him, and Alexi arched into Cam, craving more. He drew in a sobbing breath, the dank, cool air under the boardwalk mixing with the unmistakable hot scent rising from Cam. Their pelvises rubbed together, and Alexi's insides clenched as the thick ridge of Cam's dick hit his own. Cam slid kisses down his neck, and Alexi gave a shaky laugh.
"I've heard bad things can happen under the boardwalk."
"Or good," Cam said, kissing along his jawline. Holding tight to Cam's shoulders, Alexi felt him tremble beneath his hands. Before he could take another breath to answer back, Cam touched his waistband, and his loose board shorts slipped to his knees, exposing his hard, wet-tipped cock to the cooling air. His groan broke the stillness in their darkened spot; he could hear the rain continue to beat upon the sand. Cam's hand grasped him, mouth hot against his cheek while his tongue circled Alexi's ear.
"Tell me you like this."
"I do."
"Good."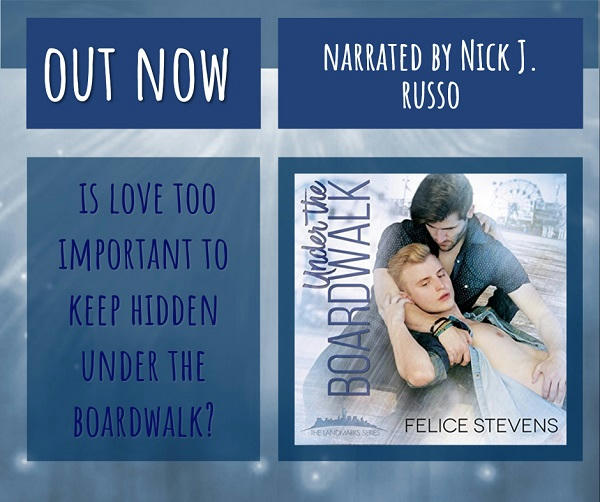 About Felice!

I have always been a romantic at heart. I believe that while life is tough, there is always a happy ending around the corner, My characters have to work for it, however. Like life in NYC, nothing comes easy and that includes love, but getting there is oh so fun and oh so sexy.
I live in New York City with my husband and two children. My day begins with a lot of caffeine and ends with a glass (or two of red wine). I practice law but daydream of a time when I can sit by a beach somewhere and write beautiful stories of men falling in love. Although there are bound to be a few bumps along the way, a Happily Ever After is always guaranteed.
Newsletter | Website | Facebook | Twitter | Pinterest
Giveaway!
Win a $10 Amazon Gift Card!

Check out the other blogs on the tour!