Hi guys! We have E.L. Reedy and A.M. Wade stopping by today with the tour for their recent release Upon Broken Wings, we have a great excerpt and a fantastic $20 Amazon GC giveaway, so check out the post and enter the giveaway! ❤ ~Pixie~
Upon Broken Wings
by
E.L. Reedy & A.M. Wade
Bound by a dark act of hate and despair, high school freshmen, Andrew and Kiernan, learn that their untimely deaths did not bring an end to their pain, but only began the suffering of those left behind. While his lost memories return, Andrew must master seemingly impossible feats, both spiritual and physical. As a dark spirit stalks Kiernan through the borderlands of life and death, he must also face the pain his actions have caused his loved ones. To save both their souls, Andrew must convince Kiernan to return to life and open his eyes to the love and beauty which had always been there.
Warnings: Death, Suicide, Demons
Excerpt!
In our apartment building, half way across town, a similar tragedy was in the making. As everything must, Kiernan's bath had come to an end. He climbed out of the tub, away from the frail safety of a pre-birth memory and dried himself with a large, fluffy towel, being careful only to dab his injured areas. Even so, more than once, a touch to a wound reminded him of how much damage his body had endured during an event filled with horrifying details that fortuitously, he could not seem to get his head around.
Deodorant came next, which he applied to the all the usual places. He even took the time to brush his teeth, wincing more than once as the bristles passed over his torn, swollen lips. To his dismay, he also discovered two loose teeth.
He turned off the bathroom light and wandered down the hallway to our bedroom, wrapped in his towel and carrying with him, a glass of water. As he stepped from the hardwood floor of the hall onto the carpeted floor of our room, he studied our private place within our home, as if for the first time, the last time.
Kiernan placed his glass on top of his dresser and bending down, he opened the bottom drawer. He withdrew a metal lock-box from beneath several layers of rolled-up socks. From the top drawer, he produced a key, which he kept taped in one of the rear corners, back behind his boxers. He unlocked the box and removed from it, a bottle of Mom's old sleeping pain pills.
A tear escaped his hard-won control, almost breaking his resolve to finish what he had started. But this, he would not fail. He briefly considered writing a good-bye note, as he swallowed the capsules and drank the water, but there was nothing left to say to a world he thought unwilling to listen.
Kiernan climbed into bed and pulled his blanket over him, a shield of warmth and comfort against nightmares of early childhood. He cried for a time, until his eyes fell across a photo resting on his headboard—of me, smiling for all of .the world to see. "Remember me fondly, little bro," he whispered. "I'm so sorry to cut out on you like this, so very sorry." Our dog, Michelangelo, lay atop the blanket over Kiernan's legs, letting loose with a mournful whine, as if he sensed the impending darkness that he could do nothing to stop.
Kiernan took a photo of himself and Billy from his headboard. "I saved your life when we were little, Billy. God! What a waste!" He hurled it across the room to shatter against a far wall. "I don't understand. I just don't," he said to the dog, the empty room, to the universe itself.
With a final, desperate act, of both cowardice and courage, Kiernan closed his eyes to the world. "Forgive me," he mumbled his last to whatever power might hear him and take pity, grant forgiveness, or just plain ignore him.
The combination of the drugs and his physical and emotional trauma carried him slowly into oblivion. With nothing left behind to remark upon his existence in the world, Kiernan, son of Kylie and Derrick Quinn, my brother, closed his eyes, and opened his arms gladly to death's waiting embrace.
The pill bottle, which had been resting at the edge of Kiernan's blanket, fell from the bed and spun across the floor. A digital clock changed to 1:01 A.M.
At the same moment in the darkness, my shadowed form, small as any seven-year-old boy, moved in the doorway. In the dread-filled voice of the prepubescent child I was, I uttered a single horrific word, "Kiernan?"
****
It's been seven years and still the memory of that moment has never dimmed. And dear brother, much as I love you, much as I want to, this memory remains the one thing between us that I have never been able to forgive.
****
In the attic of Judith's old house, a mysterious wind extinguished every candle, as blood ceased to pool beneath Andrew's body. Silence fell over the small Midwestern city of Fair Cedar, but in the heavens, there was a great and terrible weeping that echoed across the majestic and eternal realm, as there is whenever a young soul leaves the mortal world too soon.
About E.L. & A.M.!
E. L. Reedy — Was born and raised in Iowa, where he devoured tomes of fantasy, sci-fi, and young adult novels as a child. In his free time, he is an avid gamer (D&D and Pathfinder). He has traveled the world as a soldier in the U.S. Army, and now lives in Iowa, where with his writing partner, he continues to pen works in the realms of Fantasy and Horror in the Young Adult Universe.
A. M. Wade — As the only girl in a family with five boys, she readily escaped into fantasy, sci-fi, and other fiction novels. Having traveled through most of the US, she enjoys using scenery and characteristics of the different states in the story adventures she created for the little ones in her family. Now, she writes sci-fi, fantasy and horror with a lifelong co-conspirator.
Website | Facebook Author page | Amazon E.L. Reedy | Amazon A.M. Wade | Twitter A.M. Wade | Twitter E.L. Reedy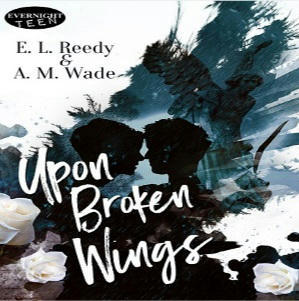 Giveaway!
Win a $20 Amazon gift card!