Hi peeps! We have Grace Kilian Delaney stopping by today with the blog tour for her new release Waking Oisin, we have a fantastic exclusive excerpt and a brilliant $10 NineStar GC giveaway, so check out the post and enter the giveaway! ❤ ~Pixie~
Waking Oisin
by
Grace Kilian Delaney
Oisin Harrison blames his fiancée's distrust for ruining their relationship. He blames his father for pushing him into law school. But more than all that, he blames himself for letting other people's expectations stop him from going after his dream. But dressing in drag with his best friend is the one thing Oisin refuses to compromise.
As Sin, he meets handsome Trenton Fisher, a man who appreciates Oisin's cross-dressing. Trent upends his world by doing things to his body no one ever has, making him want more than just one night together. That is, until Oisin discovers his hot hookup works at his father's law firm and is angling for a promotion.
To complicate things, Trent doesn't seem to recognize Oisin out of drag. Or does he?
Will Oisin and Trent's magnetic attraction grow to something deeper, or will it threaten to jeopardize their careers and futures?
Waking Oisin contains characters from Seven Minutes but can be read as a standalone.
Exclusive Excerpt!
Hi Everyone! I'm happy to be here at MM Good Book Reviews promoting Waking Oisin! Here's an exclusive peek:
Sin ran his warm hands under my shirt and lifted it over my head. His hands felt so good. His lips even better. Alternating between soft kisses and licks, he mapped my exposed chest. His touch brought me back to the moment and how much I'd missed this feeling, this closeness with another being. I'd become rock hard with so little effort, and it hadn't gone unnoticed.
"That's impressive." He palmed me, rubbing a few times before unclasping the button on my pants and releasing my cock. "Commando? You are an eager one."
His brown eyes grew wide and he dropped to his knees. Without hesitation, he circled the mushroom tip with his tongue, nudging it into the slit until my cock throbbed with need.
"Fuck, yes," I groaned as he swallowed me until I was deep in his throat. He pushed my pants farther down and dug his nails into my ass as he hollowed his cheeks and bobbed like his life depended on sucking the orgasm from me. The addition of the metal bar rubbing against my sensitive flesh had me on the precipice of coming entirely too soon.
The fucking best head I'd had in ages.
Gently, I pulled him off my cock. Confused and wild-eyed, he looked up at me. His lips were swollen and red, his lipstick smeared along my shaft and his mouth. The sight was sexier than I'd anticipated, a picture I'd keep with me for future lonely nights. Of all the scenes Nic and I had played out, he'd never been into guyliner or dressing in lingerie, something I was grateful for as I indulged myself with Sin.
"Remove your dress."
"Aren't you a bossy one?"
His reply, most likely meant to be flirtatious, came out slightly shaky. Sin showed no apprehension about giving me a blow job, but conversation brought out his nervousness. An interesting twist.
He stood, tugged the stretchy fabric over his head, and discarded it onto a chair. A satin corset thing pushed his flesh together, giving him the illusion of breasts, and a tiny triangle of underwear failed to cover his erect, pierced cock. A Prince Albert.
Oh, fuck me, that's hot.
I continued studying his body, taking in the ink on his fair skin. Most prominent were the tattoos on his forearm of a purple and blue lotus combined with waves and words written in cursive— The Wounds are Where the Light Gets In. There appeared to be more tattoos on his left thigh, hidden under his stockings.
Holding his elbows, he quietly stated, "If you want the basque off, I'll need your help."
The lingerie was the hottest thing I'd seen, and it was staying on.
"Not yet." I toed out of my shoes and finished removing my pants. Taking his head in my hands, I placed a soft kiss on his lips. "You're a masterpiece—a remarkable work of art."
I unclasped the stockings from the basque, as he called it, and hooked my fingers around the spaghetti straps of the thong, taking my time as I tugged the scanty fabric down his unshaved legs. His pubic hair, however, was well trimmed.
"Beautiful," I whispered and trailed kisses along the slit of exposed abdomen, feeling his stomach tremble with every placement of my lips. Taking the base of his cock in my hand and pulling back the foreskin, I teased his shaft with my tongue, warming him up for what was to come. Reaching between his legs, I found another surprise—a guiche piercing. Sin was my Paradise, all piercings and tattoos. I fondled the metal, tugging and turning it, as I sucked on his balls.
"Oh, fuck," he said with a throaty moan. His body went taut, his scent grew stronger, hinting that my briefest of ministrations had him close to peaking entirely too soon.
"What do you want, baby?" I clasped his cock, stroking it in a long, lazy rhythm.
"I wanna come in your mouth."
"Maybe later." I gave one final tug and released him.
"Fuck. That's just mean," he groused, his eyes narrowing.
"It'll be worth it. I promise. Get on the bed."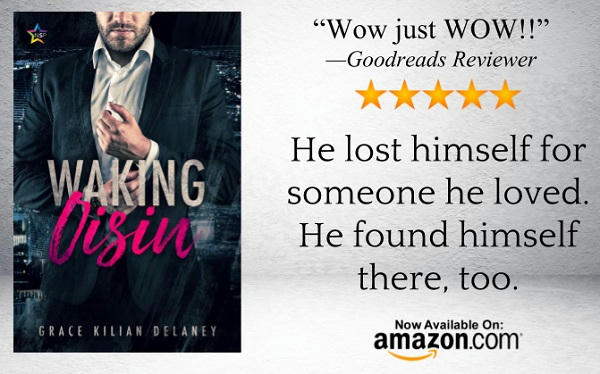 About Grace!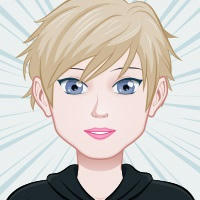 Grace Kilian Delaney lives somewhere in paradise—mentally. In the wee hours of the morning, and with an audience of a dog and two cats, she writes about hot and horny men. Thankfully the animals don't care if she talks to herself, which she does albeit quietly as to not wake her husband. When not writing words, Grace can be found composing music, pretending she's an opera singer, playing piano, twisting herself into yoga positions, or sweating it out at the gym.
Facebook | Twitter | Website | Amazon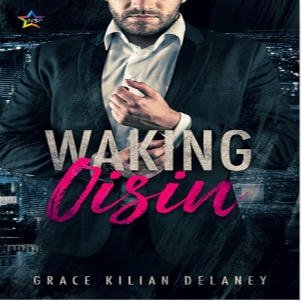 Giveaway!
One lucky winner will receive a $10.00 NineStar Press Gift Code!