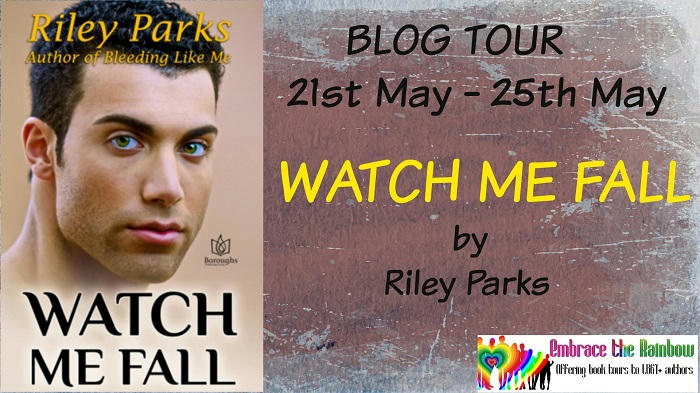 Hi peeps! We have Riley Parks stopping by today with her new release Watch Me Fall, we have a great exclusive excerpt and a fantastic 2x $15 Boroughs Bucks giveaway so check out the post and enter the giveaway! ❤ ~Pixie~
Watch Me Fall
by
Riley Parks
Having it all is hard work, and Elijah Tucker has no problem 24/7-ing to keep himself on top. But life has a sense of humor and a big-ass mirror that reminds Eli where he came from, and shows him what he's really made of when he meets Gideon Valsecchi.
Gideon Valsecchi has one life goal – get out of the shithole where he lives on the South Side of Chicago. To say life has been unkind is a joke he can't even laugh at; to say he's going to have to claw his way out is a reality that nearly crushes him every day. But…he has a secret weapon, and he's learning how to hone his skills. Yet, hope is a feeling he won't indulge in until he gets to know Elijah Tucker, who shows Gideon there is an out, and it can include love.
Excerpt!
When the referee blew his whistle to call the game, Gideon took his place at the front of the line to slap his opponents' hands and congratulate them on their good work even though they were pretty shitty. As Coach began his lecture, he reached for a towel and draped it over his head in an attempt to block himself from looking toward the lone fan that had remained on the bleachers.
"We chilling?" Bryce asked Gideon as he stomped the clumps of mud off the bottoms of his cleats. "We can head over to Grant's or whatever."
"Nah, I, uh…think I'm gonna go home," Gideon replied, peeking over to see if Elijah was still there, and feeling his heart began to pound when he realized he was. "Got a shit ton of homework."
"Got a shit ton of homework?" Bryce laughed. He followed Gideon's gaze and smirked. "You should at least come up with something people will fucking believe, G," he teased. "Got your nerd squad for homework."
"Fuck off," Gideon grumbled, not chancing another look at Elijah before following his friend to the locker room. He wasn't sure if Elijah was going to be there when he was done washing up, but Gideon kind of hoped he was.
"He's hot," Bryce whispered, giving his friend a nod of approval. "Like really fucking hot."
"Don't know what you're talking about," Gideon deflected, shooting Bryce a death glare that did a better job at shutting his best friend up than his words had. They finished getting changed in silence, both ready to hustle out of there to get on with their nights.
"Hope your homework is super hard," Bryce smirked. "Like impossibly hard."
Gideon shook his head and gave his friend the finger before walking back to the field. As Gideon's feet carried him, his brain told him to run in the opposite direction. He didn't know what the fuck he was doing. In a moment of stupidity, Gideon had flirted with the guy and now Elijah was expecting shit. Shit Gideon wasn't sure he knew how to do or could do with another dude. Sure, Gideon had fucked around with Bryce, but that was only getting head and giving an occasional wank in return. He was positive that a grown-ass man like Elijah Tucker wasn't going to be content to give and not receive, or be exceedingly patient with a fucking closet case.
It wasn't that Gideon didn't know what he was, but he didn't want to be that way. Life on the South Side was tough enough without adding an extra layer of bullshit on top of it. The Valsecchi family had an extensive history in fag bashing with his father being the most brutal of the bunch. Though his old man was rotting in prison, his influence was still felt in every decision Gideon made, in every punch Anthony threw, and every tear that trickled down Gabby's cheeks. The last thing his family needed was for Gideon to complicate everything even more and rip them further apart.
Gideon had tried to be into girls. When he was in middle school, he'd kissed a few of them and got incredibly confused when he felt his stomach turn each time. He thought it may have been because they weren't pretty enough, so he'd made a concerted effort to kiss Laura Piccolo, the most popular girl in their eighth-grade class. She'd been impressed with his juvie record and Gideon had pretended to be impressed by her tits. They'd ended up in the closet during some dumbass game of "Seven Minutes in Heaven."
About Riley!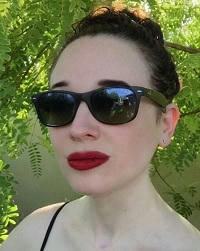 Riley has always loved to write, believing that life has the possibility to be its most beautiful when it's portrayed on the pages of a book. Feeling the need to create and liberate in the midst of the political landscape, Riley writes novels that focus on LGBTQ protagonists, wanting to honor a community that deserves better representation depicting lives, loves and triumphs in all facets of fiction.
Website | Facebook | Twitter | Instagram
.
.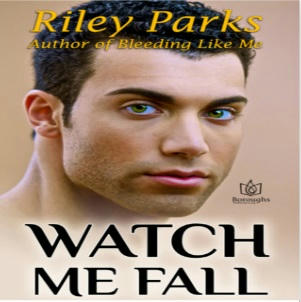 Giveaway!
Win! 2 x $15 Boroughs Bucks!