Hiya peeps! We have Cecilia Tan stopping by for a visit today with her brand new release Watch Point, Cecilia shares an exclusive excerpt with us and an awesome fantastic giveaway, so check out what Cecilia has to offer and then leave a comment to enter the awesome giveaway! <3 ~Pixie~
Watch Point
by
Cecilia Tan
Eric Sakai-Johnson joined the Navy SEALs to protect his country and the people he loves. After discharge, he finds himself relegated to protecting big pharma billionaire Aiden Milford from assassination attempts and kidnapping. Until Aiden reneges on a promise, fires Eric, and lets Eric's mother die with millions of dollars in medical debt.
Now Eric is the kidnapper. Snatching Aiden's twenty-two-year-old son, Chase, for a multi-million-dollar ransom is the only way to get justice. It's time for Aiden to learn what it's like when someone you love is at the mercy of forces beyond your control. Eric has it all planned out. The one thing he didn't plan for is the intense erotic spark between him and Chase.
Chase has been chafing under his father's autocratic control. A gay hookup app has been his only ticket to rebellion—to clandestine moments of freedom, excitement, and danger. Now it's his ticket to a deep connection and amazing sex with his "captor." On the rocky island where they're sequestered, Chase finds Eric to be everything he wants in a man: quiet, strong, capable, and honorable . . . until he finds out he's been captured for real.
Exclusive Excerpt!!
Hello! I'm Cecilia Tan, and right now I'm virtually touring my gay Navy SEAL romance, WATCH POINT. At each stop on the tour, leave comments to be entered to win a gay/queer romance prize pack from yours truly, including not only a copy of Watch Point, but a few of my other books (The Prince's Boy, Magic University) and a Daron's Guitar Chronicles swag pack with notebook and stickers.
~~~
I brew us both coffee in the coffee maker and give him breakfast: nuked English muffin sandwiches I stashed here in the fridge. Time to get out of here. Another day pretending I'm going ice fishing, but this time with a friend. That's assuming anyone even sees or notices, which they probably won't.
Chase is still naked except for the restraints while we eat breakfast sitting on the bed. He asks casually as he licks his fingers, "Hey, so, where are we now?"
"You got somewhere you need to be?" I ask, just as casually. Or faux-casually.
He shakes his head. "Nope. If I had somewhere to be, I'd have something better to do than sneaking out for raunchy hookups."
"You worried about your car?" I wonder if there's a loose end.
There isn't. "I walked to a convenience store and took an Uber from there." He shrugs but his eyes are challenging me. What now? they seem to be asking. "My father would kill me if he knew what I was doing."
I can't help it. I lead him on. "He's a real hard-ass, huh?"
"The worst. Raging homophobe doesn't begin to cover it. I've seen him fire guys for even suspecting they're gay."
Huh. I wonder who besides me. I keep my face neutral and don't dare say anything.
Chase chuckles and sips his coffee from the paper cup. "The really rich thing is, I think he thinks he's protecting me. Like if I never get a whiff of gay hormones, I can't be tainted."
Ha. "Little late for that, isn't it?"
"Twenty-two years too late," he says, being truthful about his age. "Born this way."
When I was twenty-two, I'd already been in a war zone. "Me too," I say, but how I was born is nothing compared to the life that's shaped me. I continue to pretend I know nothing about him. "So you grew up sheltered."
"Yeah, you know, homeschooled, the whole nine yards. I convinced him to let me go to cooking school. He had a guy chauffeur me to class and wait there to take me back the second I was done."
"That's rough."
"Yeah. So's getting blown in the walk-in fridge."
Heh. I could picture it. "You're a hellion, aren't you."
He nods, giving me that coy, seductive look again. "'ts why I need a big, bad top to keep me in line."
The truth is I'm not that big. I'm more of a Bruce Lee than an Arnold Schwarzenegger—SEAL training puts lean muscle on, not bulk. But maybe he's talking about my dick. I wonder when we'll hear from his father next. "We could keep this thing going for a while longer," I say. "If you want."
He nods. "Promise me you'll torture your captive, too?" He gives me the puppy-dog eyes then.
"Torture isn't really my style," I say. "Unless you count orgasm denial as torture."
"Everything counts," he says. "Maybe a little light interrogation?"
"Like you'll be able to answer any questions with my cock in your mouth." I stand up and I notice his cock is doing the same. This kid is all hormones, I swear. I finish my coffee, crush the cup, and toss it into the garbage can. "You want to do this for real, give me the unlock code for your phone."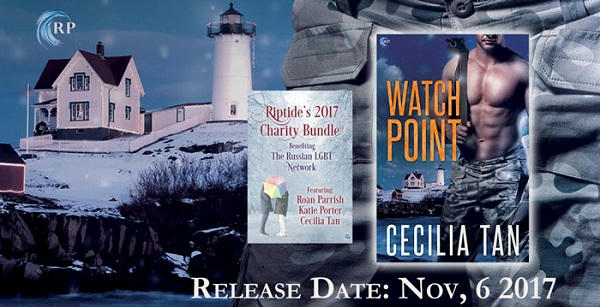 Riptide Charity!
20% of all proceeds from this title will be donated to the Russian LGBT Network.
Each year, Riptide Publishing releases a holiday collection in support of an LGBTQ charity. Twenty percent of the proceeds from this year's collection will be donated to the Russian LGBT Network.
The Russian LGBT network was founded in April 2006. It is an interregional, non-governmental human rights organization that promotes equal rights and respect for human dignity, regardless of sexual orientation and gender identity. They unite and develop regional initiatives, advocacy groups (at both national and international levels), and provide social and legal services.
To learn more about this charity or to donate directly, please visit their website: https://lgbtnet.org/en.
This collection would not be possible without the talent and generosity of its authors, who have brought us the following holiday stories:
Pre-ordering this collection will allow you to download each story two days prior to its official release date, as well as save 20% off the list price of the individual books.

About Cecilia!
Cecilia Tan is "simply one of the most important writers, editors, and innovators in contemporary American erotic literature," according to Susie Bright. RT Magazine awarded her Career Achievement in Erotic Romance in 2015 and their prestigious Pioneer Award. Tan's BDSM romance novel Slow Surrender (2013) also won the RT Reviewers Choice Award in Erotic Romance and the Maggie Award for Excellence from the Georgia Romance Writers chapter of RWA.
Her professional writing career began when she was still a teenager and her father offered to match every dollar she earned from writing while she lived at home. She immediately landed a gig writing a monthly column for Superteen magazine and provided articles to Teen Machine and other teen magazines. Her first professional fiction sale didn't come until after college, though. While working a day job in book publishing in Boston, she began sending out erotic short stories. On the day she left her job to pursue a master's degree in writing, her first short story acceptance arrived.
That was in 1992, several months after she'd founded Circlet Press, Inc., then the only book publisher dedicated to erotic science fiction and fantasy. Her first book, Telepaths Don't Need Safewords, was self-published through Circlet because there was literally nowhere else that would even consider it.
Since then, Tan has authored many books, including the ground-breaking erotic short story collections Black Feathers, White Flames, and Edge Plays, and the erotic romances Slow Surrender, Slow Seduction, and Slow Satisfaction, the Secrets of a Rock Star series, The Prince's Boy, The Hot Streak, and the Magic University series—as well as various nonfiction books on baseball including The 50 Greatest Yankee Games and The 50 Greatest Red Sox Games.
Her short stories have appeared in Ms. Magazine, Nerve, Best American Erotica, Asimov's Science Fiction, and tons of other places. She was inducted into the Saints & Sinners Hall of Fame for GLBT writers in 2010, was a recipient of the Lifetime Achievement Award from the National Leather Association in 2004, and won the inaugural Rose & Bay Awards for Best Fiction in 2010 for her crowdfunded web fiction serial Daron's Guitar Chronicles.
She is the editor of the Baseball Research Journal and is publications director for the Society for American Baseball Research. She is also a part-time taekwondo instructor and is a certified therapist in an Asian bodywork style known as Okazaki restorative therapy. (That's a fancy way of saying she can break you and then fix you up again.)
Tan has also been a lifelong activist in the BDSM and leather/fetish community. She is the founder of the Fetish Fair Fleamarket, the largest BDSM event in New England, and served for twenty years on the board of directors of the New England Leather Alliance (NELA) before stepping down to concentrate on writing and education.
She lives in the Boston area with her lifelong partner Corwin and three cats. Find out more at www.ceciliatan.com.
Connect with Cecilia: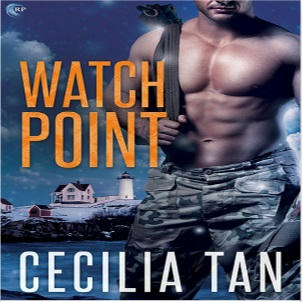 Giveaway!
To celebrate the release of Watch Point, one lucky winner will receive a swag bag including a copy of Watch Point, The Prince's Boy, Daron's Guitar Chronicles Vol 1, a DGC T-shirt, notebook, and stickers!
(Just leave a comment with your contact info to enter the contest.)
Thanks for following

the tour,

and don't forget to leave your contact info!

(Entries close at midnight, Eastern time, on November 11, 2017.)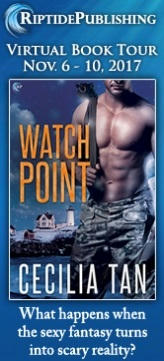 Check out the other blogs on the tour!