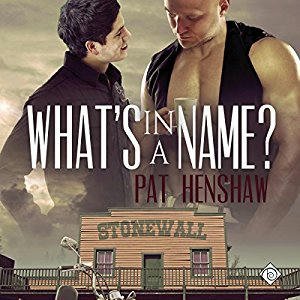 Title: What's in a Name?
Series:  Foothills Pride 01
Author: Pat Henshaw
Narrator: David Ross
Genre: Contemporary
Length: 2 hrs, 49 mins
Publisher: Dreamspinner Press LLC (21st October 2016)
Heat Level: Moderate
Heart Rating: ♥♥♥♥♥ 5 Hearts
Blurb: Barista Jimmy Patterson thinks it's a good idea to get rip-roaring drunk on his birthday after he's dumped by his boyfriend. When the burly owner of Stonewall's Bar rescues Jimmy, the night starts to look up.
Now Jimmy just wants to know the bartender's first name since he's worn a different name tag every time Jimmy's seen him. "Guy" Stone gives Jimmy seven guesses, one for each night he takes Jimmy out on a date.
While Jimmy's trying to come up with his name, he's distracted by the destruction of his coffee shop and what looks more and more like a hate crime.
Product Link: Audible US | Audible UK
Reviewer: Prime
Review: What's in a Name? is the first book in the Foothills Pride series, a series which I read but now happily revisit by listening to the audio. The best part of this experience for me is that I found that the narrator, David Ross, did his job brilliantly and he really enhanced the feelings of the characters in this book.
Jimmy is a sweetheart and it's difficult not to instantly feel sorry for this self-confessed twink. To top it all off, he's attracted to the big bear of a man behind the bar at the only gay bar in town. The mystery is no one knows his name. They just know him as whichever name tag he was wearing when last seen or taken notice of. This makes Jimmy determined to work it out.
It's certainly different having the entire plot predicated on a character trying to guess something about the other main character. In fact, I really enjoyed how the chapters were set up and it was really well paced too. Every couple chapters, when it gets to the end of the night after Jimmy and "Guy" have been out, it's a short period of calm as we see what Jimmy has come up with. Then between all these guesses, Jimmy chronicles the drama that is unfolding around him, drama that "Guy" is more than willing to get involved in as long as Jimmy is kept safe. "Guy" is a teddy bear in every way possible and I found him instantly likable. His refusal to give his real name is more mischievous than annoying.
The pacing of this story is also quite good – not too fast and never tediously slow. I usually listen to audio books at 1.25x speed, mostly because I'm impatient and speeding up a tad gets us to a fairly normal talking speed for most narrators. The point is though, some books I want to speed up more because I'm just too impatient and I didn't here. (I feel like I just admitted a naughty secret there). Not quite as funny as I remembered from when I read the book, but the danger element is certainly there to move the plot forward.