Hi guys! We have B.A. Tortuga stopping by today with her upcoming release Whiskey to Wine, we have a brilliant guest post and a great excerpt so check out the post and enjoy! ❤ ~Pixie~
Whiskey to Wine
(Dreamspun Desire 78 / Leaning N Ranch 03)
by
B.A. Tortuga
Love is hitting the slopes, and the competition is fierce.
It's Gay Ski Week in Aspen, and blind sculptor Bleu Bridey and his ex-fiancé, Dan, are at the Leaning N Ranch to unveil Bleu's latest commission.
Former Olympic snowboarder Ryan Shields is there too… and he's Bleu's true love who got away. Seeing Bleu again, Ryan remembers how they couldn't get enough of each other in college.
Too bad it looks like Bleu is with Dan now, because Ryan would love to remind Bleu how good they were together, in and out of the sheets.
Between Ski Week parties, a bunch of exes, a private ski lesson, and one terrible accident that leaves Bleu stranded and Ryan in rescue mode, it'll be a wonder if these two manage to survive, much less find a few seconds alone to remember how much love they have to keep them warm even in the worst of storms.

B.A. Tortuga!
Hey y'all! I'm BA Tortuga, resident redneck and lover of all things western.
So, I'm here talking today about Whiskey to Wine, my new Dreamspun Desire and #3 in the Leaning N series.
So, I have to tell you, I am a country music fan, in the fanatic sense, and when I heard Garth Brooks and Trisha Yearwood sing Whiskey to Wine the first time on the radio?
I swear to God, y'all – Bleu and Ryan showed up in full form before the song ended.
Wanna listen? Here's the link:

Cool, right?
I love the former lovers trope. Adore it. Seriously – it's my favorite and that's what Whiskey to Wine (the book) is. Bleu and Ryan were hot and heavy in college, but life got in the way. Add to that the fact that Ryan thinks Bleu is married, and Ryan's ex shows up to share Ryan's room and…
Yeah.
When the guys get together at the Leaning N ranch for Gay Ski Week in Aspen?
Match meet gasoline.
😀
Much love, y'all,
BA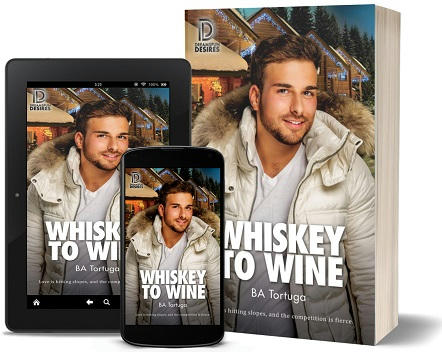 Excerpt!
Prologue
STONEY DIDN'T know about this whole "bring a blind man to the stables" thing, but Ford said this guy needed to see a horse, and he'd be damned if he was going to let someone else be in charge of that.
If someone was fixin' to get into big trouble, it might as well be him.
He stroked Copper's face, the big old gelding the most easygoing of them all. "You'd best be nice, old man. This guy's like some Santa Fe artist that makes my Ford about stupid with joy."
Copper bobbed his head as if nodding, blowing those big lips at him. Yeah, Copper knew his job.
He heard the scrape of Ford's boots on the gravel outside the barn. "Here we go, bud."
A tall, buff blond with dark glasses and a great smile appeared in the doorway, holding on to a lovely Native American guy. Pretty.
"Hey, y'all. I'm Stoney River, Ford's husband."
"Pleased. This is Bleu Bridey. I'm Dan Klah." The bolo tie of silver and enormous turquoise spoke of relative wealth, and the guy had Navajo written all over him, from the raven wing hair to the cheekbones you could ski off.
"Pleased, y'all. So, you want to learn about horses."
"I need to see one. Touch one. I can hear it breathing," Bleu said.
"Him."
"What?"
Stoney grinned. "Copper's a him. He's a nine-year-old gelding. He loves to meet people."
"Oh." Bleu's cheeks went pink. "Right."
"Here, take my hand and I'll ease you in." He held Copper by the halter firmly while reaching out for Bleu.
Dan put Bleu's hand in his, so Stoney waited for the feller to step close.
"This is a little unnerving," Bleu admitted.
"Sure it is, because he's a big old thing, but he's gentle. He's a good boy." And the guy needed to chill, because Copper knew he was okay.
"Okay." Bleu put his hand where Stoney directed it, right on Copper's nose. "So soft!"
"I'm going to lead your hand at first, just so you don't get his eyes."
"Thanks. I don't want to hurt him."
His level of respect jumped up. "I appreciate that."
"He sounds impatient. That's his hooves on the floor, right?"
Stoney laughed. "He's just shifting his weight. If he was impatient, he'd be swishing his tail or nibbling you."
He showed Bleu the heavy cheeks, the way that Copper's head flattened out over his forehead, the little swirl of hair at Copper's forelock.

Copper took it all for long moments before he started snuffling at Bleu's shirt pockets.
"Would you like to give him a carrot?"
"Can I?"
"Sure, I need you to…. Uh…." Stoney stretched out his fingers, trying to explain. "Make your hand flat and keep it that way."
"Like this?" Bleu held up a hand, palm up, fingers extended.
"Just that way. Now, make sure you keep your fingers flat." He dropped a cut carrot on Bleu's palm.
Copper nibbled it up, velvety soft lips teasing Bleu's skin.
Bleu laughed out loud. "Feel that! He's very sweet."
"It's like velvet, isn't it? So soft. His lips come up to his nostrils."
"He's giving me goose bumps." Bleu drew away. "Can I lean on him?"
"You can." This was way better than Stoney had worried it would be. Seeing Copper through a blind guy's touch was really neat.
Bleu rested against Copper's neck, expression pure wonder. "Oh God. Dan. Dan, I can hear his heart."
"He's gorgeous, Bleu. Deep in the chest, long in the legs. He's this rich, glorious color with a white blaze down his nose." The Dan guy sounded like he knew his way around a horse.
Copper lipped at Bleu's shoulder curiously, but stayed calm like the practiced trail horse he was.
"His mane is like his tail, coarser, and his ears are so soft."
Stoney just stood and watched, guiding Bleu every so often to touch somewhere else. This was the best part of his job; he got a huge kick introducing people to ranch life.
Periodically he'd see Ford watching him with this goofy-assed look on his face.
Stoney did adore that. God, he loved his life.
"Thank you for this. Seriously. I needed to see this."
"Not a problem. If you want to try riding, Copper is your guy. I can take you out anytime while you're here, as long as the weather is good."
"Really?"
"Absolutely. I live for this shit."
The Dan guy laughed. "You do, huh?"
"Yep. That and my husband and son." Stoney winked over but realized Bleu would miss that.
"I can't think of anything better. Oh, Dan, I do love it here."
"Hey, I thought you would. I chose well." Dan winked back at Stoney. "Inspiration."
"I have to appreciate anyone who's inspired by the Leanin' N."
"Well, I am. I would love to go riding tomorrow," Bleu said.
"Sure. How long are y'all staying?"
"A week or so." Dan grinned. "We'll see."
"That's a good amount of time."
"Yeah. I wanted immersion." Bleu shrugged. "And the food is amazing."
"I love the meatloaf best, but pizza is a huge favorite."
"I loved that brown sugar pie thing," Bleu murmured.
Stoney grinned and nodded. "You've had the coffee?"
Bleu leaned against him, easy as pie, unselfconscious as anything. "Oh my God, better than sex."
"You know it."
Both Dan and Ford went "Hey" at the same time.
Stoney snapped his teeth at Ford, teasing. "We should go have some. Coffee, I mean."
Bleu's laughter was loud enough that Copper tossed his head. "Coffee sounds great."
"Okay. Dan, can you help guide Bleu out so I can give Copper here some oats?"
At the word oats, Copper shifted his weight hard, and Bleu staggered, laughing again when Dan caught him.
Stoney did appreciate a guest with a sense of humor. Around the ranch, a guy needed one or he'd always be mad.
"Coffee sounds good," Ford said, leading the others off.
"Come on, buddy, let's get you some oats." Stoney got to work, whistling as he did.
He loved the ranch almost as much as he did Ford and Quartz. Almost. They were all part of it.
It was in his blood, these days.
He finished up before hurrying back to the house.
Stoney didn't want to miss that coffee.

About B.A.!
Texan to the bone and an unrepentant Daddy's Girl, BA Tortuga spends her days with her basset hounds and her beloved wife, texting her sisters, and eating Mexican food. When she's not doing that, she's writing. She spends her days off watching rodeo, knitting and surfing Pinterest in the name of research. BA's personal saviors include her wife, Julia Talbot, her best friend, Sean Michael, and coffee. Lots of coffee. Really good coffee.
Having written everything from fist-fighting rednecks to hard-core cowboys to werewolves, BA does her damnedest to tell the stories of her heart, which was raised in Northeast Texas, but has heard the call of the  high desert and lives in the Sandias. With books ranging from hard-hitting GLBT romance, to fiery menages, to the most traditional of love stories, BA refuses to be pigeon-holed by anyone but the voices in her head.
Facebook |  FB Author Page | Twitter | Pinterest  | Blog | Website | Instagram