Hi guys, we have Mary Rundle stopping by today with the tour for her new release White Knight, we have a short intro from Mary with an exclusive excerpt and a fantastic $20 Amazon GC giveaway, so guys, check out the post and enter the giveaway! ❤️ ~Pixie~
White Knight
by
Mary Rundle
The Blackwood Pack saga continues…
This is part of an on-going series by Amazon International Bestselling Author, Mary Rundle – catching up on previous titles is advised. Readers of the past books will enjoy meeting old friends once more as the pack does what it does best ̶ caring for one another and helping shifters everywhere.
Hunter always expected to be the next Alpha of the Rolling Hills Pack until he had to walk away, leaving behind his dream, forced to build a new life for himself and his brothers. Arriving with them to visit his cousins at the Blackwood Pack, he never expects to find his mate there, but when he catches his scent, it's impossible for him to concentrate on anything else, including a secret he has that will change his cousins' lives.
From the moment Hunter meets Jackson, tempers flare between the two Alphas as their anger builds about secrets both are keeping. Their distrust of each other grows yet they must struggle to find common ground due to their mutual responsibilities toward Hunter's mate.
Fionn, a rare white dragon, has fought hard for his independence, believing it will protect him from relatives who want to seize his hoard. As a recent member of the Blackwood Pack, he looks forward to sharing the future with his new family. That is, until he realizes he has a mate. Needing time to sort out his feelings, he flees to his hoard, hiding from Hunter who impatiently waits for him.
Together, Fionn and Hunter must put aside past hurts and disappointments as they try to forge a new world for themselves while facing a dangerous threat to Fionn…and to the rest of the Blackwood Pack.
Long-kept secrets, a treacherous attack, an action-packed rescue, and many unexpected twists and turns make this passionate love story by Mary Rundle impossible to put down once you've read the first page.

Exclusive Excerpt!
Hello everyone! Thank you for hosting my blog tour. I am so excited to be here and I have an exclusive excerpt for you today from White Knight, Book 8 of the Blackwood Pack series, the love story of Fionn and Hunter. In this book the Fate Mates do eventually have their HEA but not before the entire Blackwood Pack pitches in to help. I hope you enjoy it!
~~~~~~~~~~~~~~~~~~~~~~~~~~~~~~~
"Sit down, Hunter," Jackson said, stonily. Whether his cousin liked it or not, there were still things to discuss before Hunter met with one of Jackson's pack members.
Stalking around the room, his anger evident, Hunter tried to ignore Jackie's command, but finally was forced to do as ordered. "Fine, I'm sitting," he said petulantly, "now what?"
Seeing how close his cousin was to the edge, Jackson sighed, making a decision he hoped wouldn't come back to bite him. "Even though there are issues we need to discuss, I'm willing to wait on those if you promise not to pressure your mate to leave with you until I'm satisfied he's doing it of his own free will."
Clenching his teeth, Hunter nodded, knowing he had little choice since he didn't know what relationship his mate had with Jackson.
"Okay, then, there are four members who could be your mate." Opening a file on his computer, Jackson selected the photographs, then opened them. Turning his monitor around, he asked, "Which one is it?"
Hunter's eyes zeroed in on the face of his mate. "That one," he said, pointing to one of the images.
Fuck no! Keeping his face expressionless, Jackson said, "Okay." After sending a text, Jackson said, "I've asked him to come to my study."
"What's his name?" Hunter asked, determined to get at least that piece of information.
"Fionn MacDùghlas."
"He's Scottish?"
"Yes, he is," Jackson said, tapping his fingers on the desk, then, making a decision, continued, "He's a dragon, Hunter."
A dragon? The Fates gave me a dragon as my Fated Mate? Fucking hell! Staring at his cousin, Hunter was stunned into silence, trying to sort it all out. He'd better say something soon, he thought, or Jackie might misconstrue his reaction. "I thought the Fates were very selective when it came to picking the mate of a dragon. I mean…aren't dragons usually mated to other dragons?"
"Well, I guess they had a good reason for picking a wolf shifter to be his mate," Jackson replied.
Hunter's eyes narrowed at the tone of his cousin's voice. Studying the taut expression on Jackson's face, he said, "And let me guess…you're not happy about it."
Shrugging his shoulders, Jackson replied, "Not my call."
"But if it were, you wouldn't have picked me."
"Don't go there, Hunter. It's not my call so what I would or wouldn't have done is not important. What is important is Fionn and his feelings," Jackson said.
"But that's where you're wrong, Jackie. Fionn is your pack member and you're his Alpha— he's going to look to you about this mating and if he senses you're not happy with it…"
"Stop! You're out of line, Hunter," Jackson ordered. "You have no right to imply I'd do anything other than help one of my pack members regarding the Fates' choice of a mate for him. If I were you, I'd be very careful about criticizing your mate's Alpha, especially in front of him."
Swallowing his retort, Hunter knew his cousin was right about that, at least not until he found out more about why a dragon was in a wolf pack—something he was sure Jackson wasn't going to reveal to him. Damn! Deciding not to engage in a power struggle right now, Hunter asked, "Where's Fionn?"
Picking up his phone and seeing no reply had come, he sent a message to his mate. "I just asked Steel to find him and bring him here."
Hunter's wolf clawed to get out, sensing a problem with their mate. Finally, unable to control his wolf any longer, Hunter felt a shift begin; his body began vibrating as his bones lengthened. Forced out of his chair, Hunter desperately fought his wolf, demanding he back down, but without success.
Looking up from his phone, realizing his cousin was no longer in control of his wolf, Jackson stood and rolled out his Alpha power at full strength.
Whimpering, Hunter's wolf retreated, cowering in submission on his belly, exposing his ruff to the more powerful wolf. Hunter fell to his knees; Jackson's power and the sudden withdrawal of his wolf, left him unable to stand. Exposing his neck to Jackson, Hunter felt fear invade his body as he finally realized his cousin was no ordinary Alpha.
Slamming the door open, Steel stood in the doorway to Jackson's study, partially shifted, snarling. Seeing Hunter, he strode over, picked him up by his shirt and shook him violently. "Don't you ever threaten my mate again!" he thundered.
Unable to shift as long as Jackson's Alpha power held him in thrall, Hunter tried to utter an apology but couldn't. Finally, desperate to stop the assault, Hunter forced his body to go limp, surrendering to the huge wolf holding him.
"Babe, put him down!" Jackson said, jumping up and placing a hand on his mate's arm. "It wasn't me he was after. I think his wolf is sensing something's happened to his mate."
Feeling coolness wash over his heated body smothering the flames of anger and calming him, Steel released Hunter, letting him fall to the floor. "Who's his mate? Oh fuck, it's Fionn, isn't it? That's why you want him?"
"Yes, did you find him?"
"I found his phone in his room but he's not there. As far as I can tell, he's not even in the house."
Pulling back his power, Jackson reached down, helping his cousin up. "What caused your wolf to get so riled up, Hunter?"
Once on his feet and free of Jackson's Alpha power, Hunter backed up, his wolf demanding they stay a safe distance away from his cousin and Steel. Shaking his head, Hunter said, "I don't know who you are any more, Jackie, but you're not the cousin I knew. We'll be leaving now." Ignoring his wolf's howl at his words, Hunter, turned and rushed from the study, hell bent on putting as much distance between him and Jackson as possible.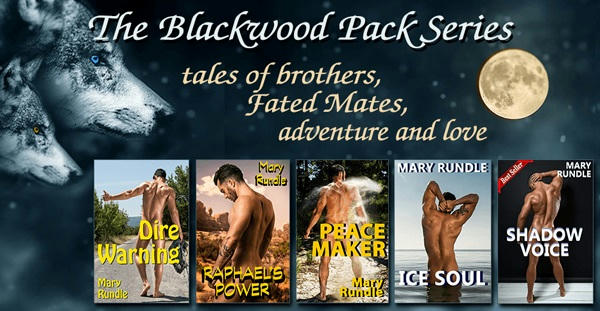 Blackwood Pack series!
Dire Warning
.•.•.**❣️ Amazon US | Amazon UK | Amazon CA | Amazon AU | Amazon FR | Amazon DE | Amazon ES | Amazon IT ❣️**.•.•.
Raphael's Power
.•.•.**❣️ Amazon US | Amazon UK | Amazon CA | Amazon AU | Amazon FR | Amazon DE | Amazon ES | Amazon IT ❣️**.•.•.
Peace Maker
.•.•.**❣️ Amazon US | Amazon UK | Amazon CA | Amazon AU | Amazon FR | Amazon DE | Amazon ES | Amazon IT ❣️**.•.•.
Ice Soul
.•.•.**❣️ Amazon US | Amazon UK | Amazon CA | Amazon AU | Amazon FR | Amazon DE | Amazon ES | Amazon IT ❣️**.•.•.
Shadow Voice
.•.•.**❣️ Amazon US | Amazon UK | Amazon CA | Amazon AU | Amazon FR | Amazon DE | Amazon ES | Amazon IT ❣️**.•.•.
Ghost Walker
.•.•.**❣️ Amazon US | Amazon UK | Amazon CA | Amazon AU | Amazon FR | Amazon DE | Amazon ES | Amazon IT ❣️**.•.•.
Serpent's Teardrop
.•.•.**❣️ Amazon US | Amazon UK | Amazon CA | Amazon AU | Amazon FR | Amazon DE | Amazon ES | Amazon IT ❣️**.•.•.
There is a new MC couple in each book, and in later books some references to previous couples are included

About Mary!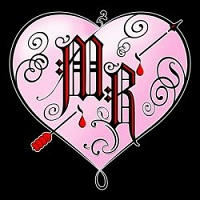 The first book I ever wrote was Dire Warning in 2017 and, much to my delight, it became an Amazon Best Seller. Readers loved it and I was on my way to chronicling the Blackwood Pack, seven brothers who are gay wolf shifters in search of their fated mates– stories about love at first sight with twists and turns, angst and humor, romance and adventure and, of course, happy endings.
Now, six books later, Ghost Walker, another Best Seller, has just been released to critical acclaim. I love the M/M paranormal genre because it gives my imagination a lot of territory in which to roam. My mind can really run wild and come up with some amazing stuff when it doesn't have to stay inside the box
My readers tell me they feel like they're a member of the pack as the stories unfold. As if they're right there in the middle of the action. Others tell me it's like watching a fast-paced movie. My writing style pulls no punches– readers love it and are always clamoring for the next book.
Stories come to me as if they were being channeled by my characters, all of whom I love (except for a few villains). They are eager to recount their lives, loves and adventures and are not inhibited when it comes to revealing steamy details.
I currently live in the Northeast and love the beautiful change of seasons, my husband, and our quirky calico cat, though not necessarily in that order. I'm always happy to hear from my readers and can be reached through Facebook, Twitter, MeWe, or my website.
Website | Facebook | Facebook Author Page | Twitter | Goodreads | QueeRomance Ink | Author Amazon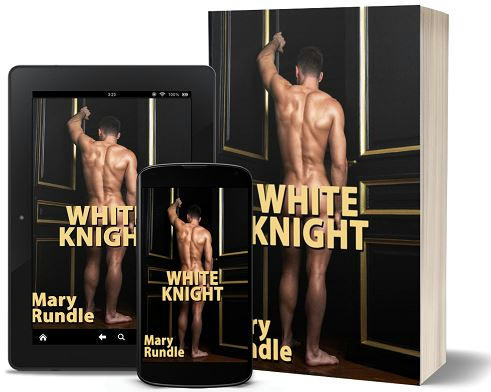 Giveaway!
Win a $20 Amazon GC!