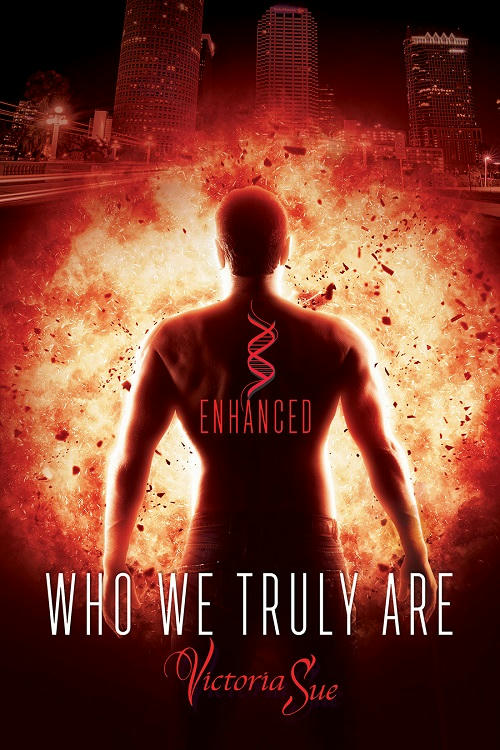 Title: Who We Truly Are
Series: Enhanced # 2
Author: Victoria Sue
Genre: Other Paranormal, Science Fiction, Urban Fantasy
Length: Novel (206 pages)
Publisher: Dreamspinner Press (July 14, 2017)
Heat Level: Moderate
Heart Rating: ♥♥♥♥♥ 5 Hearts
Blurb: Talon's deadly abilities are spiraling out of control. Desperate to keep Finn safe, Talon struggles to protect the man he loves with all his heart, and not become the greatest risk to Finn's life.
Finn has no choice but to offer himself as bait for the evil forces kidnapping enhanced children, facing danger he is untrained and unprepared for, and he is having to do it alone. 
Does Talon have one last fight in him? Will he slay everyone who wants to destroy Finn and the team, or will he finally discover that to defeat their enemy and the ultimate threat, the biggest battle he has to face is one with himself?
ISBN-13: 978-1-63533-772-3
Product Link: https://www.dreamspinnerpress.com/books/who-we-truly-are-by-victoria-sue-8670-b
Reviewer: Shorty 
Review: Oh my god was this book so good. Talon and his team are back when enhanced children start disappearing. Talon is not happy that Finn acts as bait to lure whoever is behind the kidnappings out. 
While all this is going on Finn is getting upset with Talon as he feels Talon does not think he can do his job. With tensions mounting between the two disasters is sure to strike. 
Talon's abilities seem to grow when unexpectedly he starts being able to do what other team members can do. I swear there were twists and turns that had my head spinning but in a good way. There was no shortage of action, drama, suspense and mystery throughout. 
I seriously love this amazing series. I cannot wait to read more about the others on the team as well. You have to read this series.
Highly recommended.