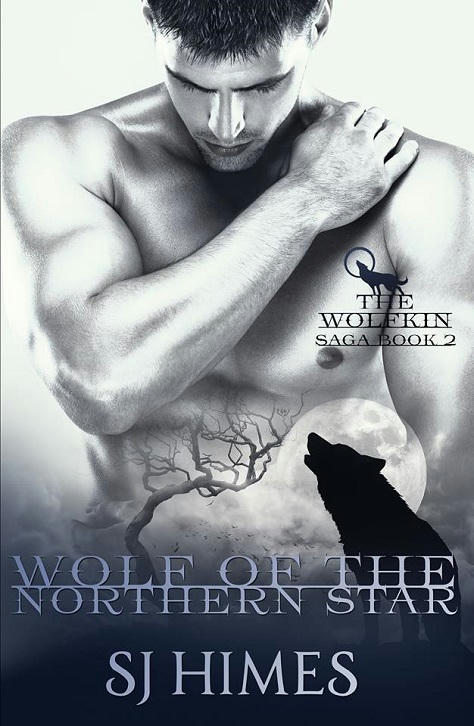 Title: Wolf of the Northern Star
Series:  Wolfkin Saga # 2
Author: SJ Himes
Genre: Paranormal
Length: Novel (374pgs)
Publisher: SJ Himes (June 14, 2017)
Heat Level: Moderate
Heart Rating:  ♥♥♥♥♥ 5 Hearts
Blurb: Ghost, once known as the cub Luca, is finally home. Back among his kind and learning what it means to be both a man and a shaman, Ghost battles the expectations of his people, his family, and the pressures of a society that is both foreign and familiar. His power is greater than any seen before, dwarfing that of even the legendary Shaman Gray Shadow—and his union with Kane places him in the center of a controversy that rattles wolfkin society around the world. 
Kane, greater alpha and Heir to Black Pine Clan, has finally defeated the traitor and murderer that destroyed the heart of Black Pine years before. Freed at last from guilt and pain, Kane has a new enemy to face: his own people. Placed on trial for violation of Law and blasphemy, Kane will have to fight to the death to preserve his bond with Ghost and keep his mate and people safe. 
The soulbond between Ghost and Kane is forged by the creator and Goddess of the wolfkin. Usually, a sacred and treasured union that honors the pair and their clans, this soulbond is seen not as a gift, but a threat to eons of tradition and Clan Law. 
The union of a Shaman and Alpha is anathema—but how to reconcile that belief when it is the wolfkin Goddess who forged it? Can Ghost and Kane save themselves, preserve their bond, and find a new future when the laws of the ancient past threaten to tear them apart? 
**This book is part of a series and is not standalone. Prior books should be read to understand content. 104,000 words. Brief flashbacks of sexual assault and abuse. Mature content and violence.***
ISBN: B072R5QF1C
Product Link: https://www.amazon.com/Wolf-Northern-Star-Wolfkin-Saga-ebook/dp/B072R5QF1C
Reviewer: Shorty 
Review: This sequel picks up where the first book leaves off. Wolf is confused by wolves acting more human than wolf. He does not understand why they are not acting like who they are. We see Roman and Claire being judged and convicted by the tribunal. 
Simon is still doing his experiments with a new master that I figured out who it was before they were announced. So it came as no surprise to me. This book is a fantastic addition to the series. It adds more in depth details to characters such as Wren, Gerald and Caius. 
I found myself unable to stop reading until the very end and was sorry when there was no more. I hope there will be more to this series and that next time we will not have to wait two years to read it. I truly loved everything about this story.