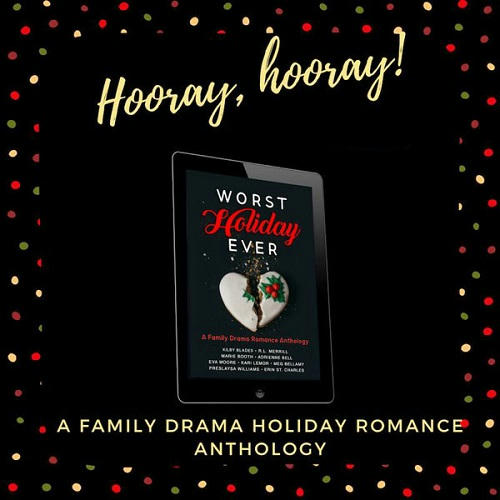 Hi guys! We have R.L. Merrill poppin gin today with the tour for her story in the Worst Holiday Ever anthology, The Thanksgiving Parade From Hell. We have a great exclusive excerpt and an awesome $25 Amazon or Dreamspinner GC, so check out the post and enter he giveaway! ❤ ~Pixie~
Worst Holiday Ever
by
Eva Moore, Adrienne Bell, Kilby Blades, Kari Lemor, Preslaysa Williams, Marie Booth, R.L. Merrill, Erin St. Charles, Meg Bellamy
It's the most wonderful time of the year! OK—scratch that. It's time for another obligatory family gathering. And nothing spices up the egg nog like bringing your partner home. Surely your belligerent brother-in law, your gimlet-eyed granny and your drunken uncle will keep it classy. With forced proximity and alcoholic beverages, what could possibly go wrong?
Decked Out by Eva Moore
A Perfect Fit by Adrienne Bell
Crazy Old Money by Kilby Blades
Stealing Christmas by Kari Lemor
Touched by Fate by Preslaysa Williams
Ringing in the Reefer by Marie Booth
The Thanksgiving Parade From Hell by R.L. Merrill
Thankful in Perdition by Erin St. Charles
Feliz Chanukah! by Meg Bellamy 
This anthology is for readers who love any or all of the following: m/m, #ownvoices, plus-sized heroes, interracial/multicultural families, paranormal romance, contemporary romance, Thanksgiving, Christmas, and Chanukah! (M/M, M/M/F, M/F)
It is best to leave this one to the mature audiences.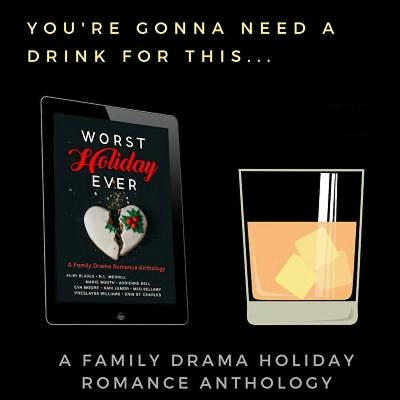 Exclusive Excerpt!
from The Thanksgiving Parade From Hell
It was a long time before either of them spoke coherently again, not until they were both panting and covered in sweat. They reclined against the padded headboard of their king-size bed and tried to recover while watching a bit of the Macy's Thanksgiving Day Parade. At this moment, a group of strange clown-like dancers in afro wigs danced their way up 34th Avenue waving some kind of sparkly tree branches to the tune of a gospel singer.
"It's like Pride and Christmas had a baby," Dalton said, his brow furrowed in confusion.
"It's like my worst high school nightmare mixed with a little nostalgia. You don't know what it's like marching with the band in a parade. Pure torture, and yet the trips were a blast."
"Aw, you were one of those adorable band geeks, weren't you? I bet you were hot even then."
Orrie rolled his eyes. "I was a string bean with greasy hair. You never would have noticed me. You would have been too busy in student council or, like, debate club."
Dalton snorted. "Please. Student council was for the brainiacs who faded out once they got to college and realized they weren't head of the class anymore. It was all about marketing for me. That and whatever tech classes I could fit in my schedule. I wanted to learn it all yesterday."
Orrie placed a finger under Dalton's chin and turned him to face him. "And look where that got you."
Dalton knew he meant on top of Silicon Valley's most successful tech empire, but that's not what made him feel like king of the world.
"Yeah. It got me you." He leaned forward and kissed Orrie before he could pull away. Orrie eventually gave in and let Dalton kiss him with lots of tongue and teeth, and Dalton was grateful. "You're the best thing to ever happen to me." And I intend to prove it to you tonight.
Orrie frowned and turned to sit on the side of the bed. Dalton loved and hated the sight of Orrie's back. He never really saw it with the exception of times like these, when Orrie went to that place Dalton couldn't reach.
"Yeah, well." He rested his elbows on his knees and ran his hands through his hair, and then he stared at them. He picked at a piece of skin that must have broken loose from the calluses he'd built up playing guitar.
He'd only come home yesterday and would be heading back out tomorrow to play shows until just before Christmas, and then Dalton got Orrie all to himself for two whole weeks. Orrie would be off tour, Dalton was closing the company offices for his employees to enjoy a nice long break with their families, and the two of them could use that time to start making arrangements.
If all went as he'd planned. It had to.
"I'm going to shower," Orrie said, standing from the bed. He walked over to his dresser and took out the diamond studs Dalton bought him last Christmas. The moment he'd opened Dalton's gift was the only time Orrie had smiled that day.
Orrie walked into the bathroom and shut the door. The lack of invitation to join him in the shower told Dalton that he needed some time to collect himself. He'd mostly learned to not take it personally.
The holidays were difficult for Orrie. Some of his family's most heartbreaking moments had occurred either on Thanksgiving or Christmas, like the physical fight that ended his parents' marriage and his stepmother's drunken outbursts which eventually turned into sobriety inspired meltdowns. There was also the fact that being around his father's family provided ample opportunity for them to criticize his every move. Dalton wanted this holiday to be a good memory for Orrie for once and hoped that everyone would just behave.
Both Orrie and Dalton were children of divorced parents. Around the holiday that meant making the rounds to various family members' homes. Dalton looked at it like a carefully orchestrated military campaign. Hit the targets with maximum impact, get out without any casualties. Dalton Bishop may not be a military strategist, but he was the CEO of Bishop Tech, and his company was currently sitting atop the NASDAQ. The value of its shares more than doubled this past year and continued to climb, and Dalton had even bigger plans for 2019, only some of which were business-related.
His greatest conquest would be winning the hand of the man he'd come to love ferociously over the past year.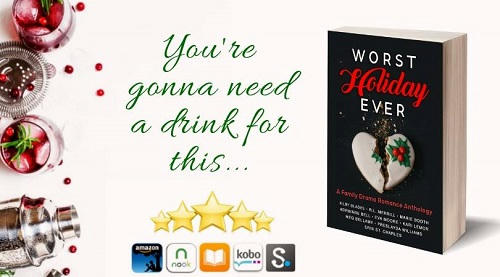 About authors!
Eva Moore: As a young woman, Eva Moore loved nothing more than to dive into the pages of a book. She even met her husband while reading a romance novel. When the second baby came along though, she found she had little time for diving into anything but laundry. Missing her stories desperately, she began to make up her own. The stories she played with while she washed dishes and changed diapers demanded space on the page, and she was hooked. Winning Cherry Adair's Finish The Damn Book Contest has propelled her career into high gear. Eva now lives in Silicon Valley, after moving around the world and back, with her college sweetheart, her three gorgeous girls, and a Shih Tzu who thinks he is a cat. She can be found most nights hiding in her closet-office, scribbling away, and loves to hear from the outside world.
Kilby Blades: Kilby Blades is a fresh new voice in smart contemporary romantic fiction. A business executive by day, by night she writes dynamic characters into (and out of) tantalizingly complex predicaments. Critics laud her "feminist romance", noting empowered heroines and multi-dimensional heroes who are staunch advocates for their partners, stepping back from their own spotlights in order to let their women shine. From dry wit in her angstier books to blatant humor in her lighter ones, her characters are resplendent in their witty repartee. All her stories, regardless of genre, serve up delicious dilemmas and never-before-seen plots. When she's not writing, Kilby goes to movie matinees alone, where she eats Chocolate Pocky and buttered popcorn and usually smuggles in not-a-little-bit of red wine. Kilby is a mother, a social-justice fighter, and above all else, a glutton for a good story.
Erin St. Charles: Erin grew up watching Star Trek and reading Barbara Cartland novels (don't hate), wishing she could create something that brings her love of science fiction together with her love of romance. Still a romantic nerd at heart, she writes sensual, diverse stories that blend fantasy, adventure, and love.
Kari Lemor: Kari Lemor grew up as one of those kids who read all night under the covers.  Once she had her first glimpse of a romance novel at age 12, it was all over. Romance was in her blood. It would be many years before the stories that ran rampant in her head finally drove her to put words to paper, though. She wrote self-indulgently for the first few years and only recently began penning stories to share with others. She still writes stories that are self-indulgent but hopes others might get some enjoyment from them too.   Now that her children are all grown and have moved out, she uses her spare time to create stories of love and happily ever after romances where heroes ride to the rescue of damsels who have already saved themselves. She lives with her husband in a small town in New England dreaming of warmer weather.  But only if it's near the ocean.
Adrienne Bell: Adrienne Bell is the author of over a dozen action-packed romances including the bestselling contemporary Second Service series and the new Exiles of the Realm paranormal series. She loves nothing more than writing quirky heroines with a knack for finding trouble and the hardheaded heroes who help them fight their way out of it. Adrienne lives with her husband and sons on the far edge of the San Francisco Bay Area where she spends her downtime reading, binge-watching nerdy television, and scrolling through Disneyland fan websites.
Meg Bellamy: Along with her husband, her family and her books, language is Meg's passion. In fact, by day she's a mild-mannered language teacher. Currently, she teaches ESL (English as a Second Language) to international students, but in her early teaching days, her main subject was French. Though her French is a bit rusty these days, she figures a trip to France would help fix that. She's also studied Russian, Spanish and Italian. This love of language spills over into her writing craft and appreciation for books — and travel! Meg also has to travel to see other family members in New Jersey — a mere continent away from Meg's home in Northern California. Being a published member of the community of writers with her contemporary romances and women's fiction is the fulfillment of one of Meg's most cherished dreams. Her first release, Homecoming, was released October 19 — a week before her birthday — from The Wild Rose Press.
Marie Booth: Marie's a Northern California girl with a love of all things artsy fartsy – as her brother says. A theatre and fantasy geek, she writes sexy paranormal romance and has a hot contemporary series releasing this year. You can contact Marie here:
R.L. Merrill: Once upon a time… A teacher, tattoo collector, mom, and rock 'n' roll kinda gal opened up a doc and started purging her demons. Several self-published books and a debut from Dreamspinner Press later, with more tucked away in her evil lair, R.L. Merrill is still striving to find that perfect balance between real-life and happily ever after. You can find her lurking on social media where she loves connecting with readers, being a mom-taxi to two brilliant and busy kids, in the tattoo chair trying desperately to get that back piece finished, or headbanging at a rock show near her home in the San Francisco Bay Area! Stay Tuned for more Rock 'n' Romance.
Preslaysa Williams: Preslaysa Williams is an award-winning author and actress. She writes contemporary romance and women's fiction with an Afro-Filipina twist. Preslaysa has a Bachelor's degree from Columbia University and is currently earning her MFA in Fiction from Seton Hill University. Connect with Preslaysa online at her website (www.preslaysa.com) or on any of these social media platforms:
Facebook | Twitter | Instagram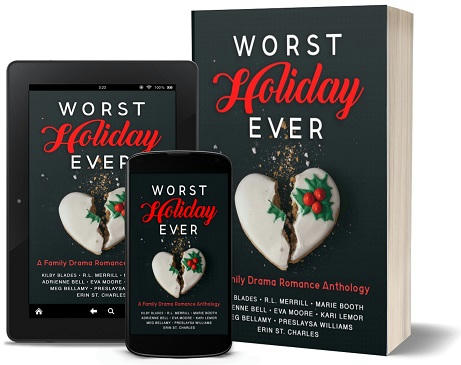 Giveaway!
Win! R.L. Merrill is giving away a $25 Amazon gift card OR a $25 Dreamspinner Press gift card!