Hi guys, we have Remmy Duchene & BLMorticia popping in today with their upcoming release Wounded Pride, we have a brilliant guest post from BLMorticia and a great excerpt, so guys, check out the post and enjoy! <3 ~Pixie~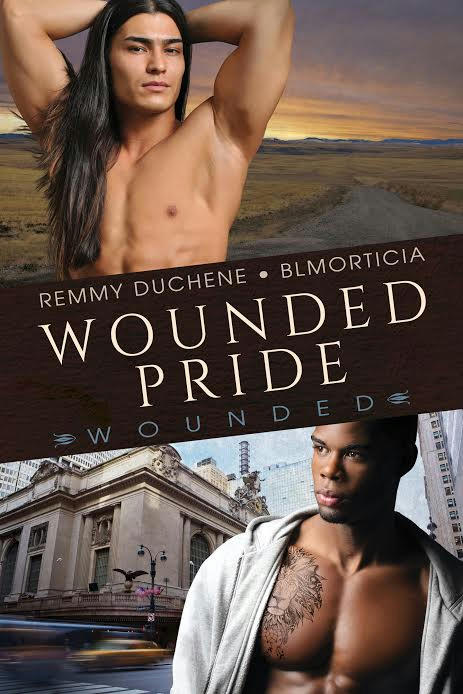 Wounded Pride
by
Remmy Duchene & BLMorticia
Renford Kline is straight… right? He got over his experimentation in college and moved on. Then how does he explain his blush-inducing fantasies about Brian Daystar? Fantasies he's having when he should be focused on his career move from attorney to professor. When Brian comes to New York, Renford knows he's in trouble. Everything about Brian attracts him—from his tight body to his beautiful, dark, hair—but Renford is straight… right?
Brian Daystar needs a break. He's been working nonstop to turn his Montana ranch into a safe haven for at-risk youth—so much so that he can't even bring himself to care when he finds out his partner, country star Corey, is cheating on him. Their relationship has been over for a long time, but it might take his feelings for Renford to make Brian accept it.
Both men have decisions to make. Renford must come to terms with who he truly is, and Brian is going to have to decide if he will shun his happiness or embrace it.
To familiarize yourself with all the characters, reading Wounded Hearts is recommended.
Release date: 17th February 2017

When Your Secondary Characters Attack
by Sharita Lira writing as BLMorticia
Greetings readers.
Have you picked up a book and ever wondered about another character in that story who isn't the primary MC? You liked him or her so much you thought, wow, I want to know his or her story. If you have, then you know what authors feel like when they're inundated with a book request from a secondary character.
*raises hand* Me, me, me. I want my story told too. *pouts*
Writing under three names, my characters do it to me all the time. With BLMorticia, they do it more often than any other. In Wounded Pride that was no exception. From the moment Brian Daystar appeared in Wounded Hearts, Remmy and I knew he needed his own book. After several discussions and a couple of rewrites later, Brian and Renford Kline had their story. And, Brian never let up on speaking to me, even when I worked on other projects.
The characters, yes those sneaky buggers, will always talk to you when you least expect. They'll come in your dreams, while you're at work, or even driving, and in my case, the secondary character talked the loudest. Brian stayed on my mind even as we wrote Wounded Hearts. He wanted more airtime in that book, but we squashed it to, you know, keep focus on Cyrus and Ren?
Damn muse.
Can you imagine being constantly bullied by an imaginary person? Yes, I know you think it's crazy, but it's true. Many of these characters will continue to talk, even when you've started writing them. And then, when you pay attention, you open yourself up for more books with more secondary characters. They band together and bully their authors and demand a book of their very own. When this happens it becomes a six book series. I won't mention my real life example, but you can figure it out if you follow me.
In the end, Brian got his wish. He got his own book, and now he has finally left me alone. I wonder what would've happened if I didn't fulfill his request? For some reason, I don't think this feisty young man would've let up and actually, I'm glad he didn't. I'm proud of how Wounded Pride turned out and I hope this secondary character lived up to the expectations the readers wanted.
* * * *
Wounded Pride is up for preorder now. Release day is February 17th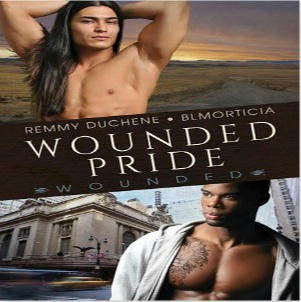 Excerpt
As the ceremony for Gelda's Getaway came to a close, Brian Daystar couldn't help but shed a tear. Today was opening day for his new home to accommodate displaced LGBT young adults in Great Falls, Montana. To Brian, it was a new beginning in his life and a fitting tribute to his late mother, Gelda.
For you, Momma. I know you would've been proud.
Brian kissed the necklace his aunt Theta made, pointed to the sky, and then whispered I love you in Lakota. He wished she could've been here to see what he and other volunteer workers had done to make his dream come true.
"Brian, no time to get all emotional now. They want you to go up to the podium," Aunt Theta admonished him and tightly squeezed his bicep. She shoved him toward the platform.
"No, no, I can't. I'm not a good speaker." He stood his ground, not allowing her to push him too far.
"Brian, please. They want to hear from you. You've done a good thing for these children. Everyone in attendance wants you to speak. It's okay. Everything you say, say from the heart."
Brian grimaced and sighed inwardly. He hated talking in front of large crowds.
The announcer looked him square in the eye. "Mr. Daystar? Can you please come up?"
Realizing he wouldn't get out of this, Brian shrugged and walked to the steps leading onto the stage. The small crowd of about seventy applauded and whistled for him.
Though he appreciated the attention, his nerves were getting the best of him.
As he made his way over, the announcer patted him on the back and stepped aside. Brian adjusted the microphone, cleared his throat, and gripped the podium in front of him for support.
"Um, well, thank you all for coming. I don't have a whole lot to say other than thanks for all your help and generosity with your time and your money. The kids of Great Falls need this. They deserve it, and because of you, my dream for a better life for them has come true. If Momma would've been here, she would've personally thanked each and every one of you." Brian took a deep breath. The tears welled up in his eyes. "But since she isn't, I'll say thanks for everything." He said the same phrase in Lakota and raised his hand.
When he finished, the crowd cheered again, and he looked over to the right, waiting for the covering to be removed from the sign. In a matter of moments, the workers snatched the sheet off and the name became visible to everyone.
With that came the loudest cheers, and Brian felt the lump rising in his throat. Because of these people, as well as Cyrus and Zane, Gelda's Gateway was now open to take in fresh inhabitants and give them a new start on living their lives out and proud.

About Remmy & BL
BLMorticia
BLMorticia is currently a published writer who entertains her readers with hot and smexy sex, humor, and lots of swear words. She attempts to incorporate metal music or the military in most of her works. Nothin' sexier than metalheads or military servicemen and women! For more info, please visit, Erotica With Snark
Remmy Duchene
Love is love, no matter who feels it, writes about it or live it. Born on the beautiful island of Jamaica, Remmy Duchene moved to Canada at a very young age. Though she always wrote, she never took it seriously. An English teacher at her high school read a story she wrote for a project and insisted she consider doing it more. In her free time, Remmy loves photography, Blue Jays Baseball, cooking, spending time roaming Toronto and spending time with family. Over the years, she's taken on speaking out for LGBT rights – something that is quite dear to her heart.
Mantasy: http://remmyduchene.blogspot.com Website: http://remmyduchene.wix.com/remmyduchene