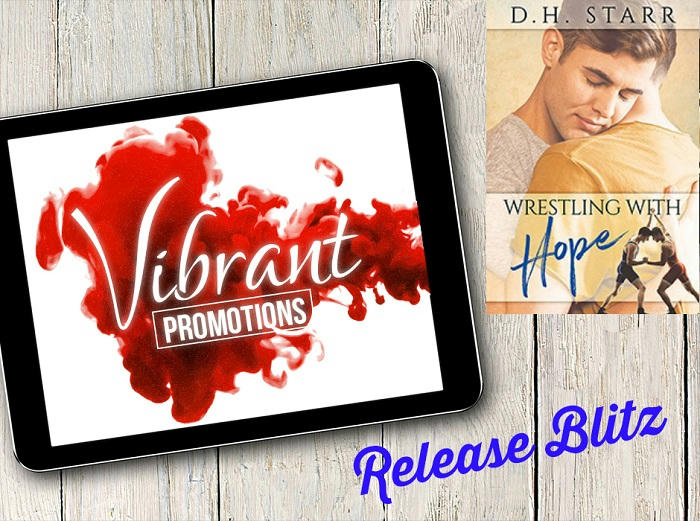 Hi guys we have D.H. Starr spotting by today with his new release Wrestling With Hope, we have a great excerpt so check out the post and enjoy! ❤️ ~Pixie~
Wrestling With Hope
by
D.H. Starr
Forced to move from place to place, never setting down roots, robbed Scott Thayer of any thread of stability during his childhood. No matter how hard he tried, he could never please his distant and judgmental father. If his own father couldn't love him, who could?
Two years after last setting eyes on the man whose approval he'd never win, he's found a good life, attending college, become a star on the wrestling team, built a home with his lover Derek, and surrounded himself with people who love him.
An unexpected note from his father, saying, "I want to see you," turns Scott's world upside down. Why, after all this time, does the man want back into his life, just when Scott's wounds have begun to heal? Should he risk his happiness and peace of mind to accept the invitation from someone who'd left him so damaged?
Or will he finally find closure and slam the door on his pain and never look back?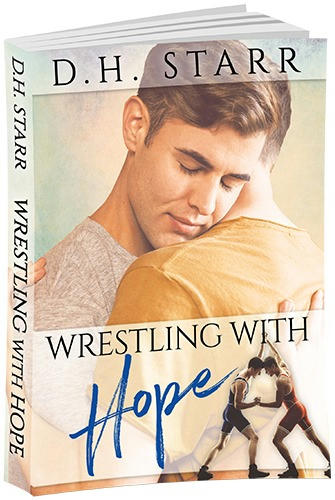 Excerpt!
Christmas Eve
Scott Thayer stared at the flickering light of the candles Derek Thompson had lit as it danced off the ceiling and walls. With Derek's parents downstairs, he should've been nervous. Instead, he scooched over on the bed, making room for his greatest love, the person who kept him anchored to earth, to slide behind him and spoon him in strong arms. He couldn't imagine a happier place to be.
Derek's breath washed across Scott's neck and cheek. Heat from Derek's bare chest soaked into Scott's back, his own personal blanket. No, life didn't get better than this.
"Can you believe it's Christmas Eve?" Derek squeezed Scott from behind, kissing the nape of his neck.
"Mmm-hmm."A hum was all Scott could manage. If he let himself, he'd fall asleep within a few minutes.
Another kiss to his neck, then Derek slid closer, folding Scott into him in a tangle of arms and legs.
"I was thinking about the school dance and the song you mixed for me."Scott tempted fate, and the ire of parents who might choose to check in on them at any moment, wriggling his ass against Derek's groin. Maybe he'd inspire Derek into some private Christmas Eve fun.
"Hey, you know the rules."Derek blocked the seduction with a firm hand on Scott's hip. "I was thinking about the dance too. Can you believe we're already halfway done with sophomore year?"
Scott sighed. Guess fooling around will have to wait. "That song, Happy by Pharrell Williams, was amazing."The memory of Derek's tribute to their relationship, the way he'd represented their love in booming, technological form, had Scott's heart racing…not to mention his cock filling out.
Scott breathed in deeply, attempting to ease the rising emotion swelling in his chest. The song had lit up the room. Students exploded with energy. Smiles and laughter and dancing. Happiness. The message embedded within Derek's gift, reinforced by every kiss, each touch, the silent times they shared where no words were needed to know they belonged to one another.
"You think we have time to fool around?" Derek shifted his hips, pressing his hard shaft against Scott's ass.
Scott laughed. "You're the one who just put the brakes on."He held his breath, reminding himself he had the power to say no even when every cell in his body screamed yes. "I mean, your mom's cool, but I don't know if she'd appreciate walking in on the two of us―ooohhh!"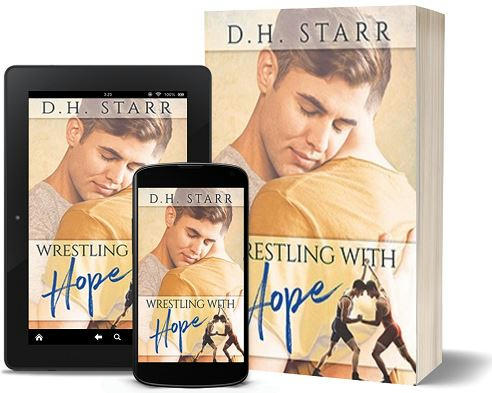 About D.H.!
D.H. Starr is an educator by day and an author at heart.
Writing erotic romance in any genre and young adult stories as well, he likes to explore the emotions of discovering oneself while also allowing someone else into your heart as well. His style has been called angsty at times, and he takes pride in torturing his poor protagonists, making them work for their happily ever after.