Hi guys! We have NineStar Press visiting today with their new Holiday stories; we have Drew Marvin Frayne's Room at the Inn, Asta Idonea's Of Printers and Presents, Laura Bailo's A Special Delivery, Stephanie Hoyt's A Holiday Ruse and 'Nathan Burgoine's Handmade Holidays. We have a great excerpt from Handmade Holiday and we also have a brilliant giveaway, so check out the post and enter the giveaway! <3 ~Pixie~
Holiday Stories week 01
Room at the Inn by Drew Marvin Frayne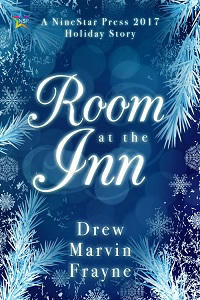 Working on Christmas Eve—no fun. Working a double shift on Christmas Eve? Even less fun. But working a double shift on Christmas Eve in a hotel with two guests? For Jason Martin, it was a recipe for a long, dull holiday. But then a power outage at the local airport sends a bus filled with people to Jason's hotel. Alone, Jason not only has to attend to his guests, he has to save Christmas for a group of weary and grouchy travelers. Happily, one of the guests, a Mr. Marino, steps in to lend Jason a hand. Mr. Marino is helpful, handsome, and running right to the top of Jason's Christmas wish list. But Jason has sworn off hotel hook-ups. And Mr. Marino will be heading out of town the next day, Christmas day. Is it worth getting involved with someone who is only staying for one night?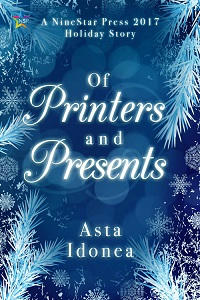 .
.
Of Printers and Presents by Asta Idonea
Colleagues Ford and Vaughan have long admired each other from afar, but Vaughan's shyness and Ford's emotional hang-ups have meant that neither has made a move. That all changes when they draw each other's name in the office Secret Santa.
.
.
A Special Delivery by Laura Bailo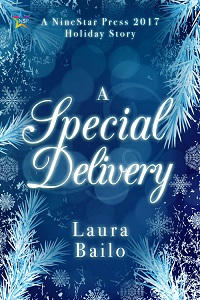 Colin only meant to take a wrongly delivered package to a house a few streets over. But a sudden snowstorm leaves him with no option but to beg shelter from his unknown neighbour James. During the course of a long night, a cozy fire, a little hot chocolate and the snow outside conspire to draw the two men closer. But will their connection outlast the storm?
.
.
.
A Holiday Ruse by Stephanie Hoyt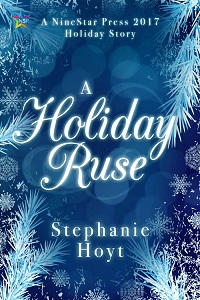 Kezia's been harboring feelings for Magdalena for what feels like an eternity. She's made peace with that. But when her happily committed best friend is suddenly single, that peace is disturbed. Especially when Magdalena comes to Kezia asking for a huge, unreasonable favor. Kezia doesn't know how to say no, even though she knows she should. Will she be able to maintain her composure while helping the broken-hearted Magdalena? Or will pretending to have the girl of her dreams only lead to a broken heart of her own?
.
.
Handmade Holidays by 'Nathan Burgoine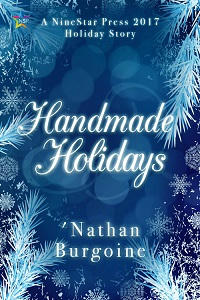 At nineteen, Nick is alone for the holidays and facing reality: this is how it will be from now on. Refusing to give up completely, Nick buys a Christmas tree, and then realizes he has no ornaments. A bare tree and an empty apartment aren't a great start, but a visit from his friend Haruto is just the ticket to get him through this first, worst, Christmas. A box of candy canes and a hastily folded paper crane might not be the best ornaments, but it's a place to start.
A year later, Nick has realized he's not the only one with nowhere to go, and he hosts his first "Christmas for the Misfit Toys." Haruto brings Nick an ornament for Nick's tree, and a tradition—and a new family—is born.
As years go by, Nick, Haruto, and their friends face love, betrayal, life, and death. Every ornament on Nick's tree is another year, another story, and another chance at the one thing Nick has wanted since the start: someone who'd share more than the holidays with him.
Of course, Nick might have already missed his shot at the one, and it might be too late.
Still, after fifteen Christmases, Nick is ready to risk it all for the best present yet.
Excerpt!
Handmade Holidays, 'Nathan Burgoine © 2017, All Rights Reserved
One: First Christmas
Nick shouldered his way through the door of his apartment and barely managed to manoeuvre the heavy and awkwardly long box he carried through the narrow entrance. He shuffled forward—his glasses fogged over—and cursed when the box hit something, shoving it back hard into his stomach.
Nick lowered it, setting the box down between his boots, and managed to close the door behind him.
He exhaled.
After shucking off his coat and his hat, he wiped his glasses on his shirt. Finally able to see, he lugged the box around the single corner in his bachelor pad and laid it out in the so-called "living area" opposite the tiny kitchenette.
"Merry Christmas," he said.
The box contained a fake Christmas tree. It was actually a pretty nice one. It would have been expensive, but it was the floor model, as well as the last one the store had, and given that Christmas was tomorrow, they'd slashed it down to a quarter of its price. The Christmas-themed store that had opened at the other end of the mall where Nick worked would be gone by the end of Boxing Week.
Nick took a few seconds to put his coat up on the hook and then undid his boots. He filled up his kettle—a thrift store castoff—and put it on the finicky oven to boil. The Christmas Eve shift at Book It had kicked his ass. It was time for coffee. He'd been picking up as many shifts as he could—Christmas retail being the season for staff to get sick, have exams, or just plain want time off—and his boss, Tracey, knew she could rely on him. If she called, he dropped whatever he was doing and came in. Which was how he'd ended up working eleven days in a row, including this last shift, where he'd stayed two hours after the mall had closed to help set up for Boxing Day.
Which he would also be working.
But that was in two days. He had tonight to himself, and all of tomorrow, too, before he had to face going back to work. The next two pay cheques would make it all worthwhile.
The box hadn't closed properly when the clerks had tried to pack it up for him on his lunch break, and he'd told them not to worry. They'd just shoved in all the branches and the stand and then used packing tape to keep it closed. The end result was a lumpy mess, so he used a knife to cut the tape free.
If he was going to be on his own for Christmas for the first time ever—not to mention the foreseeable future—he was at least going to have a Christmas tree, dammit. He was nineteen. An adult. He could do this.
The apartment buzzer went off, startling him. He opened his door and crouched down. One of the only benefits of being in the apartment right above the entrance was being able to see through to the front door. Just outside the glass door was a figure in a puffy brown jacket, red scarf, and a black knit cap. Between the cap and the scarf, it wasn't actually possible to tell who it was, but Nick smiled, knowing only one person who'd drop by unannounced on Christmas Eve. It had to be Haruto, checking up on him.
Nick slipped on his runners and jogged down the single flight.
"Perfect timing. I just got home," Nick said.
"Ouch," Haruto said, pulling off his mitts. "I thought the mall closed at five?"
"Two hours of setting up for Boxing Day, a half-hour wait for the bus—reduced holiday schedule—and voila! I just got home."
They climbed the stairs together, and Nick held the door open for Haruto when they got to his apartment. The kettle started to whistle as Nick stepped in after him, and he went to the stove to pull it off the ring.
"Coffee?"
"You always know what to say," Haruto said. By the time he'd pulled off his coat and scarf and undone his boots, Nick had two mugs ready. He put a splash of milk in Haruto's and a teaspoon of sugar into his own. Turning, he grinned when he saw Haruto sans hat.
"You like?"
Haruto's hair was dyed with two bright streaks: one green, one red.
"Very festive."
"Thank you." Haruto bowed and then took the mug. "What's that?" He nodded at the box.
"A Christmas tree. As I am uninvited from this and all future Christmases with the Wilsons, it behoved me to get my own Christmas tree." He tried not to sound bitter. He failed.
"It looks huge."
"It's as tall as me."
"In this place?" Haruto looked around the apartment.
Nick shrugged. It was a fair question. His bachelor pad was tiny. He'd been lucky to find something he could afford, when everything had hit the fan, but he actually hadn't minded that much. Sure, the whole space—kitchen and bathroom included—was probably the same size as his bedroom at his folks', but it was close to a major bus route, so he could walk to groceries, and it wasn't like he'd had any belongings. With the hours ramping up as Christmas got closer, he'd finally managed to save up for a twin bed and mattress and had gathered castoffs to make up some of the rest. He had a pretty comfy two-seater couch and a small television. Post-Christmas, he was hoping to get himself a computer to put on the small desk he'd rescued from a curb.
"It'll class the place up a bit," Nick said.
Haruto smiled and drank some coffee. "If you say so. Oh, hey…" He put the mug on the kitchen counter and went back to the door. He rummaged in his backpack and pulled out a package wrapped in pale-blue paper, before handing it to Nick.
"Merry Christmas," he said.
Nick felt a tightness in his chest, and his throat ached. He swallowed. "You didn't have to get me a present."
"It's barely anything. I promise," Haruto said. "Seriously, open it."
Nick carefully undid the wrapping paper, sliding his finger under the tape.
Haruto sighed. "Of course you're not a shredder."
Nick didn't dignify that with a response. When he freed the box from the paper, though, he smiled. It was a box of small individually wrapped candy canes.
"Candy," Nick said. "How did you know?"
Haruto laughed. Nick's sweet tooth was notorious. "You're funny. You want help with the tree?"
"Hell yes."
They spent twenty minutes assembling the tree—the instructions weren't in the box, but letters labelled the branches and they eventually figured it out. With the tree finally assembled, Haruto helped him shove it as far into one corner of the room as possible.
It loomed there.
"It's not subtle," Haruto said before rubbing his hands together. "Right. Ornaments?"
The spark of fun and lightheartedness Nick had started to feel while they'd assembled the tree died. He closed his eyes. "I am so stupid."
"What's wrong?" Haruto said.
"I don't have ornaments. I don't have anything. Because my parents…" He exhaled and opened his eyes. "I can't believe I bought a fucking Christmas tree and didn't think to get any fucking ornaments." He shook his head, fighting tears. He would not cry again over those people. "I'm an idiot."
"Stop." Haruto lifted his arms. "Come here."
"I don't need a hug. I need Christmas ornaments."
"You need both, Nicky, but all I've got's a hug."
Nick chuckled. He took a step forward and let Haruto give him a squeeze.
"Better?"
"Little bit," Nick said. He was quite a bit taller than Haruto, and he rested his chin on Haruto's head. He was so damn lucky Haruto was here, or that horrible moment of realization would have come alone, and he'd had more than enough horrible alone moments, frankly. Hugs would definitely do, in place of ornaments. Cute, stylish Haruto had been amazing while Nick's life had fallen apart. The box of candy canes was just the latest in a string of small things that made his new and terrifying life of flying solo a shade less frightening.
The box of candy canes.
"Wait," Nick said, pulling back. "Yes I do."
"Pardon?"
Nick went to the counter and picked up the box of candy canes. "You brought ornaments."
Haruto smiled. "I did. I'm a genius. And I can do you one better, if you can handle me cutting the wrapping."
Nick blinked. "Come again?"
"Give me the paper," Haruto said.
Nick handed him the blue wrapping paper and headed for the tree. He started putting the candy canes on the branches. He'd have to ignore the back of the tree, and Lord knew he'd eat half of them before Boxing Day, but… It could be cool, right?
He turned and saw that Haruto had unfolded the paper and then refolded it to make a square, tearing off the excess. He started to fold it, and while Nick was hanging the candy canes, Haruto made him a paper crane.
"Ta-da," he said.
"I didn't know you did origami."
"I so don't. But I can do cranes. My mother and I folded a thousand paper cranes before she got remarried," Haruto said.
"Seriously? A thousand?"
"It's a thing." Haruto waved it off. "You got a hook or something?"
Nick thought about it for a second and then went to the cupboard under his sink. He came back with a garbage bag twist tie, and Haruto looped it around the neck of the crane, twisting it into a hook.
"Gruesome. It looks like he hung himself," Nick said when Haruto put it on the tree.
"Pretend it's a little scarf," Haruto said. "Besides, homemade gifts have heart."
They sat on the couch and had another cup of coffee, just looking at the tree. Sparsely decorated with candy canes and a single paper crane, it wasn't exactly majestic.
Nick snorted. "It's pretty pathetic, eh?"
Haruto leaned over and bumped shoulders with him. "Next year, I'm sure it'll be fabulous. Just like us." Then he sighed. "I have to head home. You okay?"
Nick looked at his sad tree again. It was a good tree, sure, but it was practically bare, the candy canes were so sparse. The paper crane, though, made him smile. It was just so Haruto to do that. Maybe his life was a little bare, too, but…
"I think so," he said.
"Merry Christmas," Haruto said.
"Merry Christmas."
After Haruto left, Nick made himself a box of mac and cheese and went back to his couch. Out the window, he caught sight of a star. It must have stopped snowing. It wasn't the first star of the evening by any means, but desperate measures and all that.
Nick Wilson made a wish.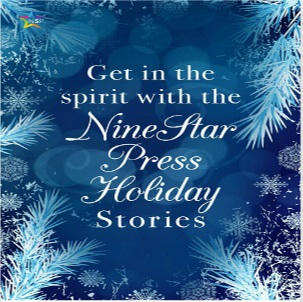 Giveaway!
One lucky winner will receive an ebook of their choice from NineStar Press!