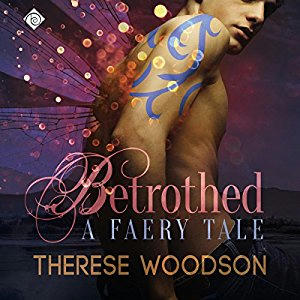 Title: Betrothed: A Faery Tale
Author: Therese Woodson
Genre: Urban Fantasy, Fae-Magical, Contemporary, Young Adult
Narrator: Matthew Lloyd Davies
Length: 6 hrs 25 mins
Publisher: Dreamspinner Press (30th June 2016)
Heat Level: Moderate
Heart Rating: ♥♥♥♥♥ 5 Hearts
Narration: ♥♥♥♥♥ 5 Hearts
Blurb: Faery royalty have always married for duty rather than love. Prince Chrysanths should be no different – except with a human for a father, the prince known as Puck already is different. When he is betrothed against his will to Prince Sky, Puck flees to his father in the human world, only to have Sky follow.
Prince Sky Song of the Clouds isn't thrilled with the prospect of marriage either, but is bound by duty to follow through – if he can't win Puck over, the faery realm might very well dissolve into utter chaos. Too busy arguing, Puck and Sky are unaware there are others with a vested interest in seeing the betrothal fail. In a bid for Puck's crown, they'll seek to keep them apart, even as Puck and Sky realize that duty and love don't always have to be mutually exclusive.
Product Link: Audible US |  Audible UK
Reviewer: Gigi
Review: Sweet and fun fantasy, with twu luv, and plenty of interesting twists. Combining the land of the Fae: magical and mystical with contracts, bindings, and rules that don't apply to the real world, with a contemporary life beyond the Faery mounds. I really thought this was going to be too slow and too sweet for me, it is very YA in that sense, so is a great recommendation for any and all YA readers. But Betrothed has some complex plots and twists that add to the story, adding in some mystery and deceit. Though I really wanted Sky to go all Alpha Fae and just dominate and take what was his, but alas, I've been reading too much BDSM and shifter stuff lately. These two Faeries, bound by contract might be bound to repel each other instead, but will magnetism draw them together in the end? 
Sky and Puck brought me a different kind of love, one slow to learn, but true to appreciate, and at the climax of the story I found myself shouting for them out loud, cheering for my guys! Even though I knew it must all work out, I was truly worried for a few moments there! 
The sexual content is slow building, mild but real, and of course at the end it was climactic. 
The narration was very well done, different accents for different characters, smoothly read, and brought me right into the Fae world. I loved this sweet Faery Tale, and recommend for the magic and sweet romance loving crowd.