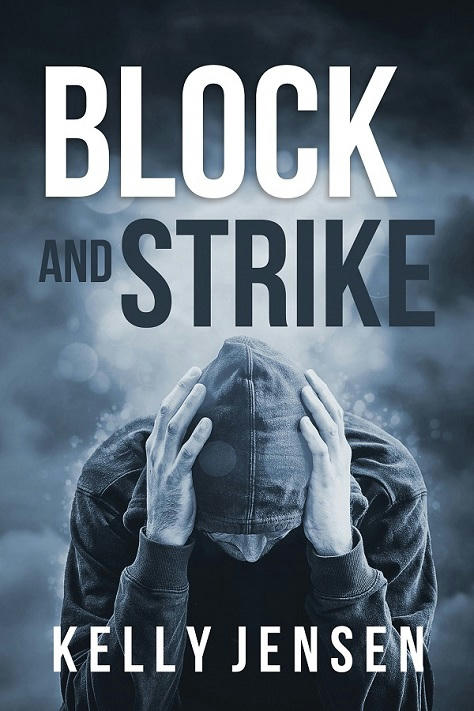 Title: Block and Strike
Author: Kelly Jensen
Genre: Contemporary
Length: Novel (266 pages)
Publisher: Dreamspinner Press (January 6, 2017)
Heat Level: Low – Moderate
Heart Rating: ♥♥♥♥ 4 Hearts
Blurb: Jacob Kendricks is three months out of prison, estranged from his daughter, and ready to get his life on track. Taking care of the bum curled up on his doorstep isn't part of the plan. When he realizes the man has been assaulted, Jake takes him to the hospital, where he learns that Max is his downstairs neighbor… and that he could really use a friend. Keeping Max in the friend-zone would be easier if he wasn't so damned cute.
Maxwell Wilson has been bullied for years, and the only person who ever cared lives too far away to come to his rescue. Now his upstairs neighbor is offering support. Max remains cautious, suspecting he is little more than a project for the handsome Jake. When he learns Jake has had boyfriends as well as girlfriends, Max has to reevaluate his priorities—and muster the courage to take a chance at love.
Just when a happy future is within their grasp, life knocks them back down. A devastating blow leaves Max lower than ever and Jake wrestling with regret. They both have to find the strength to stand on their own before they can stand together.
ISBN-13: 978-1-63533-229-2
Product Link: https://www.dreamspinnerpress.com/books/block-and-strike-by-kelly-jensen-7995-b
Reviewer: Shorty 
Review: I really enjoyed reading about Jake and Max. Max is a beaten down young man who does not fight back when confronted. When Jake his neighbor from upstairs finds him beaten and bloody he wants to help. What starts as one man helping another grows into something more.
Jake is gruff yet has a soft side with Max. I found Jake's past intriguing. The fact that he was in prison did not deter me from wanting to know more. I think the way he helped Max gain confidence was awesome. He was there for him 
I simply adored these two as a couple. They both had strong wills that they were able to deal with things as they happened and overcome them to the best of their abilities. 
Great read.