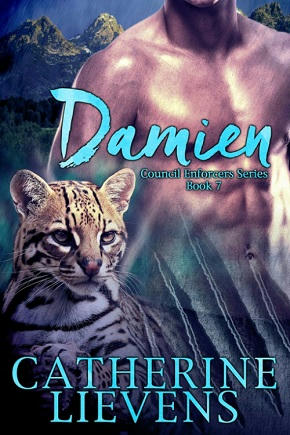 Title: Damien
Series: Council Enforcers #7
Author: Catherine Lievens
Genre: Paranormal, Fantasy
Publisher: eXtasy Books (June 23, 2017)
Length: Novella (118 Pages)
Heat Level: Low
Heart Rating: ♥♥♥♥♥ 5 Hearts
Blurb: Sometimes you have to admit you were wrong to get the happiness that's right in front of you.
Damien is an enforcer, and he loves his job. He loves helping people who don't have anyone else on their side, and he loves his team like a family. There's something missing in his life, though, and he knows what it is. A lot of his friends are finding their mates, yet he's still single.
Jake is back in Gillham, hoping to talk some sense into his father. Jake still thinks Sei is too young to be mated with an eighty-six-year-old bear shifter, but his dad doesn't listen, no matter how many times Jake tries to tell him that.
When Damien and Jake meet, Damien's age is a problem for Jake from the very beginning. There are only twenty years between them, which isn't a lot for shifters, but Jake can't see beyond it and beyond how fragile Damien looks. So he leaves.
Damien accepts a job as a bodyguard in the hope he'll start forgetting Jake. They're in the same city, though, and when Jake tentatively reaches out to him, Damien will have to choose whether he wants to give his mate a second chance or not. To complicate things, someone is after Hudson, the man Damien is protecting and who also is a friend of Jake's family.
Will Damien give Jake another chance? Or will something happen to separate them before they can get over their problems?
ISBN: 978-1-4874-1044-5
Product Link: eXtasy Books | Amazon UK | Amazon US
Reviewer: Lisa
Review: Each book in the Council Enforcer's collection features a new romantic couple. To enjoy the overall story arc and crossover characters, I would recommend reading the series in sequential order.
There is nothing better than a good paranormal romance with two gorgeous men involved.  They are entertaining and have just the right mix of feelings in them. There is also quite a bit of danger or excitement in it as well. This one caught my attention and kept it all the way to the very end.  I love the mixture of characters that this story and the other ones have in it.  Will always keep you entertained.
Daniel lost his wife to an accident, or should I say his mate and it had pretty much destroyed him.  He was left alone to raise his cutie pie daughter and he wasn't doing a very good job at it.  He also needed some help, which with the help of his daughter came one very sexy man.  A man with a secret that could hurt them.  Also this man seemed to think that he was his mate.
Archer was a scientist and loved what he did.  That is until what he did was end up killing shifters from the poison he made.  Running sounded good, but you can only run so far.  To top it off he has found his mate and his mate had a daughter.
I love the way this author puts together a story that not only draws you in but keeps you entertained as well. They have a serious tone to them, but there is  a bit of humor floating around. I do get a kick out of the whole thing. I can't wait to read the next book.