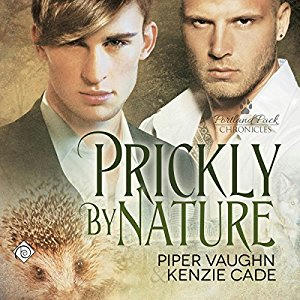 Title: Prickly By Nature
Series:  Portland Pack Chronicles 02
Author: Piper Vaughn & Kenzie Cade
Narrator: Iggy Toma
Genre: Paranormal
Length: 9 hrs, 38 mins
Publisher: Dreamspinner Press LLC (4th August 2016)
Heat Level: Explicit
Heart Rating: ♥♥♥ 3 Hearts
Blurb: Portland Pack Chronicles: Book Two
In the four months since hedgehog shifter Avery Babineaux started investigating the disappearance of a young female werewolf from the Portland Pack, he's discovered his life's passion. Now he's apprenticing under established PI Corbin Reid. Avery hopes his training with Reid will help him finally bring Lacey home, but detective work isn't without its perils, and the potential dangers strain his relationship with his new mate, Dylan.
Dylan Green would be perfectly content with his mating and his motorcycle shop if it wasn't for his constant worry about Avery's safety and the fact that Avery's never home. Proud as he might be of Avery's determination to prove his worth and fulfill his promise to Lacey's father, Dylan can't stand the thought of Avery being hurt. Yet what right does he have to demand Avery give up his job when it's clear Avery's found his true purpose? Still, Dylan wishes he could, and the appearance of a new police detective who sets his sights on Avery only adds to the tension.
Something has to give, but stubbornness runs in both their veins, and it might take a catastrophe for them to find a compromise they can live with.
Product Link: http://www.audible.com/pd/Fiction/Prickly-by-Nature-Audiobook/B01JNCGBXU
Reviewer: Prime
Review: Prickly By Nature is the second book in the Portland Chronicles series. I feel that it would be very difficult to understand the overarching plotlines without having read or heard book 1 before hand. It is an enjoyable addition to the series.
We pick up the story of prickly hedgehog shifter, Avery Babineaux, and his wolf shifter mate Dylan Green. Avery is as prickly as his creature. He's a good old southern boy from an obscenely rich family who believe that if there's anything worse than Avery being gay, it's that he's mated to a wolf shifter. Avery and Dylan have overcome their problems to enjoy a proper mating. But Avery is taking on more than he really should in his new career as a private investigator and Dylan both worries and feels neglected by his mate. Throw in a mystery carried over from the previous book involving human trafficking and a new set of mates and everything in the story is ready to go.
However, it pains me to say I did not enjoy the story as much as I had been hoping, or rather expecting to. I enjoyed the plot in general and I loved the voice that Iggy Toma gave to the story. For me the narration was actually the saving grace that kept me going. My issue was the overall flow of the story was a tad too slow for my liking. In fact, I think the best way to put it that there was a lot of "telling" and "listing" in the story. Even the sex scenes seemed a little long and purely explanatory.
I think for me this is a book I would rather read the written word instead of hearing. I would definitely find more enjoyment out of that. This is a good paranormal romance from an equally enjoyable series – it's just not the best installment in my opinion.