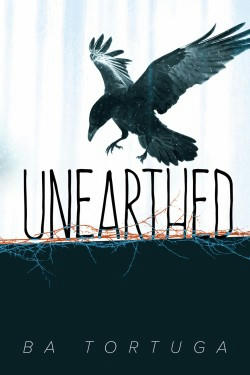 Title: Unearthed (2nd edition)
Author: B.A. Tortuga
Genre: Horror, Paranormal
Length: Novel (200 pages)
Publisher: DSP Publications (January 10, 2017)
Heat Level: Low
Heart Rating: ♥♥♥♥ 3.75 Hearts
Blurb: Some ancient secrets are better left buried….
When Jacob Keys gets the call every man dreads, he leaves his Wyoming home to find his mother's killer. A whole archaeological team in Sardinia is dead, all of the bodies accounted for—all but Caleb Paulsen, consummate scholar and Jacob's former lover. In Italy, Jacob sets out to discover the cause of the tragedy. And to find Caleb.
Meanwhile, a shipment arrives for Jacob in Wyoming. Jacob's friend, Ben Walking Turtle, and his partner, Sam MacDougal, retrieve the box… and with it, a ruthless and cunning entity that's been biding its time.
From Sardinia to Wyoming, Phoenix to Denver, this lethal ancient evil travels toward its bitter last stand, leaving death and destruction in its wake.
None of the men who touch it will ever be the same.
First Edition published as Diggers by Dallas Coleman, from Torquere Press, 2008.
ISBN: 978-1-63533-257-5
Product Link: https://www.dsppublications.com/books/unearthed-by-ba-tortuga-345-b
Reviewer: Shorty 
Review: A man on a mission, Jacob sets out to Italy to discover what happened to his mother and Caleb. Unbeknownst to him an ancient evil is about to invade Ben's lover Sam and cut down all in its path in brutal fashion. While I love horror stories this one was confusing at times. 
There some confusion on my part at times to where exactly the location was referring to as it changed suddenly with no warning. As with all horror books there is a lot of death in brutal fashions throughout. 
There were also a lot of POV's throughout the story. Some I felt were unnecessary to have. Sam was super scary at times in his possession but he also confused me before he was possessed. Ben was sweet and seemed to care for Sam a lot. 
I really liked the plot of this story but the delivery was a little wrong to me so it made it impossible for me to enjoy it as much as I should have. It was an ok read.