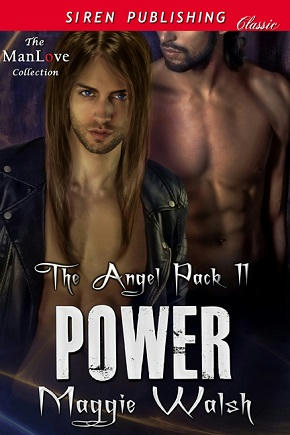 Title: Power
Series: The Angel Pack #11
Author: Maggie Walsh
Genre: Paranormal
Length: Novel (253 Pages)
Publisher: Siren Publishing (October 19, 2016)
Heat Level: Moderate
Heart Rating: ♥♥♥♥♥ 5 Hearts
Blurb:  Sage is a wolf shifter with a dark past he keeps secret. A year ago, a strange tattoo appeared on his wrist. Researching its meaning, he finds that it is the symbol of the most powerful witches in black magic. Sage worries that if this magic claims him he will become evil. So, to protect his family, Sage flees.
Slade is a vampire with special abilities. When he is sent out to locate Maddy's twin, Slade never expects to find him in Sanctuary. What surprises him even more is finding out that Maddy's twin, Sage, is his mate.
Sage had been in hiding for years from a man who kept him captive, but now that he is back on the run, he worries that Francis will find him and enslave him again. When Slade and Sage's family discover who Francis really is, they know they have to act fast to find Sage before his twenty-first birthday—only a week away—or risk losing him forever. 
ISBN: 978-1-68295-562-8
Product Link: http://www.bookstrand.com/book/power
Reviewer: Lisa
Review:  Each book in The Angel Pack collection features a new romantic couple. To enjoy the overall story arc and crossover characters, I would recommend reading the series in sequential order.  
It has been sometime since I have read this series, and I realize just how much I missed them.  The characters are a blast to read about and so much damn fun.  There is always action, suspense, danger and some hot situations that these guys get into.  Not to mention hot sex, but I will leave that up to your imagination.  These stories always catch my attention and it never waivers until the very end.  It just seems to flow at the right pace for me.
Sage started getting his powers at the age of five years old.  He just had no clue what was going on.  Then he shifted into a wolf, and that just freaked him out more.  So when the tri symbol showed up on his arm, he researched it and ran from his grandmother for fear of hurting her.  He didn't know the true meaning though, just what he read.  He ran until he came across a man so evil that it would take all he had to escape. For two years he was doing it and working the Angel Pack.  Now they have figured out what he was and he runs.
Slade is a vampire that can walk in the sun, but that is not all he is.  He comes to see what the problem is, and finds his little mate.  Those who are evil are hunting him down, and Slade must get to him to protect him.  The whole pack is on the move, for when Sage turns twenty-one the powers that be will strengthen.  Now for more, you are just going to have to read the book.
This is one of the best series that I have come across in a long time.  It is so action packed that I was on the edge of my seat throughout it all.  I have to admit though that the amount of characters that are in this, that at some points it does get confusing with who they are.  However it doesn't' take away from the story at all.  I can't wait to get started reading the next book.  What a story it is!