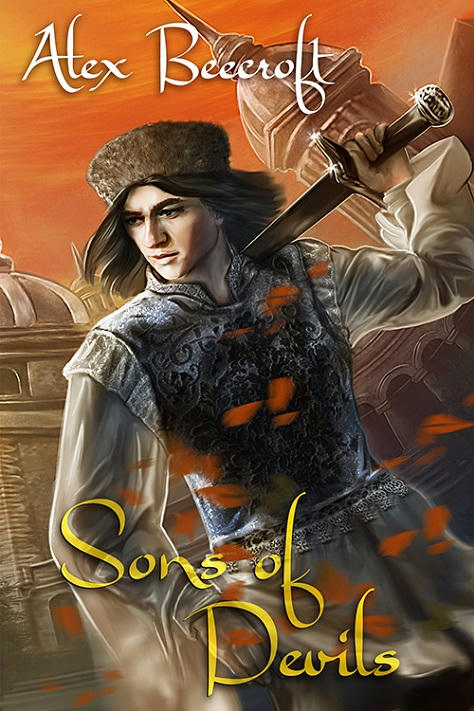 Title: Sons of Devils
Series:  Arising # 1
Author: Alex Beecroft
Genre: Fantasy, Historical Fantasy, Magical Realism, Action, Adventure
Length: Novel (232 pages)
Publisher: Riptide Publishing (March 13, 2017)
Heat Level: Low – Moderate
Heart Rating: ♥♥♥ 3 Hearts
Blurb: British scholar Frank Carew is in Wallachia to study the magic generator on nobleman Radu Vacarescu's land. There, his party is attacked by bandits and his friends are killed. Pursued by a vampiric figure, he flees to Radu's castle for help.
Unfortunately, this is precisely where the vampires came from. If allowed, they would feed unchecked and spread their undeath across the whole Earth, but Radu maintains a shaky control over them and keeps them penned in his tiny corner of the country.
As Frank recovers from his assault, Radu finds himself falling for the young man. But loving Frank and not wanting to lose him leaves Radu vulnerable to his demons' demands. Can he bear to let them feed on the man he loves? Or must he give in to their blackmail and set them free to feast on his entire country?
ISBN: 978-1-62649-554-8
Product Link: https://riptidepublishing.com/titles/sons-of-devils
Reviewer: Shorty 
Review: This is not going to be an easy review as the story is two parts with separate characters for each. To say it was an easy flowing read would be a lie. While I enjoyed reading about Frank and Radu I felt no connection to them. Nor was their story complete before we are dropped into another half of the book. 
I have never been so totally thrown off a book before. I'm honestly dreading reading the next in the series.
I honestly felt confused when I finished and had trouble separating details of the stories in the book. As a result I have a headache. I am sincerely hoping that things go better in the second book and we get some clarity as to where things are headed. 
If not I may have to give the series to someone else to review. It was an o.k. read.