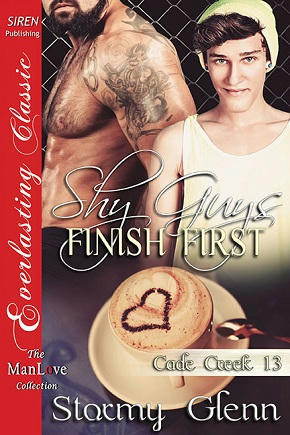 Title: Shy Guys Finish First
Series: Cade Creek #13
Author: Stormy Glenn
Genre: Contemporary
Publisher: Siren-Bookstrand Publishing (March 23, 2017)
Length: Novella (112 Pages)
Heat Level: Low
Heart Rating: ♥♥♥♥♥ 5 Hearts
Blurb: Cory James went to the city for a small vacation. He never expected to come home with a family. After trying to rescue a man being attacked, and then having to be rescued himself, Cory was pretty sure his vacation had tanked. But the man he tried to rescue turns out to be the answer to every dream Cory ever had. Now, if they could just keep danger from finding them again, they might find happiness.
Moose Fletcher hated violence until the sweetest man he had ever seen tries to save him, and Moose was forced to rescue him. But as he got to know Cory, he realized he was the one being rescued. When unexpected dangers force Moose to flee with Cory, saving his family becomes more important than avoiding violence. But will the cost be his happiness?
ISBN:  978-1-64010-281-1
Purchase Link: http://www.bookstrand.com/book/shy-guys-finish-first
Reviewer: Lisa
Review:  Each book in the Cade Creek Series collection features a different romantic couple. To enjoy the overall story arc and crossover characters, I would recommend reading the series in sequential order. 
Every once in a while you find an author that can give you a story that you could lose yourself into, and Stormy is that author for me. The world she creates are unique, enticing and downright drool worthy. I love how the characters not only stand up for those they love but they don't back down when someone is in trouble. They have a serious tone to them but there is just a hint of humor to make them perfect for me. 
Moose was six foot nine and had a heart of gold.  Forced to cage fight by his father has left him wishing for a way out.  Then one night, his little brother helped him to escape.  When his older brother found him, it was a sweet and very sexy little man who saved him, or I should say tried to.  Cory was that sweet and sexy little man, who lived in Cade Creek.  It would be the perfect place to live, and then another surprise landed in their laps.  Well if you want to know that surprise, you're going to have to read the book.
This author's stories that not only draw you in but keeps you there. She gives you hot sex, lots of love and tenderness, mixed in with excitement, adventure and lots of dangerous situations 
The characters are beautifully written with big hearts, however if you cross them, they have no problem putting you down. To me there is nothing better than a good romance.
I can honestly tell you that this is one of those types of series that you can't put down and have to read more than once. It is the perfect story for me and gave me all that I needed. I love the way all the feelings they felt was involved in this story. I had a blast reading it and I can't wait to read the next story. When Stormy puts out a book I am usually there to eat them up. I would definitely recommend reading this book. Trust me it will keep you laughing, crying, loving and having fun.