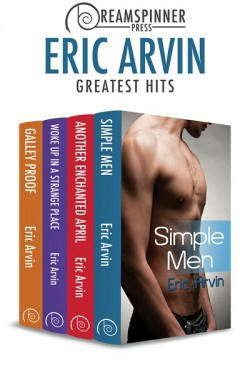 Title: Eric Arvin's Greatest Hits 
Author: Eric Arvin
Genre: Contemporary, Urban Fantasy
Length: Novel (590 pages)
Publisher: Dreamspinner Press (February 12, 2016)
Heat Level: Low – Moderate
Heart Rating: ♥♥♥♥♥ 5 Hearts
Blurb: From Urban Fantasy to Contemporary, enjoy these four romances from Eric Arvin in this exclusive bundle. In Simple Men, Chip is a football coach at a small college, but his personal life is in a bit of a rut. Then he meets the new school chaplain, Foster. Chip decides to go for it, but love is never simple, and sometimes it's a downright mess! In Another Enchanted April, three men stay at a bed-and-breakfast with a breathtakingly beautiful garden that has an air of the supernatural. Jerry's there for love, Doug's there for sex, and Tony is practically dragged along. Three men clinging stubbornly to their self-destructive ways… can the magic of the garden prevent love's labors from being lost? In Woke Up in a Strange Place, Joe wakes up in a barley field with no clothes, no memories, and no idea how he got there. He sets off through a fantastical changing landscape to confront his past. If he wants to find peace—and reunite with the Stranger he is so strongly drawn to—he must continue on until the end. In Galley Proof, fiction writer Logan is perfectly happy—until he meets the editor of his next book, Brock. Soon his life and his new manuscript are in a shambles. To take his mind off the mess, Logan goes on a trip, but he might have to admit there are some things you can't run from.
ISBN-13:  978-1-63477-345-4
Product Link: https://www.dreamspinnerpress.com/books/eric-arvins-greatest-hits-by-eric-arvin-4373-b
Reviewer: Shorty 
Review:
Simple Men Heart Rating: ♥♥♥♥♥ 5 Hearts
A story about two relationships, Chip and Foster, teachers and Brad and Jason, Football players, that entrance the reader with their simple chemistry and all around stunning ability to see past the day to day lives. I loved how each couple were mesmerized by their partners and wanted to do anything to make them happy. In a sports world dominated by males it cannot being easy being with the same sex but the characters made it almost seem easy, which I enjoyed. Highly recommended.
Another Enchanted April Heart Rating: ♥♥♥♥♥ 5 Hearts
Three friends, Doug, Tony and Jerry,  on vacation are hoping for different things. What culminates is a coming together, growing, and understanding that each never realised they were missing. Beautifully written, this story is chocked full of deep meanings as the three find what they were meant to throughout their journey. Highly recommended.
Woke Up in a Strange Place Heart Rating: ♥♥♥♥♥ 5 Hearts
A revealing story about Joe a man who travels in the afterlife searching for lost memories and meeting people who he feels connected to but has no idea why. This book was emotional, thought provoking and a shred your heart strings type of story. It also has a lesson instilled into its fabric. I really loved it even though I was crying by the end. Highly recommended.
Galley Proof Heart Rating: ♥♥♥♥♥ 5 Hearts
Logan has a semi successful writing career, a boyfriend and seems content until Brock, his new editor, challenges all he thought he wanted. It's a book about analysing the things in life the character thought were important and self-reflecting on how much he was going through the motions. Emotional and thought provoking this story has it all. Highly recommended.
Overall:
It is rare that I rate a bundle a five as usually there is at least one story I do not like. This is not the case with this one. Each story was beautifully written and self-reflecting on the characters part as we are lured to travel along with them. I love the almost simple nature of each book. It was heart-breaking, soul searching, joyous, and had me taking a deeper look into my own life. I highly recommend the entire bundle to everyone.